While I acknowledge that there is a time period that exists where it is too early to talk football, I believe we have passed it. As long as you stand on the precipice of the NFL Draft and refrain from talking too much about Week 10 match ups and other things that just need to wait, then your fine.
So without further ado: Let's talk football. More specifically, let's talk about the Oakland Raiders.
The Oakland Raiders were a consistent passing attack and a few defensive players short of making a strong playoff run in 2007. As the franchise looks towards the 2008 season, it has been successfully plugging away at it's weaknesses from the past couple of years. DeAngelo Hall gives them a dynamic defensive back they've been missing out on. Javon Walker gives them a legit receiver threat they've sorely needed. JaMarcus Russell gives them hope at the QB position, and a high first round draft pick gives them a shot to make things right.
Write it down: The Oakland Raiders will become the trendy sleeper pick of the upcoming NFL season.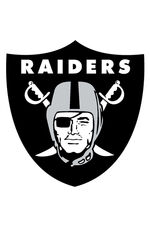 Although there has been much expressed concern over JaMarcus Russell's weight push towards 3 bills, he is still a prime talent. We didn't get to see much of him last year and it remains to be seen how he'll react to becoming the starting NFL quarterback for a storied franchise -- but if his growing pains are the Raiders' biggest worry next season, they've come a long way.
After taking over for an injured Lamont Jordan early in the season, Justin Fargas never looked back. 1,009 rushing yards and 4 touchdown's later he sealed the deal as the 2008 starting running back. That deal was further sealed when Oakland offered the up and coming back a 3 year, $12 million contract early in the off season. Because of this, don't expect the Raiders to take McFadden with their first round draft choice -- although, I wouldn't put it past them.
The Raiders defense took a step back in 2007, at least in regards to it's 2006 showing. The 2006 unit, known primarily for it's strong play in wake of an anemic offensive performance showed a lot of promise for the future. Although they showed flashes of greatness last year, they weren't nearly as strong as the previous year -- finishing the year ranked 25th in total defense.
The addition of DeAngelo Hall, and a number of offensive weapons should give the Raiders defense a boost and hopefully keep it off the field for the majority of the game. Will everything that they've done in the off season come together and result in a winning season? The answer to this question and many other's relies on the 2008 NFL Draft.
With the fourth pick in this year's draft the Raiders have a plethora of suggestions to improve either the offensive or defensive side of the ball. Unless they pull a fast one and take Darren McFadden, which honestly wouldn't be very surprising at all, than it is safe to assume a defensive player will be taken. But who will fall to them at pick number four?
It seems one day people are convinced the Dolphins will take Matt Ryan at number one, other days it's Jake Long and still other days it's Chris Long. Since it's anyone's guess who they'll actually take and then who the Rams and Falcons will take in turn -- let's take a look at the top 5 available players.
Some may disagree but I believe they are Jake Long, Chris Long, Vernon Gholston, Matt Ryan and Darren McFadden (with Glenn Dorsey coming in an extreeeeeemely close sixth). Now, there is no way the Raiders are going to take Matt Ryan, so he is out. Darren McFadden is the wild card of the bunch, since the Raiders already have a great RB in Justin Fargas (or at least it appears so). Count me a part of the group of people who's a bit skeptical he will continue such a great performance all of next year. Not to mention, they still have Rhodes, Bush and Jordan on the depth chart. Although if I were Al Davis and McFadden fell to me at the fourth spot, I would take him in a heartbeat.
If the Raiders do what most people think they are going to do and pass on McFadden, that likely leaves them with Vernon Gholston. This is under the assumption that both Long's will go in the top 3 and of course, no one takes Gholston over McFadden, Dorsey or Ryan.
As much as I believe I'd take McFadden, taking Gholston would be an incredibly smart move -- especially in regards to their team needs. With Warren Sapp's retirement, the defensive line is in need of some more talent. A young, talented defensive end like Gholston could be a cornerstone of the Raider's pass rush for year's to come. It's hard to pass up on such an opportunity.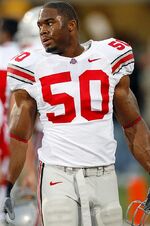 It's really anyone's guess as to where the Raiders will steer their team's ship come draft day -- but they've done an incredible job of filling their weaknesses with impact players and have given Raider's fans something they've been sorely needing since 2001:
Hope.
Ad blocker interference detected!
Wikia is a free-to-use site that makes money from advertising. We have a modified experience for viewers using ad blockers

Wikia is not accessible if you've made further modifications. Remove the custom ad blocker rule(s) and the page will load as expected.