After a surprising 2006 season that saw the Jets improve their win total by 6 games and earn a 5th seed in the playoffs, hopes were high for the team heading into 2007.
Eric Mangini
proved wrong those who had said he left his tutelage under
Bill Belichick
too early, even upsetting his mentor once during the regular season before falling to him in the playoffs. Chad Pennington put up one of the best years of his career and appeared to be entering his prime and the defense, while not the best in the league by any means, improved leaps and bounds over the previous year, forming a respectable, tough unit. Rookie running back
Leon Washington
was also impressive, giving Jets fans hopes they finally found a suitable replacement for
Curtis Martin
. So it was no surprise that many were hopeful of what 2007 would bring, some even going so far as to predict the Jets as the
AFC East
victors.
Then, the 2007 NFL season happened.
The Jets posted the same record as in 2005, regressing the same amount of games that they had progressed in 2006: 4-12.
Injuries, a poor red zone offense and a disappointing season from newly signed free agent Thomas Jones all contributed to the Jets poor season. It could also be said that they didn't sneak up on anyone in 2007 as they had in 2006 -- everyone was taking them seriously and with good reason, they had proved they were a very talented team.
While they didn't have the toughest schedule in the NFL, seven of their nine games were against teams with a winning record, and three of those seven were against the two teams that played in the Super Bowl. Still, the Jets had ample opportunity to pick up some wins. The seven games they had against teams with a losing record were against teams who won a combined 32 total games last year. That averages out to a little over 4 wins for the year average.
If one thing became glaringly obvious last year, it was that the Chad Pennington era might have finally ended. It would be a wise decision for the Jets to take a look elsewhere for their QB of the future. All they need to do is look at the #2 and #3 spots on the depth chart: Kellen Clemens and rookie Erik Ainge.
The action Clemens did see last year left much to be desired, but you could also make the argument that the team did not do much to help him out. The Jets finished the 2007 season with the 26th ranked offense in the league. Clemens meanwhile went 130/250 for 1,529 yards with 5 TD's and 10 INT's. Not eye popping numbers, yes -- but again, it's worth mentioning the lack of a substantial running game and any capable receivers that didn't do much to help improve those stats.

The Jets have been one of the most active teams in the 2008 free agency period. Some key signings include defensive tackle Kris Jenkins and offensive lineman Alan Faneca and Damien Woody -- all three of whom should make significant impacts on both the offensive and defensive lines.
A fairly strong 2008 Draft also looks to improve the team. The first round pick, Vernon Gholston, was met with enormous applause from Jets fans, a very uncommon occurrence. Gholston should upgrade what was a very mediocre line backing corps last season. Tight end Dustin Keller, who the Jets took with their second overall selection will join newly signed free agent Bubba Franks and established Jet tight end Chris Baker to form what could turn out to be one of the best tight end groups in the entire NFL.
By all accounts, the Jets have done an excellent job in improving their team in what should be a very much improved AFC East this season. The only question mark will remain at quarterback and whether or not they will stick with Chad Pennington for one more year, or hand the torch off to either Kellen Clemens or Erik Ainge.
Deciding on the starter and setting it in stone before the season starts will be key in establishing the offenses identity and having another QB controversy like last year when fans were actually cheering when Pennington got injured is not healthy for the team. The only downside of going with one of the two young quarterbacks will be that they might have to go through a short learning period which could result in a couple extra losses. They also could fail completely and the team could have another losing season. But that's the chance you have to take to get the full potential out of your team. No one ever won a Super Bowl by being ultra conservative and extra cautious.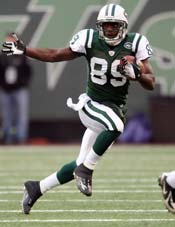 Thomas Jones, who was generally regarded as a disappointment last year has two new offensive lineman in front of him who should set up a lot more blocks than he may have gotten last year. Faneca and Woody are also very good goal line blockers, which was something that Jones struggled with last year, rushing for only one touchdown (much to the chagrin of his fantasy owners).
While their receiving corps likely won't win any offensive awards next year, Jerricho Cotchery proved to be a very capable receiver and can only get better with time. Although Laveranues Coles is getting up there in age, he can still put up the numbers as long as the passes are accurate. The Jets are also hoping that rookie receiver Marcus Henry will emerge as a contributor. He was not one of the top receivers everyone was talking about during the draft, but as we all know, some of the best players in the league were virtual unknowns at the time of their own drafting.
With a little luck with their QB situation and some solid contributions from their top draft picks and free agents, and the Jets could very well do what everyone thought they might do in 2007: Dethrone the Patriots for the AFC East crown.
Ad blocker interference detected!
Wikia is a free-to-use site that makes money from advertising. We have a modified experience for viewers using ad blockers

Wikia is not accessible if you've made further modifications. Remove the custom ad blocker rule(s) and the page will load as expected.