While the NFC East is easily recognizable as the most talented division in the NFC, one could make the case that the NFC North is the second. While the Packers surprised everyone and finished with the #2 seed in the NFC last year, the Vikings and Lions, who combined to win a total of nine games in 2006 sprung upon the scene -- and although both failed to make the playoffs, they showed that they had what it takes to make the NFC North just as competitive as it was years ago.
Going into last season, no one really knew what to make of Tarvaris Jackson and whether or not he had the skill and toughness to be the starting QB for the Vikings. Sixteen games later (Jackson played in twelve of them) and it's clear that he indeed does have what it takes, and should continue to improve as he becomes more comfortable and gains more game experience. He finished the year with 1,911 yards, 9 TD's, 12 INT's, a 58.2 completion percentage and a respectable 70.8 QB rating.
Another key player in the Vikings resurgence was 2007 Offensive Rookie of the Year, Adrian "All-Day" Peterson. Unless you lived under a rock last year, you were sure to see many of his impressive highlights -- some of the best being from the game in which he broke the single game rushing record. That's right, he broke the single game rushing record. As a rookie. He's quite good. If you don't believe the evidence staring at you from your computer screen, take a look at his 2007 season's stat line:
238 rushes for 1341 yards (5.6 average) and 12 TD's (4 fumbles) -- 19 receptions for 268 yards and 1 TD
Did I mention he was a rookie? What about the fact that he faced eight men in the box for the majority of the season? Are you impressed yet?
Had he failed to injure himself and miss Weeks 11 and 12 he could have arguably won the NFL MVP award as well, something that would have cemented his name in NFL history in just his first year. If he can stay away from injuries, something that hasn't been a major factor -- but definitely a nagging one throughout his career, we very well could be seeing before our very eyes the ascent of one the best backs to ever grace a professional football field. Just like his nickname hints at, once you see him run you just want to watch him do so all day.
Minnesota's 2007 defense was polarizing to say the least. Although they finished last in the league in passing defense, they did it while finishing first in the league in rushing defense. Talk about night and day. Can you take a wild guess at what they need to work on? That's right, they're defensive backs. More importantly, they need to build depth at the cornerback position, especially with Cedric Griffin able to play safety.
On the offensive side of the ball, assuming the front office is going to stick it out with Jackson as their starter (and they better) the weakness is clearly receiver. While Bobby Wade and Sidney Rice are definitely up and comers, Troy Williamson once again had a sub-par year and continued to have problems catching the ball consistently. The Vikings apparently got sick of waiting for him to realize he was a wide receiver and work on actually catching balls, so they traded him.
Ex-Chicago Bear Bernard Berrian was added in free agency and is coming off his best season yet. His 951 yards 5 TD's last year was extremely impressive, especially considering who was throwing him the ball (See: Brian Griese, Rex Grossman and Kyle Orton). While none of the Vikings main trio of wide receivers, Berrian, Wade and Rice have displayed premier number 1 receiver talent, they are all young and skilled and with time will only get better. Also, they will benefit from teams being petrified of Adrian Peterson and stacking the box to defend against him.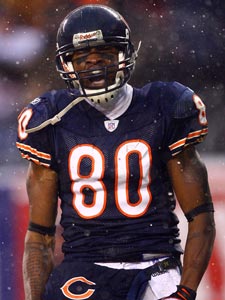 Tight end Visanthe Shiancoe, while a solid blocker, isn't the best receiving tight end in the league. It will be interesting to see if the Vikings draft a TE to eventually replace him, or stick with the current Shiancoe/Kleinsasser duo (which I think sucks).
Other notable free agent signings include: Michael Boulware, Madieu Williams, Derrick Pope and Ellis Wyms -- all of who will be fighting for starting jobs come that magical time of year known as NFL mini-camp.
With all of the success that Adrian Peterson had last year, it's interesting to note that Chester Taylor very nearly rushed for 1,000 yards playing backup RB for the majority of the year. With Michael Turner now gone from San Diego, it could be said that the Vikings now have the best backup running back in the entire league. All signs point to them keeping him but it wouldn't surprise many people if they dealt him before the draft or even during the season, especially with the recent signing of RB Maurice Hicks to a three year deal. As with many things, only time will tell, but you can get quite an impressive package if you trade him in Madden. It had to be said.
The Vikings have plenty of opportunities to fill some of their weaknesses during the upcoming NFL Draft. They have a total of nine selections, with one in every single round except for the third and sixth -- in which they have two picks. Nearly every single mock draft out there (including mine) has the Vikings taking Derrick Harvey at number 17. But as we all know about the NFL draft, things almost always go different from the way the experts pick them (See: Mel Kiper Jr). So don't be surprised if the Vikings take someone else, or if Harvey is gone -- but do expect them to focus on the defense early and maybe select a wide receiver or tight end in the middle rounds. Here are some diamonds in the rough that the Vikings might select:
Wide Receiver Sleepers
Mario Manningham (Michigan) - Okay, I know he's not a gem and it's 80% likely the Vikings won't even get the opportunity to select him in the second round but… I can dream, right?
Dexter Jackson (Appalachian St.) - He's fast. Very, very fast.
Early Doucette (LSU) - A solid, well-rounded WR. Could put in time as a kick returner. Not to mention, he has the best first name in the draft.
Tight End Sleepers
Fred Davis (USC) - A great catching TE. Has been working on his blocking and he was a prime target in 2007 for Booty.
Craig Stevens (California) - Skilled as a receiving TE as well as a blocking TE. Could easily be the best in the draft class in a couple of years if he puts the work in.
With nine picks, even if the Vikings have a mediocre draft in terms of evaluating the talent, they should still be in a great spot. It just goes to show you, trading great players for draft picks several years away sometimes works out in the long run.
With Brett Favre's retirement and the decline of the Bears last year, the time is now for the Vikings. If Tarvaris Jackson can keep improving, Adrian Peterson can stay away from injuries and the passing defense can improve, the Vikings have a very realistic shot at winning the rejuvenated NFC North.

<pollembed title="Who would you like featured next?"></pollembed>
Ad blocker interference detected!
Wikia is a free-to-use site that makes money from advertising. We have a modified experience for viewers using ad blockers

Wikia is not accessible if you've made further modifications. Remove the custom ad blocker rule(s) and the page will load as expected.