During the 2007 pre-season, Jon Kitna predicted that the Lions would win more than 10 games that season. Within a few hours, the story was everywhere and nearly everyone thought he was nuts. Sure, it was a ballsy thing to do… but did he have a concussion or something? Perhaps the most surprising thing was that when asked how many wins the Lions would have in 2007 on a Detroit radio program, he didn't even predict they'd win 10 games (which was an astronomical stretch in itself) but instead, stated the following:
"I'll keep to myself what I think we actually will win. But it's more than 10 games."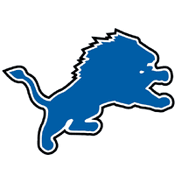 That's right. Not nine wins, not even ten wins -- more than 10. That's a minimum of eleven wins from a team who was second in the league in the loss column in 2006 (with thirteen to be exact). Not to mention, they had a month prior, yet again taken a wide receiver in the first round -- making some think that Matt Millen, the Lions GM, was just pulling an elaborate, warped joke on the entire state of Michigan and that he could give two shits about actually fielding a well rounded football team.
Suffice it to say, not many people were taking Jon Kitna too seriously. In fact, many people were appalled and even a bit pissed that he would make such a bold prediction. In particular pessimistic media fashion, he was labeled an arrogant braggart -- with no way near the skill to back it up.
A hundred or so days later however, the Lions were 6-2 at the conclusion of Week 9. While some of the teams they had beaten weren't in the upper class of the league, if you will -- they still had two solid wins against the Broncos and Buccaneers. Going into Week 10, the Lions performance was so surprising and it's bandwagon so packed that it made some people feel as if they were in the Outer Limits. At least I did.
As we all know, the Lions dropped 7 of their next 8 and finished the season 7-9, four wins short of the minimum amount Kitna predicted. Just as quickly as people had jumped on the bandwagon, they again turned on Kitna -- calling him a fool and blaming him of talking the talk but unable to walk the walk.
But while I agree that Kitna's whole prediction did nothing to improve his reputation, you have to admit -- it was a ballsy thing to do. If I was running an NFL team whose roster was filled with underachievers and first round rookie busts -- why wouldn't I want my new QB to look around and say 'Yeah, we can win 8 more games than last year.' What's wrong with that? In fact, it's not wrong at all -- it's exactly the type of attitude a QB should have.
Going public with the prediction wasn't the smartest idea, but what was he supposed to say?
"Mr. Kitna how many games will the Lions win in 2007?"
"Ehh, I dunno. We'll be lucky to crack six -- but hey, you never know!"
He'd be stoned in the street! His whole attitude towards the 2007 season was exactly what we admire in our athletes, yet he was ridiculed because his supporting cast was less than stellar. But I say good on him, because I have a feeling he'll be twice as focused to make his prediction ring true in his second season in Detroit.
The Lions for the first time in years, made several high profile moves in free agency. The Lions released Kevin Jones, their 2004 1st round draft pick who while often showing flashes of brilliance, had his five years in Detroit riddled with injuries. Meanwhile T.J. Duckett jetted so fast to Seattle, many people wondered why he failed to move that fast on the football field.
This leaves Tatum Bell as the big man in the Little D backfield. Although he didn't play too much last year, he had an impressive few years in Denver. But it remains to be seen, like many running backs thrust into a starter role, if he can handle the bulk of careers for an entire NFL season.
Shaun Rogers, who failed to live up to hefty expectations in his seven years in Detroit was traded to the Cleveland Browns in exchange for defensive back Leigh Bodden. Bodden, who spent all five years of his career thus far in Cleveland blossomed last year -- causing Chad Johnson to claim he was the best corner he faced all of last year.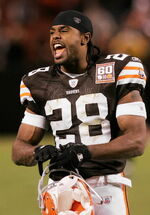 Many people criticized the Lions for taking Calvin Johnson number 2 overall in the 2007 Draft, however he lived up to expectations (unlike the other three top ten wide receivers they've taken in the past five years) and perhaps even exceeded them. With his rookie season under his belt he and Roy Williams should be a lot more comfortable with Jon Kitna in their second year together.
The defense, which left much to be desired like many other losing teams last year, did hold host to another blossoming star: Ernie Sims. In his rookie year with the Lions, Sims just missed out on a Pro Bowl bid and looks to solidify the Lions weak side linebacker spot for many years to come.
With the 15th pick in this year's draft, it's up in the air where the Lions will choose to go -- but it's looking very likely they will build depth on defense. However, taking Illinois RB Rashard Mendenhall to share a committee with Tatum Bell might be a wise choice as well. With eight picks to utilize for the entire draft and a very deep and strong defensive pool of players that should be available in the mid to late rounds, taking a RB to spell with Bell if one falls to them at number 15 just might be the best course of action. Jonathan Stewart, being hailed by some fanatics as the best RB in the entire draft (even better than Darren McFadden apparently) would also be a great fit in the Lions offense.
For reasons unbeknownst to anyone, the Lions released offensive coordinator Mike Martz, generally regarded as a key reason the Lions offense was so explosive last year. He was used as a scapegoat for the second half collapse, and his release might just come back to haunt the Lions front office.
It's coming up on the one year anniversary of Jon Kitna's infamous more than ten game prediction and it's a smart bet to assume he just might make another one. With a little luck in the draft, and solid years from it's free agent pick ups, don't be surprised if his prediction comes true this year.
<pollembed title="Which team should be featured next?"></pollembed>
Ad blocker interference detected!
Wikia is a free-to-use site that makes money from advertising. We have a modified experience for viewers using ad blockers

Wikia is not accessible if you've made further modifications. Remove the custom ad blocker rule(s) and the page will load as expected.