Welcome to the Sportsune Cookie...
Typing with reckless abandon...
A Cheerio feel on my bed,
Now I can't find it...
Warning: Read the following at your own risk. Possible Probable side effects include brain strain, eye scratching, and a probable cause of perpetual stupidity...
Today's Weather: It's been raining for a week straight it seems...
Sportsune Cookie
Pre-emptive Maneuvers
Behbigben15 Talks
Ok cool, here we go..
In my opinion, yes, Lebron James is NBA's best player as of right now. Not only can he put up the points, but he can play with the big men in the paint. He is, by far, the best all-around player right now. During the regular season, he had the second-most points per game (28.4) in the NBA, and was his team's leading rebounder (7.4 PG) and assist man (7.2 PG). Never underestimate his ability to shoot the three either. In 81 games this season he shot 34% from beyond the three-point line, which is better than the likes of Dwyane Wade and Tony Parker. Cleveland is at the point they are now because of his talent, and leadership abilities. King James has always been mature (made an immediate impact after coming into the NBA from High School), but this year he and his Cavs have taken it to a whole new level.
Top five players for a team entering today's playoffs:
Tim Duncan
Lebron James
Dirk Nowitzki
Kobe Bryant
Dwyane Wade
I have chosen these five guys based on past playoff performances, will to play and, of course overall athletic ability. Duncan and Nowitzki have both seen better days, but they can still get the job done, and have really proven themselves in the playoffs. I did not choose a point guard, instead two shooting guards because Wade and Bryant are both prolific scorers and can get to the free throw line when they need to most. Plus, they both have championships to their name. With Lebron James in the mix, I think this team has a very good balance of strength and agility. Duncan, Nowitzki and James give the team plenty of rebound opportunities, and James, Bryant and Wade have the quickness and knack for the basket. Nowitzki, along with Bryant at times, has the ability to shoot the three while Duncan gives the team a great inside option.
Sixth man: Rajon Rondo
Rondo at age 23 is the youth of this all-star team. Since last year, I think Rondo has really blossomed into an NBA starter, giving this team depth. In Boston's seven-game, first round series with Chicago, he averaged 19.4 PPG and 9.3 RPG. Boston's success in winning the series was all thanks to Rondo's outstanding performance, having a PG collect over nine rebounds per game can really help out a team, no matter who is on the floor. Rondo is a very physical player, despite his size, and would be a big boost coming off the bench.
02520: Thanks for the input BBB15...
Back Four
If Brett Favre does his whole little "retire or not retire" deal again this off-season, I'ma lose my mind. That is all SportsCenter will talk about, which is why I rarely ever watch it (or television for that matter). Even writing about this gives more attention to the situation than it deserves. Brett loses respect every off-season. His move to the Jets knocked him off my "favorite players" board and now he is headed to the "annoying players" board. Brett, go home and shut-up. Three years from now, come back as an analyst or color-commentator. Story over...
To learn more on the chain-reaction to the Favre unretirement, check this out...
Post-emptive Maneuvers
M V P
LeBron James finally takes home the MVP trophy he deserves. James received his well-earned trophy before leading his Cavilers to a huge win over the Atlanta Hawks. LeBron lead the game with 34 points while getting help from Mo Williams and the rest of his crew to bury the Hawks by a 27 point margin. The Cavilers have won all five of their games this post-season and each game was won by an average of 17.8 points. LeBron certainly has the best shot at a ring to this point in his young career...
In other NBA news, despite Dirk Nowitzki's 35 point night, the Mavericks fall again to the Denver Nuggets by a score of 117 to 105. The series will shift to Dallas for game three with the Nuggets leading two games to none...
Hockey
The Canucks took the ice out of the home of the Chicago Blackhawks as they took game three and the lead in the series. Vancouver should continue to roll in this series after gaining momentum with this past win. Meanwhile, the eighth seeded Ducks continue to show their mighty as they take a two games to one lead over the defending Stanley Cup Champion Red Wings. The Ducks are surprising everyone, but how long can they keep it up?
Baseball Notes
Ryan Zimmerman has a 23 game hit streak. Too bad he didn't get to finish the game in Washington... due to rain of course. Houston and D.C. will pick up the extra inning game on Thursday...
Matt LaPorta is now one for ten, with that one hit being a home run of course. After tearing up the minors to begin the season, LaPorta has struggled in his first few games in the majors. There is confidence saying that his struggles won't last long...
After a few rough outings during his first major league season, Rick Porcello showed once again why he is beloved by so many scouts. The young-gun tossed seven scoreless against the Minnesota Twins, his second quality outting on the season...
Texas and Seattle played extras, but one would not know it by looking at the seven to two final score. Must be those bull-pens. After all, the game was tied one to one after nine innings. It was a dark night for Denny stARK, as he gave up six runs in the tenth inning, allowing Texas to pull only a half-game behind the Mariners for first in the division...
Brandon Phillips drove in six of the Reds seven runs against the Marlins. Volstad received his first loss on the season after receiving no help from the offense or the bull-pen. Meanwhile, Edison Volquez went eight scoreless innings for his second straight start. The boy is again looking like he did early last season...
Evan Longoria added three more rbi to his league leading total of 34 as the Rays beat Baltimore six to three. Matt Garza went eight strong innings allowing only two earned runs while picking up his third win on the season. The Rays still remain well under that .500 mark but tonight's win is encouraging...
The Cardinals and Phillies had a scoring fest as five home runs left the ball-park and seventeen runs crossed the plate. Pujols barely kept his streak alive (more on that in a minute or so depending on how fast you read) as the Cardinals fall to the Phillies in regulation...
John Buck's bases loaded single gave the Royals a walk-off win after ten innings of play. The surprise of the year Royals now hold a game and a half lead in the division. (Meaning they are in first, not last, which shocks many people)...
Brian Giles also got in on the walk-off action. His tenth inning double sent the Padres home for the night with another win on the season. San Diego has been on a cold streak lately despite the clutch win over the Rockies. After starting the season at a surprising 10-7, the team has dropped eight of their last ten games...
The Dodgers scored three runs in the first inning and then held on the rest of the way. Jonathan Broxton closed out his eighth save on the season, fanning two and lowering his season earned run average to a mere 0.64. The Dodgers, who have now the best record in baseball, continue to roll, especially at home. The Blue have won all twelve home games thus-far into the season...
Pujols
Here is a jinx that is hard not to make. Since realization of this statistic a week ago, it has been hard fighting to not bring it to the attention of Cookie Readers in fear of bringing on a jinx. Oh well, let's see what happens. Pujols streak of reaching base in every one of his games this season almost came to an end against the Phillies. Pujols was 0 for 4 when walking to the plate against Brad Lidge in the ninth inning. Luckily for Lidge, it was not yet a save situation, otherwise he may have been rattled for another two year span as Pujols hit a monsterous home run to continue his streak of reaching base in every game to this point in the season. Go Pujols!!!
Ever Wonder?
What if a pitcher could throw 110 miles per hour? How unhittable would be that guy?
Tossing Pennies
Who is the top player in each of the top four respective sports?
Personally, it would be Albert Pujols, Alexander Ovechkin, Larry Fitzgerald, and LeBron James...
Q02520
Sporting Radio:
Q02520, with your host DAndrew...
Brought to you by the mean streets of ArmchairGM...
"All Sports, All You"
Reporting during May...
DAndrew - "Alex Rodriguez is a douchebag, and you are all surprised?"
Daily Divination
Again, not really feeling anything new...
Divinations still in Progress: The Chicago Cubs and New York Mets become two of the hottest five clubs in the month of May. The Denver Nuggets beat the Dallas Mavericks in five games or less...
Note: Sj, this is a Divination already in progress, it is not being predicted every day. Just trying to keep tabs on the stuff already of noted divinations...
1/3 on the season
10
Probably the final day for this bunch:
Barry Bonds
Andre Dawson
Frank Thomas
Rafael Palmeiro
Jose Canseco
Dave Kingman
Sammy Sosa
Fred McGriff
Jeff Bagwell
Mark McGwire
Name It
"________, how fast were you throwing fifteen years ago?"
"Slow enough to where scouts stopped using the word "fast."
A Picture is worth Greatness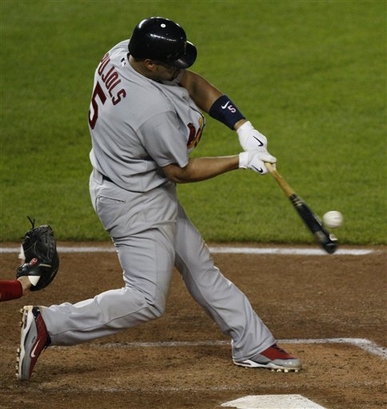 Time Warp
Sportsune Cookies are always avaiable upon request...
Lyricatical
This is ten percent Choco, twenty percent chip, fifteen percent reason for that iceing dip, five precent butter, fifty percent nuts, and a hundred percent reason to render a Cookie...











Did You Know?
Pedro Martinez may be known as a head hunter, but he has hit the same amount of batters in his career as "Mr. Control" Greg Maddux. Randy Johnson and Tim Wakefield have even more hit batsmen than Pedro on their careers...
When it comes to strike-outs, the flame-throwing Nolan Ryan is fourth all-time in strike-outs per nine innings. Seven of the top ten in this category off all-time players are still active; Arthur Rhodes, Jake Peavy, Oliver Perez, Johan Santana, Pedro Martinez, Kerry Wood, and Randy Johnson. Martinez, Wood, and Johnson are the only three to have an average in double digits...
Notes From Apostrophe
Thanks to BBB15 for his input during today's Cookie...
The Greinke clip is slated for a Cookie to be published later in the week...
I did find that Cheerio, eventually...
If you would like to participate in upcoming Sportsune Cookies, feel free to contact me anytime...

As always, leave 'em below...
Disclaimer: Written as always in IMO font...

Template:Sportsune Cookie Template
Ad blocker interference detected!
Wikia is a free-to-use site that makes money from advertising. We have a modified experience for viewers using ad blockers

Wikia is not accessible if you've made further modifications. Remove the custom ad blocker rule(s) and the page will load as expected.