Welcome to Thee 02520 District ...
"Sportsune Cookie" - Stiles is... busy, please leave your message on his board...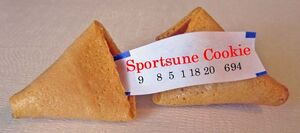 Typing with reckless abandon...
Warning: Read the following at your own risk. Possible Probable side effects include brain strain, eye scratching, and a probable cause of perpetual stupidity...
Today's Weather: Hot, facking hot, omg it's so facking hott, when will it stop?
Wisdom for the Wise
Sj-hypocycloid made a comment about the Most Valuable Player Awards given out each season. It came about after Mr. Lister wrote an article partaining to great players who never won a league MVP Award...
Not to point out SJ here, but this is something that bothers myself everytime the term "M.V.P." gets thrown around. Here is what everyone doesn't quite understand:
Players may be valuable to their teams in their own ways, but the MVP award is given to the player that is most valuable to the league...
Sportsune Cookie
So Ezzo, I have a question for you. How strong are you?
Aw, you know man. I'm too strong.
How strong?
Too Strong!!!

So Romiezzo, since the Marlins started the season 11-1, they have been on a seven-game slide. What happened for this team to have such a quick downfall? How can they turn it around?
First off, let me just say that even though they've lost 7 straight games, they're still in first place. I find that to be quite amazing.
The Marlins were quite the surprise the first couple of weeks... in terms of winning. Now, they are a surprise with how many games they're losing! A lot of players were red hot... both offensively and pitching-wise. Emilio Bonifacio, for example, had a .583 batting average for Florida, along with a home run (an inside-the-parker), 5 RBIs, and 4 stolen bases. Since those 5 games, Bonifacio has really slowed down: 7-for-55 (.127 batting average), no home runs, no RBIs, and 1 stolen base. The only player who has done well throughout the entire season so far whose numbers show that he's at his full potential is 2008 Comeback Player of the Year Jorge Cantu, who currently has a .321 batting average with 3 home runs and 12 RBIs. He's definitely proving himself to the world that last year was definitely not a fluke and he can provide some offense for the Fish this year. Hanley Ramirez has done pretty well, too, but he's definitely not working to his full potential. After the first game the Marlins had where he belted his first grand slam (5 RBIs) in a 12-6 crush over the Nationals, he has batted .274 with a home run, 7 RBIs, and 3 stolen bases (not to mention he got caught 3 times). So much for the #1 draft pick for the Fantasy Draft.
The main cause to the Marlins' downfall is definitely their pitching.
Or lack there of it seems...

Thanks for the input from Romiezzo...
If anybody else would like to participate in upcoming Sportsune Cookies, feel free to contact me anytime...
Pre-emptive Maneuvers
The best part of sports is being out on the baseball field on a warm, partly cloudy spring day. Losing footing on the football field because of the mud and pouring rain. Draining a contested three point shot from the corner to ice the game. Slamming into someone at full speed on skates and they are the only one who goes down. Overall, the best feeling sports can give is anytime someone says "How the hell did he just do that?" while you walk away smiling because you know exactly how that just happened...
Post-emptive Maneuvers
Thick Ice
The Washington Capitals finished up a comeback from three games to one against the New York Rangers. A Fedorov third period goal sealed the victory for D.C. and granted them into the second round. Ovetchkin's understudy, Alexander the Great Semin, was a large contributor in helping the Caps avoid being upset in the first round...
Game seven of the Carolina versus New Jersey series ended in a four to three victory for the 'Canes. Ironically, that is the same score as the final score of the series. Carolina moves onto round two and Jersey packs it up for the summer...
The second round of the NHL Playoffs is set to begin. Crosby and Ovechkin get to go head to head, while Carolina gets the pleasure of losing to Boston. The eighth seeded Ducks are about to find out that teams get harder to play the deeper into the playoffs they venture. Detroit is next on their schedule. Chicago meanwhile, gets to travel north of the border to face the well rested Canucks. Conference Finals participants will include the Detroit Red Wings, Boston Bruins, Pittsburgh Penguins, and Vancouver Canucks...
Moving On
The Dallas Mavericks and Los Angeles Lakers join the Cleveland Cavaliers as teams moving on past the first round of the 2009 NBA Playoffs. The Spurs and Jazz are packing up and headed home to watch from their couch. Meanwhile, the Pistons must feel like their season has been over for a while now. Houston, Denver, Boston, and Orlando can all wrap up their series with one more win a piece. The Heat/Hawks series is tied at a game a piece...
Come Back
The Atlanta Braves allowed only one run (coming in the first inning) to the St. Louis Cardinals, but they still trailed going into the bottom of the eight inning. Kyle McClellan came in to pitch and everything changed. A lead-off walk followed by a sacrifice bunt netted a runner on second with two outs. Chipper Jones walks to the plate... the walks down to first base. Casey Kotchman goes down swinging. With two on and two outs, free-swinger Jeff Francoeur... walked (something out of rarity for him to do). Matt Diaz followed this action up with the only hit of the inning for Atlanta. They held on in the ninth to the one-run lead and came away victorious...
The funniest video I ever watched on youtube...
Ever Wonder?
If Ty Cobb wasn't such a miserable bigot/grouch/drunk/etc. and instead was just the opposite, would he be considered the best old-time baseball player?
Tossing Pennies
What is your favorite team in each sport that you are not a fan?
Personally, I like players when it comes to the NBA; LeBron James, Chris Paul, and Dwight Howard are my favorites. No other team than the Flyers is worth my time in the NHL (although I do cheer on Jerome Iginla). I'm partial to the Dodgers in baseball. In football, anyone who beats the Giants, Redskins, and Cowboys is fine in my book. I do like the Packers team as is right now too...
WTMF Sports
Channel Manny Presents:
W.T.M.F. Sports with your guest-host, DAndrew...
Wait hold up:
"Why have we been stuck on the same station since the Cookie began?"
Reporting near the end of April...
02520 - "I need something to drink..."
Daily Divination
Miami and Denver win tonight...
Keep an eye on Grinke to see if yesterday's divination is true...
10
1.9.4.2
1.9.4.4
1.9.3.4
1.9.2.6
1.9.3.1
2.0.0.6
1.9.8.2
1.9.4.6
1.9.6.4
1.9.6.7
Thanks again to SJ's for his stumper of a ten. The answer that was being sought after in the last ten was "The closest active members under/to the 500 home run club"...
A Picture is worth 1000 Truths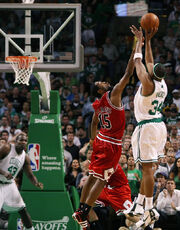 Time Warp
Yes, Stiles gets to go two days in a row. (We have to remember him in some way)...
My favorite MS piece ever...
Answering the Questions
ATQ - Captain Sarcastic has an inquiry, "Wait just a damned second. I thought YOU were Manny Stiles?"
If I were(n't) Manny Stiles it would be a good/bad thing. Good 'cause I'm outta New facking Jerzey but bad because I'd be in Michigan. Then again, if I were Tom Brady, I'd be banging Gisele Bundchen...
Notes From Apostrophe
Thanks to Romiezzo for participating in today's Sportsune Cookie...
I finally got up to get something to drink somewhere in between the words "Answering" and "Questions". It is ice-tea in case anybody was curious...

As always, leave 'em below...
Disclaimer: Written as always in IMO font...

Template:Sportsune Cookie Template
Ad blocker interference detected!
Wikia is a free-to-use site that makes money from advertising. We have a modified experience for viewers using ad blockers

Wikia is not accessible if you've made further modifications. Remove the custom ad blocker rule(s) and the page will load as expected.