Welcome to Thee 02520 ...
"Sportsune Cookie" - Stiles is... busy, please leave your message on his board...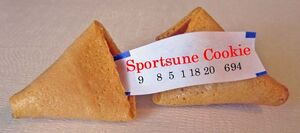 Mondaze hit while writing for Tuesday...
Warning: Read the following at your own risk. Possible Probable side effects include brain strain, eye scratching, and a probable cause of perpetual stupidity...

Today's Weather: 98% Mondazical, 97% humid as fack, 75% breaking a sweat writing this thing...
Sportsune Cookie
Enjoy the Cookie while it lasts...
Post-emptive Maneuvers
What had happened was...
Um... well, yeah. The Hornets dropped game four to the Nuggets. Uh, heh. It was bad, like really bad, like disastrous. The Denver Nuggets scored 121 points. Carmelo Anthony had 26 total points and was the only player in the game to have more than 17 points. Denver shot .566 from the field, .833 from the free-throw line, and ten of twenty from three-point land. The real story was their defense. The only place the Hornets shot well was at the free-throw line (where there is no defense). Well, unless .315 from the floor and .133 from three-land is considered not horrible...
The positive: All starters from both teams will be better rested because none of the ten played the final quarter. Denver and fans are happy...
The negative: The Hornets are embarrassed and now one game from elimination...
Final Score: 121 to 63 and that is no typo. Denver really won the game by 58 points...
Pass the Grilled Cheeze
Talking about a great piece of work. Too bad it's about the Packers! Just kidding Cheezer. I wish there was a breakdown like this for every team (or at least the ones I care about) because I'd read them all. Keep the work flowing...
I like the Packers (especially because I like many of the players they have). I will only ever be an Eagles fan, but I do root for/follow certain teams because I'd like to see 'em do well...
AGM Member Announcement
Manny Stiles is now to be referred to as "No Comment" because that is apparently his "real name" according to his profile. Stiles may still write occasionally and may even have some time to read things, but commenting is out. This is an official message regarding AGM. Expecting Stiles to comment on this piece even is unlikely regarding the information just provided...
The second funniest video I ever watched on youtube...
Ever Wonder?
Why are there options for having a "Thought" for different teams and sports on the Chair and not an option for Thoughts about the Chair? Having a status board would be nice. We don't want to turn AGM into facebook, but adding a little touch could help draw new members...
Tossing Pennies
What are thoughts about this section?
Personally, I really liked this section. But not sure if it has the potential to be a long term addition to Sportunes...
WTMF Sports
Channel Manny Presents:
W.T.M.F. Sports with your guest-host, DAndrew...
A public notice:
"The Cookie is always looking for users to participate. If you have any ideas, suggestions, comments, concerns, or simply want to participate, feel free to contact me any time..."
Reporting near the end of April...
02520 - "With less Manny commenting, other users better pick up the slack. Comment mofos!!!"
Daily Divination
Zack Greinke will give up at least three earned runs in his next scheduled start (right now it's looking like it will be Wednesday night). This means that by 10:37pm (est) this divination will be proven correct...
10
Today is the last day for SJ's ten...
Carlos Delgado
Moises Alou
Jeff Kent
Chipper Jones
Andruw Jones
Mike Piazza
Vladimir Guerrero
Jim Edmonds
Luis Gonzalez
Jason Giambi
A Picture is worth 1000 Excuses for "WTF Happened?"
Time Warp
Manny Stiles is featured in his own [Feats of Beguilement...
Part of the Full Line of Stiles Originals...
Answering the Questions
ATQ - Oh No Romo guesses the top ten; "Guys who had cheesy mustaches?"
Now Oh No, this may have been true, but there would be no statistical data to prove it. A possibility of physical evidence (pictures) may still exist, but we'd have to get the F.B.I. involved...
Notes From Apostrophe
Gotta admit something: I type with reckless abandon. I never go back and spell check or proof read. I never even go back and read my own articles/thoughts/opinions until days later. Most the time I don't even know what I'm saying writing. If you read it and get confused, it's your own fault/problem because not eve I can fix/understand what is going on. Thank you and have a nice witch of sand...

As always, leave 'em below...
Disclaimer: Written as always in IMO font...

Template:Sportsune Cookie Template
Ad blocker interference detected!
Wikia is a free-to-use site that makes money from advertising. We have a modified experience for viewers using ad blockers

Wikia is not accessible if you've made further modifications. Remove the custom ad blocker rule(s) and the page will load as expected.