Welcome to Stiles 02520 Daily Weeklybeginningweekday Column:
"Sportsune Cookie" - Stiles is... busy, please leave your message on his board...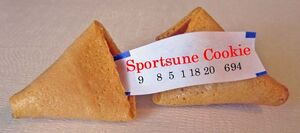 "Holy Content Batman!" Just kidding, it's not that long...
Warning: Read the following at your own risk. Possible Probable side effects include brain strain, eye scratching, and a probable cause of perpetual stupidity...
Today's Weather: um... it's facking humidly hot in Jersey...
Sportsune Cookie
Crushed Ice
Some of the opening round series in the NHL have finished up. The semi finals are around the corner, but there is still drama left for those teams still fighting to live beyond the first round...
The Bruins, Red Wings, and Canucks all skated their way easily into round two; all three teams swept their first round opponents in four games. The Penguins knocked off the Flyers (which is upsetting because I hate the Penguins more than I hate the Dallas Cowboys, and I'm an Eagles fan too). The other three playoff teams who are no longer alive are the Montreal Canadiens, St. Louis Blues, and Colombus Blue Jackets...
Meanwhile, the D.C. Capitals have fought off two potential series clinching games from the N.Y.C. Rangers. After a four to nothing victory at home, the Caps held off a late comback attempt in New York in game six. The series is tied with the deciding game Tuesday night in the U.S. Capital...
The Devils and Hurricane are also going to have their deciding game Tuesday night in Jerzey. After a one-nothing shut out for Brodouer at home in game five, the Hurricane used the home-ice advantage to even the series back up; now three games a piece. Each team is two and one at home in this series, which bodes well for the Devils...
Rookie stud Bobby Ryan has helped carry his team to a three to one games lead against the top-seeded Sharks headed into game five. In San Jose, the ice didn't quite melt before the overtime was finished on a Patrick Marleau goal. The Sharks still have their necks up against the rope to stay alive this season. It is a "win or go home" game in Anahiem tonight for Thorton and company. Somebody better step-up if the Sharks are going to outlast this mighty Ducks...
Another tight series is the one between the Flames and Blackhawks. The home team has won every game in this series. If the Blackhawks can break that streak, then they will return from the land of the north with a round one victory. Otherwise, game seven would take place in Chicago. That is a game Iginla and crew are hoping to just get a chance to play, as they have to defend their home-ice tonight in game six...
Up and Down
After losing a close series opener and winning a close game two, the Celtics looked as if they finally got things rolling in game three. Well, until game four then the teams would battle through two overtimes to see who would take the game. Big plays from big stars helpped each team to the end, but it was Chicago who came out on top. The series is now ited up headed into game five. The championship defending Celtics are not looking too strong when it comes to defending their title right now...
How do you say it? Blow-away; that'll do just fine. The Cleveland Cavilers LeBron James is on their his way into round two. During the sweep of the Detroit Pistons, the Cavs scored less than 94 points only once and never allowed more than 84 points to the Pistons. They cruise into the next round looking next to unstoppable...
It's been a fun one between the Magic and Sixers. Three games have been decided within the final seconds. Andre Iguodala and Hedo Turkoglu have hit game winning shots with just seconds on the clock. With heroes on both sides, this series is tied at two gams a piece. The series continues tomorrow night in Orlando...
Talk about back and forth; Miami and Atlanta have played three games thus far and none have been decided within less than fifteen points. Miami holds a two games to one lead headed into tonight's game in south beach. D-Wade has been a force, and looks to continue carrying his team over the A.T.L...
The West has been entertaining in its own right. Three teams have a three game to one lead (Lakers, Rockets, and Mavericks) headed into their respective game fours. The Mavericks are looking to knock off the veteran Spurs while the Lakers are taking their top seed seriously and hold a nice lead over the Jazz. The Trailblazers are going to need to work hard to stay alive, being down to the Rockets after four games. Meanwhile, CP3 has helped the Hornets fight to a close victory in game three. The Nuggets hold a two to one lead headed into game four where the Hornets hope to have some momentum from a game three victory. New Orleans doesn't want to go down three games to one against the tough Nuggets, so tonight's game four down south is basically a must win for their championship dreams to stay alive...
Preemptive Maneuvers
Drafting
Matthew Stafford is in line to become the biggest number one bust off all-NFL-time. Being on the Lions who have a horendous o-line won't help him out at all. Meanwhile, Mark Sanchez is in a great position with the New York Jets. Already a solid team, Sanchez will step in to be their franchise quarterback. He is in a position to succeed, now he just needs to take advantage of the situation...
The 49ers picked up Michael Crabtree who feel to the number ten spot. Maybe the best player avaiable, but how much he can help their team is yet to be seen. The Eagles picked up Jermy Maclin to go along with now sophmore DeSean Jackson as the team looks to built targets for Donovan McNabb (finally). And Darrius Heyward-Bey ended up in Oakland... with the seventh overall pick!?!? Nobody is really sure what happened there...
Aaron Curry ended up with the Seahawks instead of the assumed Cheifs number three pick in which they took Tyson Jackson instead. The Texans added to their young, up-coming defense by adding USC linebacker Brian Cushing. Lastly, Chris "Benie" Wells dropped all the way to the Arizona Cardinals at the thirty-first overall pick. Worked out well for the Cards, but some question why he fell so fast...
Post-emptive Maneuvers
Without the Home Run
The Phillies destroyed the Marlins thirteen to two without even needing a home run to put up the numbers. Of their twelve hits only two went for extra bases (Bruntlett and Victorino doubles). Cody Ross was actually the Marlins best pitcher. Ross, an outfielder, went three of four at the plate while tossing a scoreless inning (allowing only one single).
Sophmore Slumps?
Jay Bruce and Joey Votto were forces at the plate last night against the Atlanta Braves. A combined five for six with seven runs batted in, four runs scored, and two home runs. Votto has been on a tear early this season while Bruce hasn't shown much life until just last night. We'll see how the two each battle through what looks like it is going to be a long season in Cincinnati...
Rocked
The Rockies put a hurtin on Clayton Kershaw. The highly-touted lefty allowed nine runs in four and two thirds innings while giving up four walks. Troy Tulowitzki didn't get in on the fun as his early season struggles continue. He is batting .167 on the season and with Ian Stewart and Clint Barmes fighting for playing time, Tulo may be in trouble of losing some at-bats...
Fantasy Break
I'm getting my taint handed to me in fantasy baseball this season. I'm ranked second, fifth, and tenth in my leagues (which I have one more team than normal, so it's been interesting)...
Ever Wonder?
If a tree falls in the forest and nobody is around to hear it, does it make a sound?

* Left it up there just for you buddy...
Tossing Pennies
Is Matthew Stafford going to bust?
Personally, I say hellz yes...
WTMF Sports
Channel Manny Presents:
W.T.M.F. Sports with your guest-host, DAndrew...
Brought to you by Sj-hypocycloid:
"It's probably too easy."
Reporting during the beginning of the last week in LirpA...
02520 - "The NFL Draft is over. Let's focus on baseball now..."
Daily Divination
Stafford busts. Did I say that already?
The Houston Texans will come in second in the tough AFC South...
The Adventures of ManRays
Today's "Ray of the Day" is nobody...
The Rays better start winning some games because playing catch-up in the league's toughest division is like pitching to Albert Pujols with the bases loaded and the winning run is the guy on third (nobody in their right mind would ever want to do it)...

On Deck - The Rays continue their road trip into Minnesota. Hopefully they can get some momentum going in this series. Thursday begins a home series with the division-rival Red Sox, and Maddon doesn't want his team going in flat against that powerhouse...
Go Rays!
10
It was a much better ten than you thought SJ...
Stupid Sideline Reporter was close with his guess,
but not quite the right way of bringing about the answer...
Here we go again...
Carlos Delgado
Moises Alou
Jeff Kent
Chipper Jones
Andruw Jones
Mike Piazza
Vladimir Guerrero
Jim Edmonds
Luis Gonzalez
Jason Giambi
A Picture is worth 1000 Questions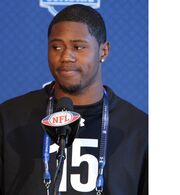 Time Warp
This is a shout-out to Crackajg...
Remeber those "Powerless Rankings" articles? Or how about "The Real Sporting World" series? Damn we were spoiled. Anyway, checking out the Dumb Things Fans Do At Sporting Events is always a good way to pass some time...
Answering the Questions
ATQ - "Oh I'm sorry didn't you hear? The Cookie Monster retired..." claims Deutscher in last weeklyendingweekendbeginnings Cookie...
Yes, that is why he had to guest mascot on the Sportsune Cookie. He was running out of dough...
Notes From Apostrophe
Thanks again to Sj-hypocycloid for his clever ten...
Sorry it's late, it all got thrown together last minute and now I'm late for work. pce pce...

As always, leave 'em below...
Disclaimer: Written as always in IMO font...

Template:Sportsune Cookie Template
Ad blocker interference detected!
Wikia is a free-to-use site that makes money from advertising. We have a modified experience for viewers using ad blockers

Wikia is not accessible if you've made further modifications. Remove the custom ad blocker rule(s) and the page will load as expected.