Welcome to Stiles 02520 Daily Weeklybeginningday Column:
"Sportsune Cookie" - Stiles is... busy, please leave your message on his board...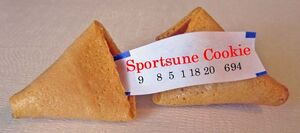 The founder of all Sportsune Cookies would not be proud of today's episode. Fantasy Sports the prime topic...
Warning: Read the following at your own risk. Possible Probable side effects include brain strain, eye scratching, and a probable cause of perpetual stupidity...
Today's Weather: 90% bragging, 15% worthless, 5% invisible...
Sportsune Cookie
Final Standings
Rank
Team
W-L-T
Pct
GB
1
falcon02520
119-65-5
.643
-
2
Time 4 Sum Akshun
114-68-7
.622
4
3
Firebirds
114-72-3
.611
6
4
Lebron's Kingz
101-85-3
.542
19
5
Agent 0
100-87-2
.534
20.5
6
OneFlyTeam
92-92-5
.500
27
7
Romiezzo's
89-99-1
.474
32
8
Seattle SuperSucks
88-100-1
.468
33
9
Tmil42
82-104-3
.442
38
10
Fetish For Farmar
78-108-3
.421
42
11
AGM Linebacker
76-109-4
.413
43.5
12
Hardwood Warriors
61-125-3
.331
59
The NBA regular season is finally complete. Before moving onto the "Official NBA Playoffs" let's recap ArmchairGM's Fantasy Basketball League 2008-09 Season. The two teams that dominated the top of the standings for most of the season ended up in the Championship Game, but more on that in a minute (less if you read faster or skip down a little ways)...
This season's top fantasy performers for the AGM scoring system include Chris Paul (T4SA), LeBron James (Fire), Dwayne Wade (L Kingz), Dirk Nowitzki (Romi), Kobe Bryant (FFF), Pau Gasol (A 0), Yao Ming (Tmil42), Danny Granger (02520), Jason Kidd (Linebacker), and Kevin Durant (T4SA). Funny how having the top performers has little to do with the overall standings of the fantasy league standings. Key "role" players and producers were the difference between the AGM Linebacker and the Firebirds...
All across the fantasy basketball world, certain players helped their teams win more than others. Of first place teams across the YahooSports system (head-to-head leagues) Yao Ming was on 25.8 percent of those teams. Eric Gordon, LeBron James, Brook Lopez, Rashard Lewis, Ben Gordon, Chris Paul, and Jason Kidd are the only players on at least twenty percent of the first place teams. This just shows that no single player was a key pick-up this season. All this means is that it would take a whole team of "fantasy producers" to win this season. And who would ever think that simply drafting a good team is how to win at fantasy? The Firebirds and Falcon02520 combined for 50 transactions on the season. The other ten teams combined to have 14 total transactions. Just goes to show...
Championship Playoffs
1 falcon02520
bye
1 falcon02520
4 Lebron's Kingz
4 Lebron's Kingz
5 Agent 0
1 falcon02520
Championship
1 falcon02520
3 Firebirds
3 Firebirds
6 OneFlyTeam
3 Firebirds
2 Time 4 Sum Akshun
2 T4 Sum Akshun
bye
Falcon02520 went an impressive 17-3-1 in weekly team match-ups throughout the season. The Firebirds and Time 4 Sum Akshum each were 15-4-1 while LeBron's Kingz went 13-5-3. Once the match-ups for the playoffs were set, it came down to six teams all set for the playoffs. LeBron's Kingz pulled a 5-2 victory in round one, while the Firebirds escaped the first round on tie-breaker rules; in a 4-4 score, the Firebirds moved on beacuse of fantasy's version of "home-court advantage" (or being a higher seed). Coming off a bye, falcon02520 rolled over LeBron's Kingz by a score of 8-1. Things weren't so hard for the Firebirds this time around. A score of 6-3 pushed the birds into the finals (helped by outscoring Time 4 Sum Akshun by 728-473 in the points category for the week!)...
The finals made for a very interesting match-up. Over the two week span, the Firebirds dominated the scoreboard. Falcon02520 won a few tight categories; winning three-pointers made by four total, rebounds by one total, and steals by two total. The Firebirds pulled out other close victories; won free-throw percentage by .003, field goal percentage by .011, and assist by four. It is only natural that a season this close came down to such a close finale. One the last day of the match-up, falcon02520 pulled ahead of the firebirds for the first time in the two week span. The team from the 02520 won-out by a five to four final score...
* For Consolation Playoff Bracket, See Apostrophe Notes...
Preemptive Maneuvers
All I have to say is watch the NHL Playoffs. Watch the NBA Playoffs. Watch some MLB early season action. But most of all, watch out for some more kick-ass content from Crackajg here on the 'Chair. Welcome back buddy...
Post-emptive Maneuvers
War On Ice
The Flyers decided to show up for at least one game of the playoffs. There must be something to this home ice thing. If that is what it comes down to in this playoffs, it would really be ashamed for the Flyers to lose considering each of the two teams in this series had the same number of points on the season. GO FLYERS!!!
Ice, Ice, Babay
The Hurricanes did pull out a win at home in the series. The Devils will still take them down by series end. Just like they rolled through the season, Boston is continuing it into the play-offs; up two games to nil on Montreal. The Rangers won both the games in Washington. What happened to the Capitals? Ovetchkin, Semin, Green? Hope is not all lost, there is still time to pull this one back around...
Detroit is taking care of business just like last season. They are up by two games over Columbus and looking to hold onto the Stanley Cup for another year. Vancouver is melting the ice right out from under the St. Louis Blues. The Canucks are so hot, they need one more game to finish off St. Louie's season. The Blackhawks are bringing hockey back to Chicago. They lead Calgary two games to nothing. Meanwhile, Anaheim is giving San Jose a run for their money by winning the first two games of the series...
Hoops
The Lakers knocked off the Jazz in game one; no surprise here. The 76ers used a strong fourth quarter to comeback and beat the Magic in Orlando. The Magic faced the age-old rule, "Live by the three-point shot, die by the three-point shot." Orlando shot just 27.8% from three point land as opposed to the Sixers 58.3%. It all came down to Iguodala's fade away jumper to give the Philly a two point advantage with only two seconds left on the game clock. The night's action finished up with two embarrassing loses as the Heat feel to the Hawks by well over thirty points and the Hornets lost not only in the final score but in basically every aspect of the game they were outplayed. More playoffs on your way tonight...
Walk-Off Young
Michael Young trotted around the bases to finish off the Kansas City Royals. The Royals have been off to a decent start this season; in a three-way tie atop the division. If Kyle Farnsworth had been able to keep Young off the bases in the ninth, the Royals may still have been alone in first. Alas, it was a happy night for the Rangers shortstop third-baseman...
Walk-Off Again
The Philadelphia Phillies big off-season signing and replacement of long-time outfielder Pat "the bat" Burrell filled in nicely against the surprising Padres. The Phillies were down by one run entering the ninth inning, when the big bat of Ryan Howard connected with a ball... singling to center field. Ibanez followed Howard, wasting little time pulling a one-run switch-a-roo on Edwin Moreno and the Padres. Ibanez and company went to bed very happy after the walk-off win...
Lest... er? More
After a disappointing first couple of starts, John Lester had it all clicking when he took the mound against the division rival Orioles. Lester mowed down nine batters in seven innings of work. He didn't let a single one of the six men who got on base make it around to home.
Marlins
Last season was all about the Rays. This season there will be some teams that surprise even the "experts." As stated in a previous Cookie the "Marlins win 90+ games for the third time in franchise history..." So far the Marlins sit a 11-1; best record in the Majors. Will they continue this pace? No! But, they will get to that ninety game mark (even after some summer struggles). Best part is that Cameron Maybin (Marlins top prospect who hit .500 last September) is batting .206 with 14 strikeouts. Just wait until he gets this team moving...
Fantasy Break
G L O A T ing
Apparently the man superhuman from the 02520 is too much for anybody to handle in fantasy sports. After pulling out ArmchairGM's fantasy baseball championship in 2008, the falcon has been on a roll. Over the past year of fantasy sports, the 02520 district holds the titles of AGM fantasy baseball champion, AGM fantasy basketball champion, AGM NCAA March Madness bracket champion, runner up in AGM fantasy football, and in an non-AGM fantasy hockey league he took home $250 as the champion. If anybody can top this, come see the GREATEST OF ALL TIME...
This was our first attempt ever...
* Stupid as hell...
Ever Wonder?
Who is the fastest athlete in the four major sports?
Tossing Pennies
Of this year's NFL draft, who is going to have the best career?
Aaron Currey may be the best player in the draft over the long run, but because of the focus put on offensive NFL stats, Michael Crabtree will be considered to have the best overall career of anyone in the draft...
WTMF Sports
Channel Manny Presents:
W.T.M.F. Sports with your guest-host, DAndrew...
Brought to you by nobody...
"We aren't sponsered today..."
Reporting on Mundaze, April 20th...
02520 - "It's still Sunday night till I go to bed..."
The Adventures of ManRays
Today's "Ray of the Day" is NOBODY!!!
After having the league's best home record last season, the Rays have kicked off this year with a record of 2-5 at home. The boys in Tampa better get the ship turned around quick...
Honorable Mention: Ben Zobrist...
The boy stroked a home run and a double in the game...
On Deck - A much needed off-day and day of recuperation before a road trip to the other side of the country. Monday kicks off a three game set in Seattle, followed by a stop in Oakland, and finishing out with Minnesota before returning home to finish out the month...

Go Rays!
10
Joe Dumars
Isiah Thomas
Hakeem Olajuwon
Michael Jordan
Shaquille O'Neal
Chauncey Billups
Tim Duncan
Dwayne Wade
Tony Parker
Paul Pierce
Congrats to Anon #1 who guessed last Thursday/Friday's Ten correctly; "All time career leaders in losses."
A Picture is worth Silence in Orlando
Time Warp
Thee complete line of Stiles Originals can be found anytime on demand. Extra coverage can be found in Kombol...





Answering the Questions
ATQ - Oh No Romo asks in last week's edition of the Cookie, "How did we get to math?"
Well, thanks to Anon #3 of course...
Notes From Apostrophe
The Mondays have not quite kicked in yet. Hope you all enjoy...
Fantasy Basketball
Final Placings 08-09
1
Falcon02520
2
Firebirds
3
LeBron's Kingz
4
Time 4 Sum Akshun
5
OneFlyTeam
6
Agent 0
7
Fetish For Farmar
8
Hardwood Warriors
9
Romiezzo's
10
Seattle SuperSucks
11
Tmil42
12
AGM Linebacker
Consolation Playoffs
7 Romiezzo's
bye
7 Romiezzo's
10 Fetish For Farmar
10 F F Farmar
11 AGM Linebacker
10 F F Farmar
Consolation
10 F F Farmar
9 Tmil42
12 HW Warriors
12 Hardwood Warriors
12 HW Warriors
8 Seattle SuperSucks
8 S SuperSucks
bye

As always, leave 'em below...
Disclaimer: Written as always in IMO font...

Template:Sportsune Cookie Template
Ad blocker interference detected!
Wikia is a free-to-use site that makes money from advertising. We have a modified experience for viewers using ad blockers

Wikia is not accessible if you've made further modifications. Remove the custom ad blocker rule(s) and the page will load as expected.