Welcome to Manny Stiles FORMER Daily Weekday Column:
"Sportsune Cookie" - Stiles is... busy, please leave your message at the beep...
I've seen better days... and the bottom drops out
Hope everyone got their taxes in on time...
Warning: Read the following at your own risk. Possible Probable side effects include eye strain, brain scratching, and a probable cause of stupidity...
Today's Weather: 85% tired, 20% can't sleep, 56% upset...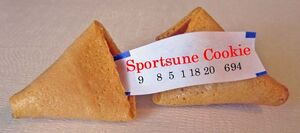 Sportsune Cookie
The NBA playoff match-ups are finally set...
Cleveland vs Detroit
LeBron dominates this series. That plus home-court advantage equals a no-chance for the Pistons...
Boston vs Chicago
Derek Rose will give Rondo some difficulties, but it won't matter. Boston rolls into the second round...
Los Angeles vs Utah
The Lakers may be the best team in the league. Utah definitely is not...
Denver vs New Orleans
Here is the upset pick. CP3 has a chance to run the series. I'm pulling for the guys from the south. Chauncy just keeps showing he is a force, but he won't be enough to get them to round two...
Orlando vs Philadelphia
Can't agree with Steve Avery on an upset here. Missing Nelson is makes the series more difficult for the Magic, but they are still too much for the 76ers. Although, it could be a fun series to watch...
Atlanta vs Miami
Can D-Wade carry a young team on his own? Not quite sure but it's looking good that they make it out of the first round...
San Antonio vs Dallas
Tony Parker and Tim Duncan are true professionals. Plus, Cuban's reaction when the Mavericks lose (again) is too priceless to think about. The Spurs in five...
Portland vs Houston
Yao is going to be a test for the bigs, Oden and Aldridge, but Brandon Roy is the key difference maker in this series. Portland pulls it out thanks to home-court advantage...
Los Angeles vs Portland
The Lakers are just too good for the young Blazers. Dandrew will be rooting for Roy and company, but it won't be enough. Lakers run away...
Cleveland vs Miani
LeBron vs Wade is what this one will be called. Too bad LeBron and company are better than Wade and his crew. It won't matter who wins the individual battles because the Cavs will be in the conference finals again...
San Antonio vs New Orleans
Seeing CP3 move onto the conference finals would be a great thing to watch. It is just too hard to predict it happening. San Antonio uses their experience and staff to pull this one out...
Boston vs Orlando
If the Big Ticket is healthy, this will be an easy series for Boston; espically considering Nelson is out...
Cleveland vs Boston
LeBron gets some help from the home-court advantage and pull out some late game seven heroics...
Los Angeles vs San Antonio
The Lakers are too good as a team (with or without Kobe). Considering Bynum is back, the Lakers will have to fight to get to the finals, but they will win the battle...
Cleveland vs Los Angeles
Rooting for LeBron all the way. He should be the MVP as well as the Finals MVP. First time in his career for either and not the last...
Get ready for the Playoffs!!!
Preemptive Maneuvers
The House That George Built
Will it live up to the House that Ruth built? No. Not even close. Sure, it is a nice stadium, but it will never have the tradition, memories, and history of the house the George Herman Ruth built. Either way, C.C. Sabathia will kick off the premier of the Yankees new stadium against reigning Cy Young winner Cliff Lee...
Post-emptive Maneuvers
Last Night
Jose Theodore is proving to be the problem in D.C. Washington fell in Game One to the Rangers. The Devils rolled over the Hurricane, one of the two correct picks from yesterday. The other correct pick was Vancouver getting their first of four wins in this series. Upsettingly enough, the Flyers fell to the Penguins and Marc-Andre Fleury was amazing... again. It's only one game...
Kinsler
Ian Kinsler decided it would be a good day to go off. A six for six day at the plate led him to become the second player this season to hit for the cycle following in Orlando Hudson's steps a few days back. Ian compiled thirteen total bases in the night, stole a base, scored five times, drove in four runs, turned a double-play, got the gatorade, cut the grass, and even cut out his own bat for the game. Well, almost...
A Pair of Homeruns
Ichiro belted a four-run home run in Seattle's win over Jered Weaver and the Los Angeles Angels of Aniehiem California who are really in Orange County but actually played the game in Seattle, Washington. Ichiro's return was surpassed by only one other moment on the night; Junior Griffey hit his 400th home run in a Seattle uniform. Congrats to The Kid...
Walk Off Walk
Brian Wilson needed ten pitches to walk James Loney in the bottom of the nineth in Los Angeles. Manny Ramirez, Andre Ethier, and Russell Martin were all on base, so to make room for Loney on first, somebody had to come home. What an upsetting way to drop to two and six on the season for the Giants. The Dodgers will take the win and move into a tie atop the division with the Padres early in this season...
Arbys Visit...
Ever Wonder?
What is the greatest sports story you never heard?
Tossing Pennies
What was your "dream moment" when growing up in sports?
Personally, I always wanted that walk-off home-run to win the State Championship in my senior season. Never likely and didn't happen, but it would have been great...
WTMF Sports
Channel Manny Presents:
W.T.M.F. Sports with your guest-host, DAndrew...
Brought to you being tired...
"That would be me..."
Reporting on today, April somedate... Dandrew
02520 - The NHL, The NBA, the combo of the three and four sports playoffs is almost as good as the either of the top two playoffs all by themselves...
The Adventures of ManRays
Today's "Ray of the Day" is Carlos Pena...
After a slow (yet short) start, Pena has been dialing up the long ball, hitting his third home run in the last four games (fourth home run on the season)...
Honorable Mention: B.J. Upton
Bossman Junior's first hit of the season went for an rbi double. Unfortunately in a losing effort as the Rays fall to the Yankees in the game and their first home series of the season...
On Deck - The Rays are staying home waiting for the White Sox to come rolling in for a four game set. The bull-pen needs to turn it around for the Rays to pull this losing slide to a quick stop and pull back over .500 on the season...
Go Rays!
10
Cy Young
Pud Galvin
Nolan Ryan
Walter Johnson
Phil Niekro
Gaylord Perry
Don Sutton
Jack Powell
Eppa Rixey
Bert Blyleven
Congrats to LASB for coming close enough to yesterday's ten; the last ten franchises to win the Stanley Cup...
A Picture is worth 1000x42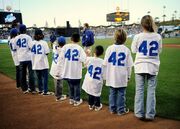 Wii Note
Today's Wii Note: Some questions arose about Dandrew's Wii home run derby score. It is nine home runs at a total of 5121 feet...
Answering the Questions
ATQ - "Should "Four games played today will kick off the NFL 2008-09 season playoffs" be "Four games played today will kick off the NHL 2008-09 season playoffs?"" - Sj-hypocycloid
Like I said... "If you catch an error like that, you are more than welcome to help me out and fix it. I write this thing and post it. The editing is up to everyone else ;)"
Notes From Apostrophe
Bad day in sports; Flyers lose, Rays lose, Yankees win, Penguins win, Carpenter down with another injury, Ronald Belisario blows a save for my fantasy team. Esh...
Little bit more bulk, eh Stiles?

As always, leave 'em below...
Disclaimer: Written as always in IMO font...

Template:Sportsune Cookie Template
Ad blocker interference detected!
Wikia is a free-to-use site that makes money from advertising. We have a modified experience for viewers using ad blockers

Wikia is not accessible if you've made further modifications. Remove the custom ad blocker rule(s) and the page will load as expected.