Welcome to Manny Stiles FORMER Daily Weekday Column:
"Sportsune Cookie" - Stiles is... busy, please leave your message at the beep...
I'm not even sure what I'm getting at today. Good luck from here out because it makes less than the usual five percent of sense...
Warning: Read the following at your own risk. Possible Probable side effects include eye strain, brain scratching, and a probable cause of stupidity...
Today's Weather: 55% huh, 45% what, 93% anticipation...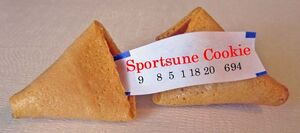 Sportsune Cookie
Isn't it odd how some things people do are backwards from their own norm? For example, some people who are right handed when it comes to writing and left handed when it comes to throwing a ball. Even though they are predominantly right handed, they cannot complete the task of throwing the ball with their right hand. Mostly everyone seems to do everything one way instead of another, but when it comes down to it, mostly everyone seems to have some sort of ambidexturity...
My friend N-Pell, throws right handed, bowls right handed, writes right handed, but he can't for the life of him hit a baseball batting right handed. Poor guy has to search and search for left handed golf clubs (because all the clubs he always want are made for right handed golfers)...
Personally, I've shown traces of ambidexturity. I can use both hands well in basketball, kick with both feet in soccer, and even snowboard both goofy and regular equally well (though I prefer goofy style). But certain things I just can't do; catching a baseball in my right hand proves difficult, attempting to play the gutair (even in rockband) is difficult right handed, even skating can be difficult because I can only stop going to my one side. All this while being dominantly right-handed...
What I am saying is that different people have different preferences and different abilities. These abilities can help change what athletes are able to accomplish. For instance, Chipper Jones and Lance Berkman are able to hit from both sides of the plate, adding value to their abilities. It takes a special athlete to be able to do certain things from both angles...
What the fack did I just say write?
Moving onto stuff that makes sense...
Preemptive Maneuvers
So It Begins
Four games played today will kick off the NHL 2008-09 season playoffs. The New York Rangers face off with the Washington Capitals in D.C. Ovechkin and his supporting cast are going to be tough to handle for the Rangers. Dandrew's pick in tonight's game - WAS. The Carolina Hurricanes are in Jersey facing Martin Brodeur and the New Jersey Devils. The Devils are too much to handle at home tonight behind the stick of Zajac and the glove of Brodeur. Dandrew's pick in tonight's game - NJ. In the only Western Conference match-up kicking off tonight, the St. Louis Blues are north of the border visiting the Vancouver Canucks. The Blues are hot right now, but the Canucks are still a strong team. Dandrew's pick in tonight's game - VAN. The Philadelphia Flyers and Pittsburgh Penguins - hated rivals - meet in round one this season. Statistically, they are evenly matched; 99 points each on the season, 45 home wins to 44, 264 goals scored each on the season, 239 goals allowed to 238. This is going to be so much fun to watch. Dandrew will be rooting for the Flyers... duh
It's Playoff Hockey Babay...
* Side Note: Dandrew gets done work and should be home by the start of the second period. Go Flyers!!!
Post-emptive Maneuvers
Volstad
After posting a 2.88 era through 84.1 innings in 2008, Chris Volstad has started 2009 off on a very similar foot. As a prized young pitcher, he has begun the season winning his first two games and carrying around a 1.50 era. Other than the six walks surrendered to this point, he has looked really good. Hey, if he is going to walk guys he better not let anybody hit him when he throws strikes. He has done fine in that aspect so far; five hits surrendered over twelve innings...
Pavano
It wasn't all his fault the Indians lost to the Royals and poised started Kyle Davies. Pavano only allowed four runs over six innings; bringing his season era down to 16.71. He even stuck out eight batters! Plus, he wasn't even the worst pitcher in the game. Teamate Rafael Perez let up four runs in his one and a third inning(s) of work. That raises his season era to 18.00 (which means Pavano doesn't have the highest era on staff). Keep it up Carl, you will show 'em...
Fantasy Break
Carpenter down again? This time from swinging a bat, great... After buying into the whole "Carpenter being healthy finally" thing, he was drafted for all three of falcon02520's fantasy teams. Much hope went into Carpenter this season. Hopefully he will shake this off and continue to dominate on the mound...
Buying an air-horn and driving around South Jersey was all Nubba's idea...
I enjoyed every moment...
Ever Wonder?
What do athletes such as Alex Rodriguez, David Beckham, and the Williams Sisters do with all their money?
Tossing Pennies
If you could plan a day of sports fun for you and some friends, what would be the three things you would do?
Personally, snowboarding, football, and basketball are what would do it for me...
WTMF Sports
Channel Manny Presents:
W.T.M.F. Sports with your guest-host, DAndrew...
Brought to you Drive-Thrus of America:
"When is I-Hop going to join in on the drive-thru craze?"
Reporting on today, April somedate... Dandrew
02520 - TIME FO SUM HAK-EY BABE-EY!!!
The Adventures of ManRays
Today's "Ray of the Day" is Carl Crawford...
C.C. broke up A.J. Burrnett's no-hit bid in the seventh inning. He would end up scoring later in the inning. The Rays may have lost but they weren't embarrased; scoring some runs off Burrnett before he was removed from the game...
Honorable Mention: Matt Garza
Matty G. pitched well enough to win a regular game. He just didn't get any help from the offense or the bull-pen. Garza continues to own Yankees hitters; going seven strong innings allowing two runs on five hits while striking out nine...
On Deck - Andy Sonnanstine is slated to vs Andy Pettite in game three of the home opening series in Tampa. The Rays will fight to win the series, pull back over .500, and jump a game early in the season on the rival Yankees...
Go Rays!
10
Keeping in the spirit of playoff hockey...
Pittsburgh Penguins
Montreal Canadiens
New York Rangers
Dallas Stars
Colorado Avalanche
New Jersey Devils
Tampa Bay Lightning
Carolina Hurricanes
Anaheim Ducks
Detroit Red Wings
The previous 10 11 were the teams who kicked off their home opener on Opening Monday (4/6/09)
A Picture is worth 1000+
A picture is worth thousands of names plus another reason for wanting to be Lord Stanley's Cup...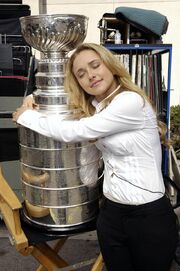 Strike A Prose Wii Note
In a blantant attempt to replace a great section of the Sportsune Cookie, the "Wii Note" will be headed for a test run. Dandrew simply can note model and strike a prose like the great Stiles...
Today's Wii Note: Dandrew dropped in a hole in one in Wii golf on the second hole (par three) of a nine hole outting. This after dropping an eagle on the first hole (par four) of the outting. After just two holes, Dandrew (pro) was at minus four. There is a picture taken as proof in case anyone is in disbelief...
Answering the Questions
ATQ - "Wang had a horrible game. WHAT WAS I THINKING!?" asks Romiezzo...
Well, Romi, you were thinking that you would, "Much rather feel stupid for keeping him on the roster and him having a lousy game than if I put him on the bench and he miraculously had a great game." Just goes to show you, Wang sucks Wang. Glad you started him though (we are up against each other this week in The Show)...
Notes From Apostrophe
Not sure how the "Wii Note" is going to work out. Let's see how this test run goes flows...
As always, leave 'em below...
Disclaimer: Written as always in IMO font...
Template:Sportsune Cookie Template
Ad blocker interference detected!
Wikia is a free-to-use site that makes money from advertising. We have a modified experience for viewers using ad blockers

Wikia is not accessible if you've made further modifications. Remove the custom ad blocker rule(s) and the page will load as expected.