Welcome to Manny Stiles FORMER Daily Weekday Column:
"Sportsune Cookie" - Stiles is... busy, please leave your message at the beep...
It's Monday, as the rest of the world this is half-assed of the usual half-ass attempts...
Warning: Read the following at your own risk. Possible Probable side effects include eye strain, brain scratching, and a probable cause of stupidity...
Today's Weather: 5% usefulness, 20% napping, 99% case of the Mondays...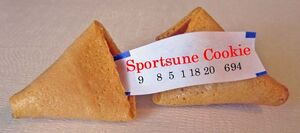 Sportsune Cookie
A comment left on last week's cookie asked, "What is this "it" I speak of?" Well, let's examine it and find out what it really has to do with it...
Well, according to dictionary.com to "have it" (informally) means "to possess the requisite abilities for something; be talented, adept, or proficient: In this business you either have it or you don't." Using this definition, it is clear that having "it" means being able to do something efficiently and successfully or in some way showing the tools or ability to do something means that someone possesses "it" in some fashion...
Also, if I tag you then you are "it" as well...
* No tag-backs
Preemptive Maneuvers
Loooongg-oria
Evan Longoria is batting .481 on the season through six games. Oh yeah, he also has a league-leading five home runs! A few seasons ago, an article was published with the 25 best players under the age of 25; Longoria was the only player on the list who was still in the minor leagues. Living up to the hype? As Boobie Miles once said, "Now hype is something that's not for real." E-Long falls into that category...
Yooouukk-ilis, Cabrera, Bonifacio, TheRiot
Kevin Youkilis, Emilio Bonifacio, Ryan Theriot, and Miguel Cabrera are all batting over .500 so far this season. Over under that they can keep it up all season? Forget that nobody hasn't hit over .400 since Ted Williams. When did someone hit over .500 for an entire season? We could be seeing history in the mak... almost finished it without laughing. Yes, I'm that lame...
Hot Tub
How much are is it going to cost to get in the hot tub during the 2011 Home Run Derby? After the poor showing of Arizona fans during previous playoff seasons, the question arises, "Do Arizona fans even deserve the mid-summer classic?" Five bucks says that it doesn't even sell-out...
Post-emptive Maneuvers
Nothing again today...
What's up with Romi fixing everyone else's articles for little mistakes and not the cookies?
Four Outs in Baseball
The fourth out rule was used in baseball the other day. An interesting feat...
Fantasy Break
With week one wrapping up in fantasy baseball head-to-head leagues, some are wondering if their draft "sleepers" and "gambles" are going to pay off. Others are taking advantage of players starting the season hot. For those of you wondering stand, hit, or double-down, remember this, "It's not a sprint but a marathon." Then again, if you can sprint the entire way...
"It's not how you begin, but how you finish..."
* SSR: "That's what she said..."
Getting kicked out of the bowling alley and off the go-karts was totally worth feeling like we were 12 again...
Ever Wonder?
What if baseball didn't exist?
I would never want to either...
Tossing Pennies
Pick a starting NBA five for watching purposes only...
Personally, CP3 would run the point with Dwyane Wade, LeBron James, Carmelo Anthony, and Dwight Howard...
WTMF Sports
Channel Manny Presents:
W.T.M.F. Sports with your guest-host, DAndrew...
Brought to you from a cubical:
"Having a case of the Mondays..."
Reporting on wtf is today, April somedate... Dandrew
02520 - Um... PLAYOFF HOCKEY!!!
The Adventures of ManRays
Today's "Ray of the Day" is Big Game James...
Shields tossed seven scoreless against the rival Baltimore Orioles. Surrendering only three hits and one walk all day long. After a rocky season opener against the Red Sox, James bounced back, showing his stuff still as good as expected...
Honorable Mention: Evan Longoria...
Five home runs on the season now for Longoria after belting an eight inning solo to left field. E-Long has been on a tear this season, batting .481 and picking up for teammates such as Carlos Pena and Pat Burrell who are off to slow starts...
On Deck - The New York Yankees are in Tampa for the Rays season home opener. After an eleven to three rout of the Orioles, the Rays carry some momentum into Monday night's game. Scott Kazmir gets the start facing Chien-Ming Wang. The two are night and day so far early this season. Wang has faced some turmoil in his first start while Kazmir seems to be starting on a roll...
Go Rays!
10
Nobody guessed last week's "10" (as expected because it was stupid and lazy)... In case anyone cares, it was the top ten fantasy hockey producers of 2008-09...
More like 11, but it's whatever...
Cincinati Reds
Arizona Diamondbacks
Texas Rangers
Florida Marlins
St. Louis Cardinals
Baltimore Orioles
Houston Astros
Toronto Blue Jays
San Diego Padres
Minnesota Twins
Los Angeles Angels
A Picture is worth 1000 Words of Profanity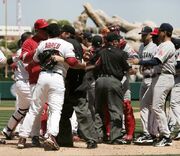 The Los Angeles Angels and Boston Red Sox got in a squabble on Sunday. Four Angels showered early...
Strike A Prose
Insert something here...
* Again, that's what she said...
Answering the Questions
ATQ - See Opening Section...
Notes From Apostrophe
N/A

As always, leave 'em below...
Disclaimer: Written as always in IMO font...
Ad blocker interference detected!
Wikia is a free-to-use site that makes money from advertising. We have a modified experience for viewers using ad blockers

Wikia is not accessible if you've made further modifications. Remove the custom ad blocker rule(s) and the page will load as expected.