Welcome to Manny Stiles FORMER Daily Weekday Column:
"Sportsune Cookie" - Stiles is... busy, please leave your message at the beep...
Just another day in the life of...
Warning: Read the following at your own risk. Possible Probable side effects inculde eye strain, brain scratching, and a probable cause of stupidity...
Today's Weather: 80% sadness, 15% whatever, and 25% guessing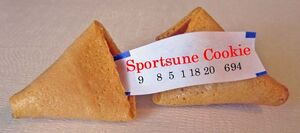 Sportsune Cookie
Adenhart
Young prospect Nick Adenhart, as most in the sports community already know, has passed onto become a real angel. At twenty-two years old he had so much ahead of him in more than just the game of baseball. Such a tear-jerking story too; realizing his dream to play in the Majors when he ran into arm problems. Learning that his unsuccessful surgery could be able to take away his dreams. But after finally making it to the biggs, his dream ends a tragic death. R.I.P. Adenhart...
National League of Hockey
Tomas Vokoun and Craig Anderson are second and third in the league in save percentage. Their team, the Panthers are 39-30 with a 2.85 goals against average. Too bad their offense can't score even that many goals per game. Shout-outs to Steve Mason and Bobby Ryan. Mason helped the Blue Jackets into the playoffs while Ryan has over 30 goals on the season. Nice rookie seasons boys...
Evengi Malkin leads the Ovechkin in points by a slim margin with Crosby a distant third. Ovechkin has the goals, Malkin the assists. Who gets the trophy? With Washington in second and Pittsburgh in sixth and another star in Crosby on the Penguins, is there any doubt that Alex the Great will remain the Hart Memorial Trophy holder again? Question is, does he get to keep the Art Ross Trophy?
The regular season is over on Sunday boys. No more messing around and just getting through. It's put-up or shut-up time boys... Get ready for some PLAYOFF HOCKEY!!!
Pavano
Carl Pavano showed that he still doesn't have it (or atleast hasn't found it). A bad showing over 39 pitches. This was no slow bleeder. Nine runs in one inning proves it. Hey, he made it out of the inning, get off his back... because I'm sure his back is hurt (or elbow, or groin). That's why he pitched so... ineffectively. Hey, atleast we know his spirit is hurt...
Pre-emptive Maneuvers
NFL Draft
Just some thoughts:
As somewhat a fan of Mark Sanchez, hopefully he ends up with a good team and can be that "missing" piece in a couple of years...
If Houston ends up with Brian Cushing, that defense is going to be pretty strong. They need to be in that division...
Brian Orakpo may end up as the defensive rookie of the year. Curry being his competition at this point for the honors...
No Love
Tyler Hansbrough is expected to be an "average" at best NBA player? Where was I when this was decided? A 6-8 forward who crashes the boards, draws fouls left and right just so he can go to the line and shoot an immaculate percentage isn't projected to go until pick 25? Not suggesting that he is going to be an ten time all-star or anything, but give the dude some respect. Boy has intangibles; hard and determined work-ethic, intensity, aggressiveness, leadership ability, and heart. These factors help overshadow his "lacking of superior quickness/jumping ability. He will be a solid starter of the course of his career (sixth man at worst) with an all-star apperance or two when it's all said and done...
Post-emptive Maneuvers
Nothing really for this section today...
Denver
Does McDaniels see anything in Kyle Orton? Obviously he doesn't have a great arm or the best speed. He overall looks mediocre at best. McDaniels was also part of the Tom Brady and Matt Cassel building staff in New England. Is he really thinking he can afford to stuggle along here and make this work? I just can't imagine it happening. Too bad because Denver has always been a personal favorite to root along...
Fantasy Break
Marshawn Lynch's fantasy value just dropped after being suspended three games for violating the NFL's personal conduct policy. It's baffling how guys making millions of dollars keep getting into unnecessary legal trouble. What happened to athletes being more than just athletic but being role models also? Too old fashioned? Tough beacuse these types of behaviors have become too accepted with-in society today...
Kids make the BEST sports fans
"Who is playing Dand?"
"Uh, the 76ers and Bucks."
"Oh... who do you want to win?"
"76ers..."
"Me Too..."
Smiling as she lays her head on my shoulder, falling asleep watching the game...
Fans Are Wrong... Again
Always are...
Half the time at the least...
Ever Wonder?
What if Roberto Clemente were still alive?
Tossing Pennies
If you could be anywhere in the sports for the next four hours, where, when, what would you be doing?
Personally, I'd like a ice-cold beer... chilling in the outfield seats of Dodger Stadium with a few friends... feet up, head back, just relaxing... a luke-warm summer night in Southern California... It doesn't even really matter who is playing... just another game in the middle of the season... just another night in SoCal... that is where I feel like being right now...
WTMF Sports
Channel Manny Presents:
W.T.M.F. Sports with your guest-host, DAndrew...
Brought to you by PayToDestroy...
"Pay your way into the house, destroy whatever you want in ten minutes"
(catch is that they use your entry fees to remodel the house they want anyway)
Reporting on wtf is today, April somedate... Dandrew
02520 - Isht... I'm on air. Get up off the floor baby and help me read my lines... No, the brunett one can stay low..."
"Hockey and Basketball playoffs are gearing up. Baseball season has begun. The Masters are on television. The NFL talk is rolling along. What a great time to be a fan of sports entertainment..."
The Adventures of ManRays
Today's "Ray of the Day" is Matt Garza...
Garza threw seven innings allowing four hits and one run in route to an Tampa Bay victory. The Rays wrapped up the first series of the season against the division rival Red Sox with a two games to one victory. Picking up where they last left off...
Honorable Mention: Evan Longoria...
Many people's favorite to walk away with the American League MVP at the end of the season, Longoria belted a third inning home run in Fenway off of Dice-K...
On Deck - No day off before they have to be in Baltimore for a three game stretch over the weekend. Home opener versus the Yankees is on Monday...
Go Rays!
10
Kinda stupid and pointless today... whatever

A Picture is worth 1000 Tears
Strike A Prose
-Heart of an Angel -
-Forever in memory -
-The Future that never came -
- May Nick rest in peace -
Answering the Questions
ATQ - Questions need to be asked before they can be answered...
Notes From Apostrophe
Ain't nothing much today... ready for the weekend...
As alwauys, leave 'em below...
Disclaimer: Written as always in IMO font...
Template:Sportsune Cookie Template
Ad blocker interference detected!
Wikia is a free-to-use site that makes money from advertising. We have a modified experience for viewers using ad blockers

Wikia is not accessible if you've made further modifications. Remove the custom ad blocker rule(s) and the page will load as expected.