Welcome to Manny Stiles FORMER Daily Weekday Column:
"Sportsune Cookie" - Stiles is... busy, please leave your message at the beep...
Guess what!?!?!? Apostrophe is back BITCH...
Confused? That makes a whole bunch of you... but we'll get to it in one min-i-te...
Warning: Read the following at your own risk. Possible Probable side effects inculde eye strain, brain scratching, and a probable cause of stupidity...
Today's Weather: 50% chance of knowledge, 40% chance of opinion, 50% chance of stupidity...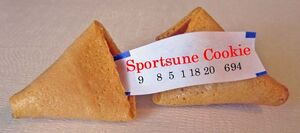 Sportsune Cookie
DANDREW
Alright, let's settle this before anyone gets really lost. Falcon02520 is retired as far as ArmchairGM is concerned. Fear, not... Dandrew is here as the second coming; like LeBron to Jordan, Pujols to Williams, Tiger to Jack...
Who is Dandrew? Well, when my lillest sis was, well little, she couldn't pronounce the name Andrew without putting a "D" in front of it. Makes no sense to me either. But for the past many years my lil sis (older than the lillest but still younger than I) has called me "Dand" or "Dandrew." Recently, the name has stuck more and more as people outside my family have come to know the name. Recently, I decided to embrase rather than shy-off the name. 'Cause seriously, who else carries this name around? Anyway, henceforth Apostrophe, Falcon02520, etc. will be posting under the forementioned...
*(Pronunciation is really very simple: dan-drew)
Pre-emptive Maneuvers
I didn't officially do a MLB Utlimate Preview/Prediction Article as prior-planned... eh, let's give it a wirl just to get the predictions out there. This way, at the end of the season we can see how right I really (are, am, is, wft?)...
Win the NL Central. Geovany Soto unoffically named the best offensive catcher in the game. Rich Harden throws 100 innings (more like pitches, but we'll see). 1908 lives on into 2010...
Don't come in last...
El Hombre for MVP. Carpenter with come-back player of the year honors. Outside shot at the playoffs...
...we have a problem...
Volquez falls apart. Bruce and Votto with BIG years...
Bye-Bye to the Prince...
Young pitching will make or break them. Trevor Cahill will turn some heads later in the season...
OVER (clap, clap) RATED (clap, clap). Still the best in the division though. Brandon Wood with 15+ home runs this season...
Michael Young returns to his 200 hit ways. Hamilton an All-Star starter. Kinsler won't come close to his 2008 outputs (but thanks for that great 2008 Ian)...
Winning the West is not out of quesiton. People better learn the name Jose Lopez when filling out their All-Star brackets. Who is that guy roaming the outfield? Junior Griffey!!! Pencil in 25 home runs... eh, better make it 20, there is a lot of ground in the North West...
Unfortunatly, they don't win the division. Finish first/second for the wild-card. Longoria won't win MVP but will start at third base in the All-Star game. B.J. will finish with more MVP votes than Evan. Garza with a break-out season. Kazmir with a healthy season (30 starts atleast)...
....................thud......................
Jeter to center field?
If anyone beats TB's David Price for Rookie of the Year, it would be Matt Wieters... Markakis is a dark-horse for MVP...
My pick (as an wannabeontelevision expert). Tampa Bay (prove me wrong)...
Take a Halladay Canada and go visit Japan and learn a new way to play the game. Either way, Japan has a better chance at winning the World Series than the Jays...
Manny with MVP numbers. Division Champions. Best offense they've had in ten years or so...
Peavy...
The have to figure something out with that outfield. Byrnes has a shot at comeback player of the year. Haren and Webb win more games than any other combo in the National League...
Tulowitzki is out to proove that his rookie season was no joke. He will... and then some. They got a bad deal from Oakland when moving Matt Holliday...
(already bored)
Francisco Liriano with a HUGE year...
Edwin Jackson is going to make the Rays miss him very much. Division winners with many thanks going out to Grandy...
LaPorta and Sizemore will be fun to watch. Kerry Wood is a great pick-up for this team...
They are not quite there yet, but getting better. Anything less than third in the division qualifies them as a dissappointment in my book...
...um... oh yeah, Alexi Ramirez!!!
No repeat. Enjoy it while it lasts Philly. Heck, if they make the playoffs I will be surprised. Somebody will be holding a "We Miss U [[Pat Burrell| Burrell" sign during the season while Ibanez struggles to drive in the runs...
My old high school flame. McCann and Escobar big seasons... Chipper will be top five in MVP voting...
The Nation has it's first Hawaiian President in office, so anything seems possible. Too bad possible and probable are not as interchangeable as they seem... Washington will come in sixth place in the division...
Stocked but not Stacked. Wright is Pujols' only competition for MVP. Playoff berth...
Hanley Ramirez will finsih with Pujols, Wright, Jones, and a PTBNL in the top five in MVP voting. Hanley is the best shortstop in the league, hands down, and will show everyone once again why this statement is not a opinion but factual. Marlins win 90+ games for the third time in franchise history...
* Subject to additional information...
Post-emptive Maneuvers
Not to brag, but I am the ultimate fantasy sports expert. Here is my resume`:
ArmchairGM fantasy baseball champion 2008 (number one and still the best)
ArmchairGM fantasy basketball first/second place (championship matchup in progress)
ArmchairGM fantasy football runner up (congrats again BBB15)
Personal League fantasy hockey first/second place (championship matchup in progress)
ArmchairGM NCAA March Madness Pool Champion
Ya just can't touch this...
Further proving that you don't need to know the game... just the system
Kids make the BEST sports fans
Because of that smile on opening day. Fresh cut grass, holding proud their baseball mit, hot dog in the other hand, hat turned backwards, wind blowing, yelling and cheering on their team. Of course we all do it now... but it's nowheres near as cute...
Fans Are Wrong... Again
Hellz` yeah. Quoting myself... HGH - This topic has been visited once before on the chair, but this is everyone's reminder! When we find out that there are players using HGH in basketball, I'll be saying "I told you so!" These guys need to build muscle, the product helps players heal from injuries quicker, and nobody is to say that it doesn't help a player jump higher. Yes, flexibility is more important, but when players are playing year-round ball at such high-levels they need a little something extra to stay healthy. Go ahead and tell me I am wrong because I have no proof or you think I am stupid. Go ahead and do it now because one day the truth will come out. That is the day I get to tell the world, "I TOLD YOU SO!!!"
(Please don't comment on this part because I really don't care what anyone else has to say here...)
Ever Wonder?
Why people are stupid? Oh wait, because your mo...m... oops...
*ducking under the AGM Linebacker's tackle attempt...

Kidding with ya buddy...
Tossing Pennies
What is the best username on ArmchairGM on the active users list?
My personal favorite are Romiezzo (but only if it is said Rome-iz-ze-oooh), Manny Stiles (great name for a writer), and Falcon02520 (duh...)
WTMF Sports
Channel Manny Presents:
W.T.M.F. Sports with your guest-host, The Falcon...
Brought to you by Pizza Hut...
"Where we will give you two medium pizzas ($10) for less than it costs to order one medium pizza ($11.49)"
(true story)
Reporting on wtf is today, April somedate... Dandrew
02520 - Today General Robert E. Lee surrendered to Ulysses S. Grant in Virginia. The American Civil War has come to an end. The United States shall remain States United...
Seriously, Thee American Civil War did so much for the game of baseball. It gave young men the chance to see parts of their country the never would have been able to see otherwise. It gave the country the chance to interact with people of other states and in a way truely helped create the "United" States. Part of all this was giving young boys the chance to learn about each other, and in doing so, learn about this game they all loved to play. Baseball, America's greatest pastime, was one of the beneficiaries of this great war... to bad so many men had to die for it to happen...
Cheers to 1865...
The Adventures of ManRays
Today's "Ray of the Day" is Scott Kazmir...
Six innings of work, allowing only one run on five hits. We'll just overlook the three walks (it's early in the season, come'on). Picking up win number one of nineteen this season. (Or win number one of ninety-seven, if you wanna look at the whole picture)...
Honorable Mention: Carlos Pena...
Following up abismal game one with four strikeouts in four at-bats, Pena's fifth inning blast kept him from going hitless again against the rival Red Sox. Pena's sparkling defense could be seen on SportsCenter's top plays...
On Deck - Still in the great north-east. Matt Garza takes on Dice-K as this opening season series is tie at one game a piece...
Go Rays!
10
Nobody got this time. So here we go again...
1- Drew Henson
2- Joe Mauer
3- Mike Moustakas
4- Josh Hamilton
5- Adrian Cardenas
6- Justin Upton
7- Jeff Allison
8- Scott Kazmir
9- Matt Harrington
10- Homer Bailey

A Picture is worth 1000 Practices of Blood, Sweat, and Tears
Not a big UNC fan, but credit to credit due. Anyway, I saw it coming so no superise here. Believe me not? Check bracket. If the page fails to load for you, no problem. Just go to Official Bracket for 2009 (Powered by YahooSports!). You won't have to look far, it is the first bracket on the list... 48 of 63, 140 points, and first in the AGM 2009 pool. Thank you UNC...
Answering the Questions
ATQ - eh... we'll get to it...
Strike A Prose
Fort Minor Never Rang More True... 10% Luck
20% Skill
15% Concentrated Power of Will
5% Pleasure
50% Pain
100% Reason to Remember the Name
Notes From Apostrophe
Thanks to Stiles, Romiezzo, and JuT for wanting me to come back to thee chair. I feel bad because I am actually on a futon right/writing now. Atleast it has arms, so I'm halfway there. One step in the door. Just finishing up (ie. catching up) with schoolwork will bring back some free time (aka AGM time). Look forward to the summer boys... it's gonna be a good one!
As alwauys, leave 'em below...
Template:Sportsune Cookie Template
Ad blocker interference detected!
Wikia is a free-to-use site that makes money from advertising. We have a modified experience for viewers using ad blockers

Wikia is not accessible if you've made further modifications. Remove the custom ad blocker rule(s) and the page will load as expected.