In what is one of the most anticipated UFC pay per views in quite some time, the potential for it to be one of the best is quite high as well. Due to time constraints, we're only going to be able to take a look at the top three fights for tonight. For an in depth look Into some of the under card fights, check out The Sports Brief's excellent UFC 84 preview.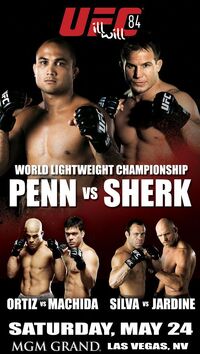 Keith "The Dean of Mean" Jardine (13-3-1) vs. Wanderlei "The Axe Murderer" Silva (31-8-1)
Wanderlei Silva's last fight was his UFC debut at UFC 79: Nemesis versus Chuck Liddell. Liddell won by unanimous decision in what was a very exciting stand up striking match. On the other side of the Octagon is Keith Jardine, whose last fight was also against The Iceman. Unlike Silva, Jardine won the fight by split decision with the help from his superb kicking ability.
This fight is almost certain to be a standup brawl, similar to the Silva/Liddell fight. I also think that the fight most certainly will not go the full three rounds. As much respect as I have for Jardine as a striker, I think Silva will have something to prove after losing his UFC debut. Not to mention, he needs a win to even be considered for an eventual title shot.
Prediction: Silva wins by KO in the 1st round.
Tito "The Huntington Beach Bad Boy" Ortiz (15-5-1) vs. Lyoto "The Dragon" Machida (12-0-0)
Machida, who has won all four of his UFC fights thus far (not to mention all of his fights for his career) will be going against a highly motivated Tito Ortiz in what could be his final fight in the UFC. Ortiz, who hasn't fought in nearly a year, fought to a draw with Rashad Evens at UFC 73: Stacked. While many people are predicting a Machida victory, I think the fact that Ortiz hasn't fought in so long has numbed us to just how good he used to be.
While Machida may technically be the better pound for pound fighter, you should never underestimate a man's pride. Ortiz doesn't want his last fight in the UFC to be a loss and I'm sure he would love to stick it to Dana White with a victory to end his UFC career.
Prediction: Ortiz wins by split decision.
Sean "The Muscle Shark" Sherk (32-2-1) vs. BJ "The Prodigy" Penn (12-4-1)
These two cannot wait to get into the Octagon against each other in hopes of destroying the other. This is Sherk's first fight since he was suspended for violating the UFC's steroid policy. Sherk's last loss was to Georges St. Pierre 3 years ago at UFC 56: Full Force. Meanwhile, the UFC Lightweight champion BJ Penn, is coming off two straight victories by rear naked choke, one of which won him the belt against Joe Stevenson at UFC 80: Rapid Fire at the beginning of this year.
Like the Ortiz/Machida match, the majority of people making predictions are going with Penn to defend his belt. However, this is a rivalry of sorts and anything can happen -- not too mention, I love taking the underdog. If Sherk can avoid being submitted and utilize his ground and pound skills, he should have an excellent shot at winning the match. The only problem is, Penn is going to make that very hard for him. If Sherk can take it into the later rounds, his superior conditioning will give him a better shot as well. As much as I'd like to take the underdog in Sherk, though, logical thinking prevails…
Prediction: Penn wins by submission in the 3rd round.
If you plan on watching, then enjoy! If not, I'll be posting a recap later on tonight or early tomorrow, so stay tuned.
Ad blocker interference detected!
Wikia is a free-to-use site that makes money from advertising. We have a modified experience for viewers using ad blockers

Wikia is not accessible if you've made further modifications. Remove the custom ad blocker rule(s) and the page will load as expected.