Russia 0 - 3 Spain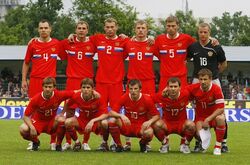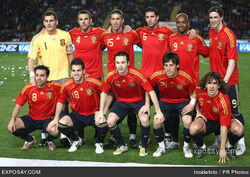 50'min Hernandez Creus Xavi
74'min Daniel Gonzalez Guiza
81'min David Silva

Spain and Russia didn't really get things started until the second half, as there were many interceptions that occured from both teams in the first half. I'm not sure what the Spanish Coach Luis Aragones said to his team, but he motivated them in some way because once the second half started, the Spanish team was ready to pierce through the Russian defenders and were shooting the ball towards Russian goalie Vyacheslav Malofeyev, not giving him a chance to rest as much as Iker Casillas did. Even when their top scorer David Villa got injured in the first half, it didn't stop the Spanish players to score goals and play well as a team.
The Germany and Spain game is going to involve a lot of tactical plays and thrilling goals that will grab your attention. So don't miss that chance to watch the game!
Ad blocker interference detected!
Wikia is a free-to-use site that makes money from advertising. We have a modified experience for viewers using ad blockers

Wikia is not accessible if you've made further modifications. Remove the custom ad blocker rule(s) and the page will load as expected.