Fresh off the team's second World Series title in the last four years, I implore Sox fans not to forget 2006. Need I remind you it was only two years ago that Boston failed to make the post-season, winning only 86 games and finishing 3rd (yes, 3rd) in the American League East. While the team's batting average was about ten points lower in '06 than last year's title team, the 2006 club swatted 26 more homeruns paced by David Ortiz and Manny Ramirez, who combined for almost 100 bombs between them. The problem wasn't hitting. Many teams, particularly this century, have won titles without prodigious lineups, i.e. the Angels (2002) and Marlins (2003) are the most obvious examples; the Cardinals (2006) didn't even win 90 games, but were the beneficiaries of a weak NL Central division.
The problem that season for the Sox was its pitching. During the offseason, the Sox traded Hanley Ramirez and no-hit pitcher Anibal Sanchez to the Marlins (along with others) for Josh Beckett and Mike Lowell, the proverbial throw-in. The team countered that move by trading Bronson Arroyo to the Reds for Wily Mo Pena and a bag of Ken Griffey Jr. autographed baseballs. At the time, the trade was lauded due to the depth of pitching in the Sox clubhouse and the need for a big bat off the bench. But karma exists, and it came out in droves once Opening Day rolled around.
The starting rotation of Josh Beckett, Curt Schilling, Tim Wakefield, '05 All-Star Matt Clement and crafty veteran David Wells was formidable. Jon Lester and Jonathan Papelbon were young stars on the rise, with the latter taking over closer duties when Keith Foulke pulled a "Way Back" Wasdin. But Wakefield, Clement, and Wells all went down. Lester raced out to a 7-2 start to his career but was later diagnosed with cancer. Jason Johnson, Kyle Snyder, Lenny Dinardo, and Kason Gabbard were called in to hold down the fort and at that point you'll find more talent down in Southie at a Yawkey League game.
Which brings us to 2008. The Sox didn't bite on the Johan Santana deal, opting to stick with the young talent in Clay Buchholz and Jon Lester that provided The Nation with a no-hitter and Game 4 of the World Series back in '07. The team had six options already and the Santana deal would have cut it to five and depleted a wealth of young talent at the same time. Essentially, they were facing the same problem as 2006: too many pitchers, too much depth. I know a little about a lot of a things, and one of those things is that you can NEVER have too much starting pitching. So for the Red Sox, it was the move they didn't make that was the team's best off-season move.
After Schilling went down, that depth became all the more important and Theo Epstein reacted by taking a flyer on Bartolo Colon, which I wrote about earlier. But the Beckett injury is the most concerning. This is a muscle issue in his back, not a broken bone or a tired arm. Which begs the question: after last season, did he do anything except BBQ, drink beer and hunt? Instead of squatting down to light the fire or camp out underneath an oak tree, maybe he should have had a couple hundred pounds on his back getting ready for the season. A bona fide ace just went down, and with some disconcerting efforts in Spring Training thus far, that deep staff is could suddenly be looking barren again.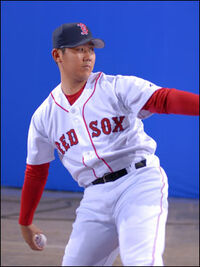 Daisuke Matsuzaka is still a number three in my eyes. Until he finds the strike zone with two pitches (never mind three) on a consistent basis, he won't be effective against another team's number 1 or 2 pitcher. Wakefield is a crapshoot. Roll the dice, because odds are he'll go down at some point. And with two youngsters who are still trying to find an identity at the major league level, that Colon signing suddenly becomes more important and critical than originally thought. The Sox are going to need him to return to old form quickly whether they like it or not. I know Theo and his team of doctors had this glorified throwing program mapped out, but it's time to toss that out the window. If he can't at least develop into a number 3 or 4 by Opening Day, the Yankees and Blue Jays could return the favor from April and May of last year.
The bottom line is this: While it's arguable as to whether Theo did the right thing by balking on the Santana deal or not, you can't predict injuries. With this flurry of injury and mediocrity hitting the Sox since camp opened, it looks pretty good right now. Had it been made, you may be looking at a rotation of Santana, Matsusaka, Wakefield, Snyder and Colon with Beckett on the DL. Drop Beckett in at the top of that rotation and that's arguable the best in the game, right? Sure, but regardless of Beckett's impending health issuess, you're stuck with a barren coffer of eligible starters thereafter. As in that '06 core of Johnson, Dinardo…well you get the point.
Instead, the team will go in with more youth and obviously more question marks. But if Beckett, Colon and down the road even Schilling return (although that's a stretch), the possibility of more depth will benefit this club upon entering that critical stretch in August and September. With Papelbon, Okajima, Delcarmen, a rejuvenated Mike Timlin and Snyder holding court in that bullpen, it will be important for the starters to give the Sox five or six solid innings, keeping the team within striking distance before handing it over for its shutdown bullpen. If that can happen, this thing will turn into a classic horse race, with the Sox, Yankees and Blue Jays all staying close until Tito finally cracks the whip coming down the home stretch and pulls it out in the nick of time. If not, the Sox horse will stumble out of the gate and never recover, finishing a distant 3 rd in the East and Wild Card races.
-Bess
Please check out more from The Sports Brief at http://sportsbrief.blogspot.com. Send any comments, thoughts or questions to sportsbrief@gmail.com
Ad blocker interference detected!
Wikia is a free-to-use site that makes money from advertising. We have a modified experience for viewers using ad blockers

Wikia is not accessible if you've made further modifications. Remove the custom ad blocker rule(s) and the page will load as expected.