What do Rod Carew, George Brett, Tony Gwynn and Joe Mauer Have in Common?
Doesn't seem like anything, does it? All four have five letters in their last names. Three of four are American Leaguers. And four out of five dentists would recommend them as your team's leadoff hitter.
No, up until Mauer went 0-for-9 in his last at-bats before the All-Star break, lowering his average from .388 to .373, they all had the real possibility of being the first player since the great Ted Williams to hit .400.
I think this is one of those baseball achievements that will never happen again, and I have had lots of thoughts on this over the years, some of them rational, some of them lucid.
Rod Carew
I'm a little too young to really remember Rod Carew's attempt to hit .400. I mostly remember it from reading about it on baseball cards and in the Scholastic Baseball All-Star books I would get in school.
I wonder if any others on AGM did this? In school, they'd give you this form to fill out that offered all sorts of books. I'd always go for the Dynamite Magazines, any maze or puzzle book and any baseball or football book. Between these books, my baseball cards and Baseball Digest I thought knew Carew's 1977 season inside and out.

Player Year G   PA  AB  R   H   2B 3B HR RBI SB CS BB SO  BA 
Carew  1977 155 694 616 128 239 38 16 14 100 23 13 69 55 .388 

Here's some stuff I didn't know - It's amazing. Carew started 'slow', finishing April at .356 and May at .365. Not that these are not great batting averages, but they don't really hint that someone was flirting with .400.
In fact, he didn't even reach .400 until June 26th, when he went 4-for-5 against the White Sox to push his average from .396 to .403. Then he moved up to his highest average of .411 on June 29th, maintained that for one more day, then staying on the plus side of .400 until gradually fading back below, to .398 on July 11th.
He wouldn't see .400 again that season, and in fact, dipped to .374 on August 25th. But then he rallied, raising his average steadily until he settled on .388 with a 3-for-4 performance on the final day of the season.
George Brett
As a kid, I always took it away from Brett, because in my mind, he didn't have as 'complete' a season as Carew. To me, Brett's .390 wasn't as legitimate as Carew's .388. I mean - 239 hits to 175 hits? 616 At bats to 449 at bats? Does 449 at bats even qualify you for a batting title? I believe that 500 plate appearances does...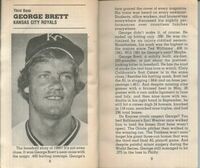 Player Year G   PA  AB  R  H   2B 3B HR RBI SB CS BB SO  BA 
Brett  1980 117 515 449 87 175 33 9  24 118 15 6  58 22  .390 

But I came to realize that Brett's .390 was a lot more legitimate than I'd given him credit for. For one thing, he triumphed over 'roids (hemorrhoids, of course. Yes, I am totally juvenile) to have this great achievement, and also, I saw the numbers of Williams' incredible 1941 season:

Player   Year G   PA  AB  R   H   2B 3B HR RBI SB CS BB  SO  BA 
Williams 1941 143 606 456 135 185 33 3  37 120 2  4  147 27  .406 

But what I didn't notice until now is the amazing number of walks Williams had. I zeroed in on the hits - 185 to 175 - clearly, I had it wrong about the legitimacy of Brett's .390. Now that I see the walks, I think maybe I was right... :-)
Like Carew, George Brett's 1980 season didn't start particularly well. He didn't hit .300 until achieving a .301 batting average on May 31st. Then he played in only 9 games in June, but was able to raise his average to a more George Brett like .337 before missing time from June 10th to July 10th.
During July, he steadily increased his average (with some dips as well), ending the month strong with a fantastic 8-for-10 hitting show against the Red Sox that pushed his average up to .390, 59 points higher than the .341 he was hitting after going 2-for-2 upon his July 10 return to the lineup.
After dipping a bit in early August, Brett again started to increase his average, until he hit .394 after goin 3-for-4 against Toronto on August 16th. The next day, a 4-for-4 performance pushed him above .400 for the first time that season, as his average settled in at .401.
He topped out at .406 four days later, then saw a decline, and his average slipped to .399. But not for long, as four days later, on August 26th, he'd reach his season high, .407. This time he managed to stay above .400 for nine more games, and then re-entered the sub-.400 realm. He'd hit .400 one more time on September 19th, and then that was it for the .400 chase. But not a bad run at all - having a .400 average as late as September 19 (with 13 games remaining in the season) is awesome.
Tony Gwynn
Then along comes Tony Gwynn, who, along with Wade Boggs, had pretty much set the standard for batting titles in the 1980s,  winning four titles in the 80s and four more (four consecutive) in the 90s.

Player Year G   PA   AB R  H   2B 3B HR RBI SB CS BB SO  BA 
Gwynn  1994 110 475 419 79 165 35 1  12 64  5  0  48 19  .394 

If my pre-teen self had seen this, it would have been 'not legit' all over again, baseball strike be damned.
Unlike Carew and Brett, Gwynn started strong, fashoning a .395 average by the end of April. It's hard to say whether or not Gwynn's foray into .400 was legitimate. It happened so early in the season - .402 on May 2nd, which was 33 hits in 82 at-bats. I'm thinking this is not enough of a season to say that a batter truly flirted with .400.
His last dip into the .400 waters came on May 15th, when he was batting .408 - 49-for-120. I am also noticing the wild fluctuation in his average at this time - .419 the day before, .398 the day after - based on this, I think this is more indicative of the kind of ups and downs seen in the early parts of a season.
That said, I am hardly downplaying Gwynn's spectacular batting prowess. He dodged, dipped, ducked, dived and dodged between .376 and .394 for the remainder of the season. It's amazing to have that type of consistency from a .294 hitter, let alone someone who is on the verge of .400.
Unfortunately, the big question when it comes to Tony Gwynn will remain unanswered forever: could he have hit .400 if the 1994 strike hadn't ended the season two months early? While I think that Gwynn was, perhaps, the best pure hitter of the 90s, I don't think he would have hit .400 for the season. No reason here, just what I think.
And then again, perhaps he could have. If I consider that Brett didn't top .400 until mid-August and Carew didn't get to .400 until June and had his last .400 day in mid-July, maybe. Sadly, it's all left to speculation now. I will say that if I thought anyone could have hit .400 at that time, Tony Gwynn would have been the guy on whom I'd have put my money.
Joe Mauer
Like Brett, Mauer has missed a significant amount of time in the season in which he chased/is chasing .400. He missed all of April (22 games), and a few other games here and there. He did finish May strongly, attaining a .414 batting average on the strength of a 41-for-99 performance.

Player Year G  PA  AB  R  H  2B 3B HR RBI SB CS BB SO   BA 
Mauer  2009 64 282 241 49 90 13 1  15 49  1  1  35 35  .373 

He stayed above .400 for a good part of June, holding on with a .407 average as of June 21st. But then his average saw a steady decline until he ended June with a .383 average. Not bad at all, but he's going the wrong way where .400 is concerned. As for July, he pushed his average back into the .390s, only to see that average dip, before bottoming out at .373 after an 0-for-9 drought in his last two games before the All-Star game.
Mauer still has 73 games to ply his trade, and I, for one, will be interested to see how he does coming away from the All-Star game. Even if he doesn't hit .400 this year, the fact that he was as close as he was, and the fact that he was hitting over .400 well into June is an endorsement of his belonging in the conversation with the four other great hitters mentioned earlier.
Again - as with Gwynn - the question: Can he hit .400? And again - as with Gwynn - I don't feel that he can. I'd love to see someone hit for that lofty an average again. And Mauer has already spent some quality time north of the Williams line this season. But I'll be watching the box scores to see how he does. And I'll be rooting for him.
A Comparison of the seasons

Player    Year G    PA   AB   R    H    2B  3B HR RBI  SB  CS BB  SO   BA 
                                
Williams  1941 143  606  456  135  185  33  3  37 120  2   4  147 27  .406 
                                
Carew     1977 155  694  616  128  239  38  16 14 100  23  13 69  55  .388 
Brett     1980 117  515  449  87   175  33  9  24 118  15  6  58  22  .390 
Gwynn     1994 110  475  419  79   165  35  1  12 64   5   0  48  19  .394 
                                
Mauer     2009 64   282  241  49   90   13  1  15 49   1   1  35  35  .373 

Resources: http://www.baseball-reference.com/, of course.
Ad blocker interference detected!
Wikia is a free-to-use site that makes money from advertising. We have a modified experience for viewers using ad blockers

Wikia is not accessible if you've made further modifications. Remove the custom ad blocker rule(s) and the page will load as expected.