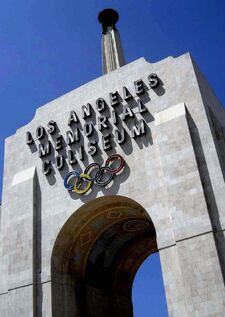 Earlier this week, the Los Angeles Times reported that Gov. Arnold Schwarzenegger has been working on a proposal to sell several of the state's high profile buildings in an effort to reduce California's swelling budget deficit. As a result of the governor's initiative, it appears as if two of Los Angeles's sports venues, the Coliseum and Sports Arena, are on the market, and many people are suggesting that USC would be the most likely buyer. It sure sounds that way:
"If that were the only way to ensure the Coliseum would be improved and maintained for its current uses, for the right price the university would have to consider it," said Kristina Raspe, USC's associate senior vice president for real estate and asset management.
First off, I'm not entirely sure that Arnold is able to sell the Coliseum in the first place. In 1984, the Coliseum became a National Historic Landmark, and as far an I am aware, you are unable to sell them to private industries, which would include USC. But if I am incorrect and you are able to sell it, than there is no question that USC should look into purchasing the Grand Old Lady. Yes, tt is old and worn down, but it does present some enticing opportunities for the university.
For starters, the Coliseum is arguably the most storied sports venue in the entire country. It has hosted Super Bowls, Olympics, and numerous USC and NFL games. But despite all of its tradition, the stadium has been allowed to run down over the past few years with the Coliseum Commission merely standing by.
If USC was placed in charge than they would be to renovate it in terms of adding new seats, bathrooms, and other modern amenities, while keeping the stadium's capacity of 92,000, in tact. Additionally, the university could also claim the land next to the Coliseum, Sports Arena, parking lots, and the swim stadium. All of these could be used to build additional facilities for the athletic program. I don't see what the Trojans really have to lose here.
Ad blocker interference detected!
Wikia is a free-to-use site that makes money from advertising. We have a modified experience for viewers using ad blockers

Wikia is not accessible if you've made further modifications. Remove the custom ad blocker rule(s) and the page will load as expected.