After winning the NBA Championship and showing no signs of running out of gas. "Crushing" every team that crossed your path and enter your kingdom.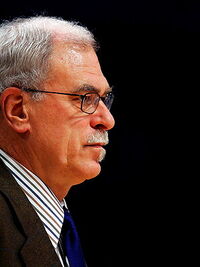 Being able to still win championships like it was the 1995-96 season. Still using the same plan and not finding anyone that could stop it.
Winning championships with players you liked and didn't like (at the moment). Winning championships with players who liked and disliked each other.
Being able to manage players with big egos on the basketball court, but still being able to succeed when players couldn't get along.
Getting criticized because you won championships with NBA greats and not with average talent...but not being able to name a coach that won a championship with average talent.
Being able to fight through controversy and leave all the bad news behind and start over.
These are the things Los Angeles Lakers head coach Phil Jackson has managed to do throughout his NBA coaching career.
After winning his tenth NBA championship and passing former Boston Celtics head coach Red Auerbach, what else does Jackson need to accomplish?
"The guy has won 51 playoff series now," Orlando Magic head coach, Stan Van Gundy said. "Check your record book and see how many coaches have even won 50 playoff games. It's fewer than 20, and the guy has won 51 playoff series. It's incomprehensible. You look at the guy's record and it's undeniable."
Jackson has already proven he's the greatest. Winning his tenth NBA championship ring makes that a fact. Everything that was needed to be accomplished already has been. Since he's established himself as an all-time great; it'll be adding insult to injury seeing Jackson coaching in the NBA.
Health is starting to become an issue for Jackson and he's made that known. Jackson hasn't made a decision on his future with the Lakers, but expect that to come soon. Spending lots of time on the road has done nothing but make things worse for Jackson's health. He's expressed the idea of just coaching home games, but he doesn't want to lose focus of his team.
If health is becoming an issue for Jackson, then retiring should be his choice. Enjoying your life is something that is needed and Jackson should start now before its too late. Health is very important especially when you're 63 years of age. Jackson doesn't feel healthy at times and that's a problem.
The end of next season will be the end of Jackson's contract. Many expect him to stick around for another year then retire, but why not retire now?
Retiring after winning your tenth NBA championship; what is better than that? Jackson has done everything that has been asked of him, plus more. He won six NBA championships with the Chicago Bulls and four NBA championships with the Lakers.
Many people didn't believe Lakers guard, Kobe Bryant would win a fourth championship without having Phoenix Suns center and former teammate Shaquille O'Neal, but Jackson is the biggest reason why many people were proven wrong.
People said you can't win a championship with players not being able to get along. Jackson won three championships, when O'Neal and Bryant had problems about who's sharing the basketball or who's not in shape.
What other questions should Jackson answer?
He couldn't win a championship without Michael Jordan, Bryant, and O'Neal? Name an NBA head coach that's won a championship without superstars?
Jackson has done it all and there's nothing more to accomplish. Any more questions please?
Ad blocker interference detected!
Wikia is a free-to-use site that makes money from advertising. We have a modified experience for viewers using ad blockers

Wikia is not accessible if you've made further modifications. Remove the custom ad blocker rule(s) and the page will load as expected.