By Kyle Klingman of Wrestling411.tv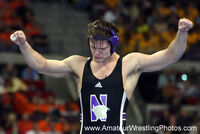 Senior Jake Herbert enters his sixth year at Northwestern after taking an Olympic redshirt year last season. The Wexford, Pa., native already has an impressive college career – one that could end with two NCAA titles and four finishes in the top three at the NCAA tournament.
However, all of the major polls – InterMat, W.I.N. Magazine, Amateur Wrestling News – have Herbert ranked second behind Ohio State's Mike Pucillo.
The logic here is that Pucillo won the 2008 NCAA tournament; Herbert won in 2007. Both defeated Iowa State's Jake Varner in the NCAA championship finals at 184 pounds, however, Varner defeated Herbert at the 2007 Midlands tournament while Herbert was wrestling unattached.
Pucillo defeated Varner last season and Herbert didn't. A top ranking for Pucillo is certainly justified.
But is Mike Pucillo truly the best wrestler in the weight class?
Some might argue that Jake Herbert is the best college wrestler in the country – so it seems a bit odd that he is currently ranked second in his weight class. Herbert and Pucillo have met once, with Herbert winning the match by six points. Herbert placed first at the Big Ten tournament and the NCAA tournament in 2007. Pucillo placed sixth behind Herbert the same year.
Then there is a matter of history. Herbert has been tested more often than Pucillo and has an undefeated season on his resume.
Herbert's scores at the 2007 NCAA tournament: 11-3, 16-6, 11-1, 13-4, 6-1
Pucillo's scores at the 2008 NCAA tournament: 11-2, 14-1, 4-3, 2-1 TB, 3-3 TB
Domination plays a factor too – and Herbert has that in his favor.
The two could meet for the first time at the NWCA National Duals in Cedar Falls, Iowa, on January 10-11. The two should definitely meet, barring injuries, in Evanston, Illinois, on Feb. 20 for the Ohio State versus Northwestern dual meet.
Who is the best 184 pound wrestler in the nation?
Jake Herbert (senior) – Northwestern
2004-05 – 33-3, (3rd at 174 pounds)
2005-06 – 36-1, (2nd at 174 pounds)
2006-07 – 32-0, (1st at 184 pounds)
Career record: 101-4
NCAA placings: 3-2-1
Mike Pucillo (junior) – Ohio State
2006-07 – 26-5, (6th at 184 pounds)
2007-08 – 34-1, (1st at 184 pounds)
Career record: 60-6
NCAA placings: 6-1
Head-to-head
Jake Herbert defeated Mike Pucillo 11-5 on February 4, 2007, during the Northwestern versus Ohio State dual meet.
User Note: Jason Bryant and Kyle Klingman write and produce the wrestling television and radio shows for Wrestling411. Both also write for Wrestling International Newsmagazine (W.I.N.).
Ad blocker interference detected!
Wikia is a free-to-use site that makes money from advertising. We have a modified experience for viewers using ad blockers

Wikia is not accessible if you've made further modifications. Remove the custom ad blocker rule(s) and the page will load as expected.