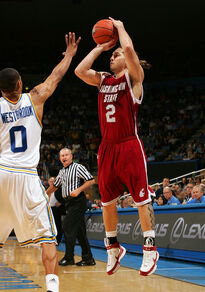 This article probably means they are going to f*&$ up tomorrow against Arizona, but I'm a UW fan!
With all of the upsets like North Carolina falling to Maryland at home, UCLA falling to rivals USC....at home, and last night, #5 Tennessee lost to 7-9 Kentucky away, the Washington State Cougars are off to one of their best starts in school history, but it has been under the radar for the longest time. A record of 17-1, with that one loss at UCLA, 81-74, as they finished that 3 game road stretch they started the Pac-10 season with. But they beat USC, who has OJ Mayo, the beat rivals Washington, they are tough to beat at home, and they beat them at home for the 3rd year in a row.
Their next toughest test came last night at home against Oregon. Sure, Oregon came off a loss to UW, but they were still 12-5 and a modest 3-2 in that tough Pac-10. The Ducks coming into that game had won 13 in a row against the Cougs, including 20 of 21 under head coach Ernie Kent. It looked like Oregon was going to make it 14 in a row with a 59-58 lead with a little over one minute left. Then Kyle Weaver gave WSU the lead, Malik Taylor missed for Oregon. The Cougs got a transition basket, a 3 point play. Next thing you know, in the matter of 61 seconds, Washington State went from 59-58 down, to 69-60 and a key win.
But the reason they don't get much media attention is the supposed quality of opponents they faced in their non-conference schedule. In the Pac-10/Big XII challenge, their opponent was.....Baylor, and they beat Baylor 67-64. Gonzaga was up next in Spokane. The Bulldogs have lost all of 2 games in their last 4 seasons at home. Washington State held that fast paced Gonzaga team to 47 points, as that stifling defense propelled Washington State to a 51-47 win.
Honestly, they are 17-1, play in one of the toughest conferences in the country, are 4-1 in that conference, what is not to like about this team? They have certainly been under the radar, and thanks to UCLA totally crapping the bed against USC, the Bruins' February 7th matchup at Washington State will likely decide the regular season title, and perhaps a #1 seed when they both go dancing.
This road trip for Wazzu may be their toughest yet. At Arizona and Arizona State, both good teams, and if Washington State can beat them, who knows, maybe you are looking at a dangerous team in March.
Ad blocker interference detected!
Wikia is a free-to-use site that makes money from advertising. We have a modified experience for viewers using ad blockers

Wikia is not accessible if you've made further modifications. Remove the custom ad blocker rule(s) and the page will load as expected.