Mistakes are a pivotal part of racing. To win, a driver needs to capitalize on those of his or her opposition and not make any themselves. For the second straight weekend IndyCar points leader Scott Dixon made a mistake. Unlike his spin at Watkins Glen, this time it earned him the victory rather than kept him from it.
Rain was forecasted throughout the day at Nashville Superspeedway. Indeed, the Indy Lights Race (more below) was delayed by about an hour and finished a mere 45 minutes prior to the start of the IndyCar race. Like most of the pit crews, I also was watching the radar screens, and looking to see if the race could make it to 101 laps (which would make the race official) before the rain started.
ESPN got their dream front row, with Helio Castroneves starting first and Danica Patrick second. Danica's teammate Hideki Mutoh, never a factor, started third alongside was last week's winner Ryan Hunter-Reay. The Ganassi cars were on the third row and Tony Kanaan seventh. Dixon pushed forward quickly after the race started to join Helio and Danica before a caution on lap 2 after Marco Andretti got loose and collect Ryan Briscoe. Marco continues his feast or famine racing career with a last place finish, while Briscoe gets unfortunately collected two weeks running (that time it was Dixon's aforementioned mistake).
Soon after the restart a clear pack of four strong cars emerged: Castroneves, Patrick, Dixon and Kanaan. As the race continued they would be joined by Panther Racing's Vitor Meira, who climbed up from a 15th place starting position to run most of the race in the top 5, climbing as high as third. The battles themselves for position were almost non-existent, thanks to Nashville's one-grooved nature. The best chances to pass were with lapped traffic serving as picks or on restarts, especially if you're behind Danica. To her credit, she was much better at keeping her position on restarts than usual, only getting passed once (see later).
Rain finally arrives on lap 138. Under the caution, everyone but the two Ganassi cars pit. While the broadcast calls it a strategic move by Dixon's race strategist Mike Hull, Dixon later states that he was supposed to pit with Kanaan, but didn't turn in time so he stayed out. Presumably, Dan Wheldon stayed out since he saw him teammate do the same.
The shower was brief and didn't leave the track wet, so racing resumed. On the restart, Castroneves, running fifth, passed Patrick quickly than got aggressive with Tony Kanaan, squeezing past Kanaan and the lapped Mario Moraes to claim third.
If the race went to its full extent, Dixon and Wheldon would need to pit again. However, on lap 166 the rain came down again. This time it was hard, and had lots of backup. The cars were parked, at the race was called. Scott Dixon won his fourth race of the season, and his third consecutive at Nashville Superspeedway.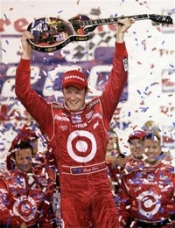 The results
As far as points go, there were no changes in the top 4, although Kanaan could have moved to third if he had won. Fifth place in the standings has changed though; By virtue of Danica Patrick's fifth place finish and Marco Andretti's accident, the two have switched places, with Danica now fifth in the points and Marco seventh.
Drive of the Race: Has to be Vitor Meira. He ran well the entire race, and was deprived of a top 5 finish by Wheldon staying out. Honorable mention to Mario Moraes, who despite being a lap down got his second straight top 10 finish. Has he figured this IndyCar thing out? Another shocker comes from Marty Roth, one of the worst drivers in the Series, finishing a race and only a lap down from the leaders.
Worst Drive of the Race: Although he finished 11th, Will Power ran poorly while being a lap down, and was a primary cause for Ryan Hunter-Reay's accident.
This may have been the last race the IRL runs at Nashville Superspeedway. The talk surrounding next year's schedule has been brisk recently, with most of the races after Indy being targeted for termination, Magny-Cours style. Nashville seems to be #1 on the hit list, and I feel like it's fitting. Although it's great to have a track firmly in NASCAR country that gets great crowds, the racing action is always poor. A great oval is an asset for the series, but this isn't one, and I won't be sad to see it go if it indeed does.

Indy Lights Bonus Coverage - Ana Beatriz becomes a Gibson Girl
While Nashville looks like it may be history for next year's schedule, it will go out with some history thanks to the Indy Lights race. Brazilian driver Ana Beatriz Caselato Gomes de Figueiredo, who drives under the first two of those names, claimed victory in the Indy Pro Series race that preceded action at Nashville today. Ana Beatriz is the first woman to ever win an Indy Lights race and the second to win an Indy Racing League sanctioned event.
Starting from second, she passed polesitter and teammate James Davison on lap 33 and cruised for the remaining 44 to win the second coolest trophy in American open-wheel racing, the Gibson guitar given to race winners at Nashville.
Top 10
Ad blocker interference detected!
Wikia is a free-to-use site that makes money from advertising. We have a modified experience for viewers using ad blockers

Wikia is not accessible if you've made further modifications. Remove the custom ad blocker rule(s) and the page will load as expected.