The Detroit Pistons organization fired head coach Flip Saunders earlier today.
Saunders, and his Detroit Pistons, once again failed to reach the NBA Finals after taking Detroit to three straight Eastern Conference Finals. Detroit fell to the Miami Heat (05-06), Cleveland Cavaliers (06-07), and the Boston Celtics (07-08) in three straight Conference Finals. Flip is a great basketball coach, but, unlike guys like Phil Jackson, Saunders isn't a great postseason head coach, obviously. Though Saunders does know how to lead a team into the playoffs. Before coming to Detroit, Saunders coached the Minnesota Timberwolves for 10 seasons. Flip led Minnesota to 6 winning seasons, and missed the playoffs just twice during those ten seasons.
Saunders, and the T wolves missed the playoffs in his first season as head coach ('95-'96) with a 20-42 record, and a 6th place finish in the Midwest Division. For the next 7 seasons in Minnesota, Saunders led the Timberwolves to 1 Division title, and five 3rd place finishes. His team made it to the playoffs in each of those seasons, but lost in the first round of the NBA playoffs every single time. His 10 years in Minnesota also consisted of four 50+ win seasons.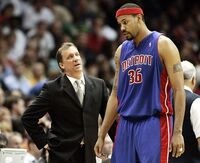 Some blame this on Kevin Garnett's inability to win the "Big one", but I just think Flip lacks the skills needed to coach a high-caliber playoff team. Saunders coached just 51 games during the 2004-2005 NBA season before the Minnesota organization fired him.
Despite his struggles in the playoffs, the Detroit Pistons hired Saunders as head coach on July 21st, 2005. Saunders was to replace former head coach Larry Brown, who is now coaching the Charlotte Bobcats. Saunders coached Detroit for 3 seasons, and accumulated a 176-70 record, including a 64 win season in 2006, his first season on the job. Also, in those 3 years under Saunders, Detroit captured 3 Division titles.
Career Coaching Stats
Seasons: 13
Games coached: 983
Record: 587-396
Win %- .597
Personally, I don't agree with this firing. I know, I know, he did show that he couldn't finish it off in Minnesota. But, I just think that they should have given him one last chance. It takes more than three years to create a legit system in pro sports. But, Basketball, just like every other pro sport, is a business. I guess it was just time for a change in Detroit. Saunders will definitely not be on the market for too long. He is a great coach, and I wish him luck.
Ad blocker interference detected!
Wikia is a free-to-use site that makes money from advertising. We have a modified experience for viewers using ad blockers

Wikia is not accessible if you've made further modifications. Remove the custom ad blocker rule(s) and the page will load as expected.