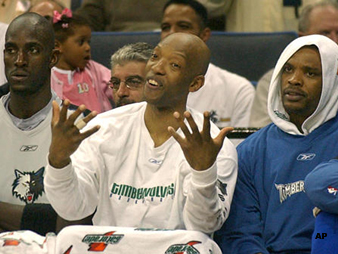 Sam Cassell is literally on his way to Boston. The Celtics have drawn up a contract, and it's just awaiting Cassell's John Hancock.
He may look like an alien, but he's going to help this team a lot in the playoff run. He will bring experience and consistency to the point guard position that is much needed. Rajon Rondo is a great talent, but this team is in perfect position for a championship right now. Rondo is going to be the man for the Celtics for many years to come, but he can make a little room on the throne for Sam Cassell this season.
Some say that Cassell will screw with the locker room chemistry, as he's always been an outspoken guy, but this team still belongs to Paul Pierce and Kevin Garnett. Sam Cassell will provide leadership that isn't exactly given from Doc Rivers. However, he will come into this situation knowing he is not the number one option.
There has also been criticism that Cassell will want to take the last shot. That is a position of glory that has belonged to Paul Pierce for many years and some fans may have a problem with somebody else coming and trying to take Pierce's duty. I am not one of those fans. As long as that last shot goes down in the Celtics favor, I couldn't care less if it was Paul Pierce, Ray Allen, Sam Cassell, Isiah Thomas, or Derek Jeter shooting the ball. It never hurts to have one more guy with the nads to hit the buzzer beater.
So welcome, Sam Cassell… there will be haters, but win a championship and they'll shut up; just ask Terry Francona.
Ad blocker interference detected!
Wikia is a free-to-use site that makes money from advertising. We have a modified experience for viewers using ad blockers

Wikia is not accessible if you've made further modifications. Remove the custom ad blocker rule(s) and the page will load as expected.