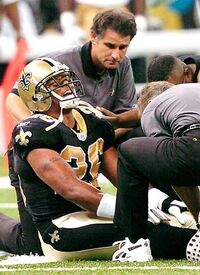 The NFL fans are buzzing about the release of Deuce McAllister from the New Orleans Saints today. McAllister, played in 97 regular season games over an eight year career with the Saints.
Some Franchise Stats:
Record Holder for TD's (55)
Rushing Yards (6,096)
Rushing TD's (49)
Ranked 8th in receptions (234)
He is also the only RB for the Saints to gain over 1,000 yards in a season four times.
So why the departure? The main reason stems from his ACL injuries. The first was in 2005 and then again in 2007.
"Decisions like this are always very difficult ones to make," general manager Mickey Loomis said. "Deuce has epitomized hard work, leadership, and productivity throughout his career and has been a source of great pride for all of us associated with the team. His records and accomplishments on the field speak for themselves about the type of player he was in a Saints uniform. He truly ranks as one of the greatest players in our club's history, and we are very respectful of everything he has meant to the Saints and our community."
Want to follow Duece off the field?
Check out his Catch 22 Foundation that aids countless less fortunate families and children.
Ad blocker interference detected!
Wikia is a free-to-use site that makes money from advertising. We have a modified experience for viewers using ad blockers

Wikia is not accessible if you've made further modifications. Remove the custom ad blocker rule(s) and the page will load as expected.