Oh hey, look at that, both number one seeds managed to punch their ticket to the Super Bowl.  Sounds like this would be a normal occurrence, but it's not really at all.  In fact, this is the first time it has happened since 1993.
The league's top two quarterbacks, Drew Brees and Peyton Manning, will be facing off against each other in tropical Miami, FL in less than two weeks.
After seeing today's reaction, it seems like the better Super Bowl match-up would be a Favre-Manning showdown.  You know, two well-known signal callers in a high-scoring shootout--both of which are clearly locks for the Hall of Fame, as well.
But, nevertheless, this year's Super Bowl is bound to be a high-scoring affair with two of the NFL's most efficient offenses in the game.
Peyton Manning, the four-time league MVP from New Orleans, showed why he is arguably the face of the league with his late dissection of the NFL's top-ranked defense of Rex Ryan.  Manning, who finished the AFC Championship game with 377 passing yards and three touchdowns, led his offense with 24 unanswered points to complete the 13-point victory.
Even more impressive, perhaps, is the fact that he has made countless receivers look like All-Pro's with his superior throwing arm and Einstein-esque brain power.  Manning, without question, is the smartest quarterback in the game and is his own offensive coordinator.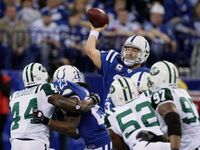 Now that I am done praising Peyton, I think it is time to give the rest of the Indianapolis Colts some credit for their second Super Bowl appearance in the past four seasons.
Not only did the Colts defense do a nice job adjusting at halftime and keep New York scoreless in the second half, but they also managed to outrun them on offense.  Yes, that's right, the Indianapolis run game--ranked 32nd in the rushing category during the regular season--outran the top-ranked rushing offense in the New York Jets.  Of course the early injury to rookie tailback Shonn Greene boosted Indy's confidence on defense, but they still did a fantastic job limiting them to an average of three yards per carry throughout the game.
Rookie quarterback Mark Sanchez played great considering the circumstances, making just one critical mistake in the biggest game of his short professional career.  The Jets played solid football, they were just not the better team.  Congratulations on a great season though, New York.  Your future looks to be bright.
As for Minnesota?  Unfortunately, this very well may be what Brett Favre gets remembered for most.  I mean, he played one hell of a game...getting hit something around 16 times and still fighting through the pain and leaving his heart on the field.  But that last pass, which he threw across his body (and more importantly, across the field) was inexcusable for a seasoned veteran like himself.
If he could do that play over he'd throw elsewhere in a heartbeat.
Minnesota's heartbreaking loss, however, does not all fall on the right arm of Favre.  All game long Minnesota failed to hold on to the ball.  All-Pro running back Adrian Peterson played great, gaining 120+ yards and accumulating three touchdowns on the ground, but his failure to hold on to the ball ended up costing the Vikes at least a touchdown.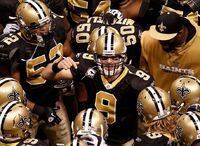 Minnesota dominated the total yards gained, first downs, time of possession, third down efficiency and penalty categories but lost the most important battle: Turnovers.
It seemed like every time they managed to get together a decent-looking drive they gave the ball right back to the Saints.  Favre gave out a valiant effort and should be congratulated for a terrific season, possibly one of his top three seasons, statistically anyways.
No matter which way you look at it, Super Bowl XLIV is almost guaranteed to be a great one!
Look for Manning to capture ring number two, though watching Drew Brees and his New Orleans Saints capture the first Lombardi Trophy in franchise history would be great to see as well.
Photo Credits:
Manning...(Mark Duncan/AP Photo) Brees...(Photo by Chris Graythen/Getty Images)
Also Posted Here: http://talksportswithromdawgandbigben.blogspot.com/
Ad blocker interference detected!
Wikia is a free-to-use site that makes money from advertising. We have a modified experience for viewers using ad blockers

Wikia is not accessible if you've made further modifications. Remove the custom ad blocker rule(s) and the page will load as expected.