It almost looked as if Tuesday's opener was going to get rained out and Tim Lincecum and co. would have to wait until Wednesday to open up the 2009 season. The weather prevailed and so did the Giants bats, as they opened the season with a 10-6 beating of the Milwaukee Brewers. I said in my preview post that the Giants had to take advantage of the Lincecum/Suppan match-up and they did so, even without getting a great effort out of their ace.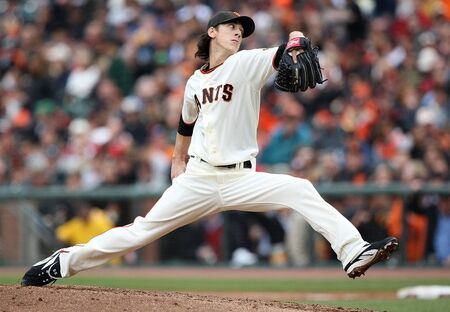 2008 NL Cy Young Award winner Tim Lincecum struggled through his first opening day assignment as the 24 year-old lasted just 3 innings, allowing 3 runs on 3 walks and 4 hits while striking out 5. Lincecum threw 74 pitches through 3, and Bruce Bochy felt like it was a little too much too soon and didn't want to overwork the youngster on the very first day of a 6-month marathon. The one at-bat that I look back at that really ended up hurting Lincecum was the one in which he threw a 1-2 change-up to Jeff Suppan and Suppan roped it for an RBI double before scoring on a Rickie Weeks single. His change-up was working well for him, but why him and Bengie Molina decided not to blow a 96 mph heater past the slow bat of the opposing pitcher baffled me for a second there, but hey, at least it didn't cost them the game. However, I'm sue if you told Lincecum to take one pitch back from Tuesday afternoon's start, he'd pick that pitch to Suppan. Those in relief of Timmy definitely did their job though. Rookie Joe Martinez was a little shaky at first, giving up a few solidly hit singles and allowing a couple of runs, but Bochy ended up getting 2 innings out of him and he ended up getting credited with the victory. Then the Giants used a combination of Brandon Medders, Jeremy Affeldt, Bob Howry, Alex Hinshaw, and finally Brian Wilson to close the door on the Brewers.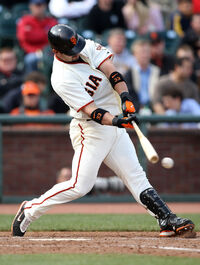 Tim Lincecum had the spotlight on him in the early part of the afternoon, but it was the Giants' offense that stole the the show on Opening day. Four Giants hitters had multi-hit games, including Bengie Molina who went 2-5 with a big fly and Aaron Rowand who went 2-3 with a home run and 3 RBI. The Giants young first-basemen, who they are hoping can entrench himself into the role, got them started as Travis Ishikawa's base-clearing 3-run triple in the bottom of the first put the Giants on the board. Pablo Sandoval, aka Big Panda, got into the mix as well with a two-hit day, including a double and 2 runs scored. The only Giants' starter who didn't get a hit was second baseman Emmanuel Burriss, but he found a way to get involved, getting on base and both scoring and driving in a run. The unit that was supposed to be the huge question mark coming into the year, had all the answers on day one. Now, in no way am I declaring the Giants offense a powerhouse, or for that matter a strength, but if Rowand starts hitting like he's capable of, Randy Winn and Molina stay steady, and the youngsters keep doing what they started at the end of '08 season and have carried through spring training and opening day, then the Giants will be a good ball club. Not to mention, the way the team responded after they lost a decent lead and Lincecum got knocked out of the game was outstanding. This win has to give them the confidence that they can handle good teams, even if they don't have their ace on the mound or at full strength. Huge confidence builder and all-around great opening day for the Giants. See those of you who will be there, at the ballpark tomorrow night.
Trevor Cole The San Francisco Giants Blog
Ad blocker interference detected!
Wikia is a free-to-use site that makes money from advertising. We have a modified experience for viewers using ad blockers

Wikia is not accessible if you've made further modifications. Remove the custom ad blocker rule(s) and the page will load as expected.