Article:SF Giants Lineup Analysis
Talk

0
Ad blocker interference detected!
Wikia is a free-to-use site that makes money from advertising. We have a modified experience for viewers using ad blockers

Wikia is not accessible if you've made further modifications. Remove the custom ad blocker rule(s) and the page will load as expected.
Things have been extremely quiet for the Giants since the calender turned to 2009 and without anything excitingly new to talk about, I figured I would go ahead and project out how the Giants roster will look come opening day with a little bit of player analysis in there. Instead of continuing to beat the rumor mill and the things that might happen, I wanted to go ahead and show what the Giants realistically should look like to start 2009. I am not planning on anything too earth shattering happening between now and opening day, but I do expect the Giants to add at least one more infielder and maybe another reliever to the mix. They have shown interest in Joe Crede and with Rich Aurilia now focusing on the Cubs, Crede or someone like Ty Wigginton could be picked up at any moment now.
Lineup
1. Randy Winn RF (Back to the leadoff role, the steady Winn could be in his final year in SF)
2. Edgar Renteria SS (Giants hope he's got another couple of years like 2007 left in the tank)
3.
Pablo Sandoval
1B (All scouts are saying this guy is the real deal, expect .300+ average with above average power and run production)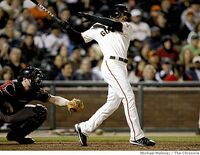 4. Bengie Molina C (Back in the cleanup spot by default, has been one of the best FA signings by the Giants this decade)
5. Fred Lewis LF (Assuming the G's don't sign Man-Ram, FLew will look to build off a successful '09 campaign)
6. Aaron Rowand CF (Moving down in the lineup should take pressure off, must be better in '09)
7. Joe Crede 3B (Giants interested and could be a steal if he can revert back to '06 form, tough to count on though... Ty Wigginton could be an option here too)
8. Kevin Frandsen 2B (I think Burriss will be playing everyday at SS in Fresno leaving Frandsen his opportunity)
Starting Rotation
1. Tim Lincecum RHP (Looking to start campaigning for Cy #2, probably the NL's best hurler at this point)
2. Randy Johnson LHP (The Big Unit will be a treasure for the young pitchers, and should continue being a nightmare for opposing hitters, especially at AT&T Park)
3. Matt Cain RHP (I'm looking for Matty to take that next step this year in regards to consistency)
4. Jonathan Sanchez LHP (Left-handed power pitcher came into his own last year, must prove himself again this time around)
5. Barry Zito LHP (OK, maybe this year he gets it right? He did pitch better in the 2nd half last season, but not where he needs to be yet)
Bullpen
RHP Brian Wilson (After 3 1/2 years of searching and using the likes of Tyler Walker, Matt Herges, and Armando Benitez, the Giants finally have a legit closer)
LHP Jeremy Affeldt (One of the better LH relievers in the game and is just coming into his own. Very solid signing by Sabean)
RHP Sergio Romo (Howry could be the main RH set-up man, but Romo has the upside to be a dominant one)
RHP Bob Howry (Should provide veteran stability, but best days are clearly behind him)
LHP Jack Taschner (Could battle Hinshaw for a spot in the pen, but if Merkin Valdez isn't ready to go, both should make it)
LHP Alex Hinshaw (Had a nice debut in 2008, but as a reliever, needs to be around the strike zone more often)
RHP Keichi Yabu (He was a pleasant surprise in 2008 as he was one of the more consistent arms coming out of the pen, still will have to battle to make the team though)
Bench
1B Travis Ishikawa (Could get a strong look if the Giants don't add another infielder or someone gets hurt)
IF/OF Eugenio Velez (The speedster will provide value off the bench, especially if he plays more like he did last September)
OF Dave Roberts (Roberts will likely be the 4th outfielder, even though Schierholtz should be getting those at-bats)
OF Nate Schierholtz (Nothing left to prove in the minors and '09 season should be audition to see if he's ready for RF with Winn is in his final contract year)
C Steve Holm (Sandoval is probably going to be back there when Molina isn't, but Holm will still see some time)
Disabled List/Question Marks
RHP Merkin Valdez (The young righty was dominant when healthy last year, but that was only for about a month and he just had surgery a few weeks ago so his status is uncertain)
LHP Noah Lowry (Outside shot he's ready to start the season, which would provide the Giants with an abundance of pitching and likely lead to trading one of them)
Published @ The San Francisco Giants Blog