Wednesday marked the first day of full-squad workouts, but there was still plenty of buzz about the pitchers, and even gold 'ol Joe Crede was back in Giants news.
One of the newest Giants showed up and looked good, according to our good friend over at Giants Jottings. I reported a few weeks back that
Edgar Renteria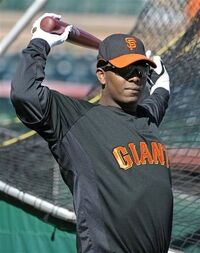 showed up for the fanfest looking about 15-20 pounds lighter than he ended the season at with Detroit. Renteria looked lighter on the field as well as he supposedly put together a strong fielding session followed with a solid batting practice. The Giants have once again have a lineup built around contact hitters, so Renteria will have to rebound and carry his share this year if the Giants are going to improve on last years league's worst offense. The 33 year-old shortstop is still being significantly overpaid in this market ($18.5 million over the next 2 seasons when he should have gotten $10 over 2 years max in this market) but as I said when he signed, if he reverts to the way he played in
Atlanta
and during his better years in
St. Louis
, then he'll be fine. The new shortstop could also be getting a new third basemen flanking him after all as Joe Crede's contract talks with the
Twins
are apparently done with and the Giants could be his only remaining option. More on that as it comes. As far as the pitchers are concerned, a lot of the talk has shifted to
Tim Lincecum
's contract situation. Now I know that it's spring training now, and we're supposed to be done with contract
talks for a while, but this one is important. It looks like Lincecum could start becoming eligible for arbitration after this season in which case he could start netting 9-12 million a year from the Giants if they end up going down that route. The best thing the Giants could do is go ahead and sign the kid long-term. The
Phillies
and the Brewers are two teams to look at who've recently looked up a few young stars before they got into arbitration. The Phils got
Cole Hamels
for 3 years and a little over $20 million and the Brewers got
Ryan Braun
for 8 years and over $45 million. I think Lincecum's going to command a little bit more than either of those guys did as he already has a Cy Young award under his belt in barely a year and a half in the league. The Giants should be thinking of 5+ years at $8-10 million annually, but I don't think I'd do it until after the season. Not that I am at all worried about the kid, but let's make sure he starts off well here in his second full season before committing 50+ million dollars to him. But yes, the Giants do need to lock him up long term and better sooner than later.
Another pitcher I wanted to mention in today's post is Merkin Valdez. The 27 year-old right handed reliever has shown up to spring training, taken part in full workout and is supposedly feeling no pain at all. This is huge news for the Giants and Valdez. This kid was arguably the teams best reliever over the first month of last season and if he can get healthy again, he will provide a huge boost to the bullpen and possibly challenge for the right-handed set-up role. With Valdez, Sergio Romo, Brian Wilson, and Alex Hinshaw, along with the new free agents, the Giants could have the makings of their best bullpen since 2003.
Trevor Cole The San Francisco Giants Blog
Ad blocker interference detected!
Wikia is a free-to-use site that makes money from advertising. We have a modified experience for viewers using ad blockers

Wikia is not accessible if you've made further modifications. Remove the custom ad blocker rule(s) and the page will load as expected.