You miss Bill Simmons; don't pretend with me. You're fooling no one, pal. 
Now, whether you miss reading his occasionally-funny Page 2 pieces (they're sure as hell better than Reilly's crap) or whether it's insulting his irritating bias, frequent lapses in judgment and nasally voice matters little. One way or the other, you miss him. Seriously, stop. I can see right through you.
With his 10-week respite from column-writing fresh on the minds of the select few longing for a taste of his lighthearted work, I felt as though a running diary (Simmons specialty) for tonight's Cubs-Brewers showdown was in order -- something of a bone-throwing maneuever; satisfy the hungry masses, y'know.
I'm rather aware of the fact that most Simmons fans reside within the confines of the greater New England area, and that this particular running diary may fall upon deaf ears, but to hell with the doubts. The running diary is an effective means of expanding one's thoughts over the course of a worthwhile game -- a category into which this Ben Sheets-Carlos Zambrano showdown surely falls. Plus, I've wanted to try writing one for a while. (It's a perfect storm!)
So, buckle those seatbelts. It's Game 2 of the most crucial I-90 Rivalry series within the realms of my memory.
Cubs! Brewers!
Next!                                                                                                                                                          
---
7:05 PM : We're coming at you live on the Cubs' flagship station, WGN! Perhaps it's unimportant, but I just felt I'd share: this season, the Cubs are a miserable 19-22 on the World's Greatest Network and a much more pleasant 35-16 on Comcast Sports Net. Yeah, I'm a little superstitious. Wait, why do you ask?
7:07 PM : Ben Sheets, strikeout connoiseur extraordinaire, fans Alfonso Soriano on three pitches -- the last of which was three feet outside and in the dirt. Lookin' like Alfonso's big Monday night sure carried over! Love that consistency.
7:09 : Ryan Theriot screams a liner straight back up the middle. I'm shocked. With his .320 average, aren't you? Hey, maybe Lou's decision to bat Theriot 7th yesterday was the worst of the season! You'd think the continued displays of faith in Bob Howry and Daryle Ward would trump that, but no. Burying your most consistent and productive hitter in a hole from which he can produce literally nothing in one of the bigger games of the season easily takes the cake.
7:12 : Theriot swipes second and then third as Kendall's toss caroms off the Cub shortstop's back, but Aramis Ramirez -- with socks at full-hike -- takes a page out of Daryle Ward's book and pops out in foul ground. One inning, one man left in scoring position; welcome to post-All-Star break Cub baseball!
7:15 : The Cubs' defensive graphic displays a Soriano-Soto-Fukudome outfield. Cubs' color analyst Bob Brenly quickly mentions the graphic's acting up, much to my disappointment. Honestly thought Lou put Geo in center today. Dammit. And Ray Durham just roped a lead-off single. Things are quickly slipping downhill.
7:17 : Five.....four....three! Double-play, courtesy of JJ Hardy! Carlos Zambrano's already pumping his fist; the first-inning theatrics are always a good sign -- always. Also a good sign: the groundball. Z's sinker has to do some work today.
7:18 : Ryan Braun's at the plate. Tell me when it's over. (What was it the Joker said about an unstoppable force and an immovable object? Seems appropriate here.)
7:18 : Zambrano works Braun's hands with two quick heaters inside and then, with two strikes, leaves a little 94-mph Sherwin Williams on the outside corner. Ste-hahhhhhhhhhhhh three! Hold on a sec, I gotta check the window .... I can't believe it, no flying pigs! He must be cooling off; let's hope so, at least.
7:21 : Kos-K is batting fifth today. I'm thinking this may turn out worse than ... wait, a sinking liner to left! Crap, Ryan Braun snags it nicely on the run. Still, Kos-K in the 5-hole over Geo? And the third different batting line-up spot over the past three days for Fukudome? Y'know, I just can't figure out why he's having such trouble getting a rhythm going. Maybe we should ask Lou.
7:24 : Geo, the team's best power hitter aside from Soriano (and Aramis when he's not slumping), is batting eighth tonight. Did I mention Lou Piniella's been making some great decisions lately?
7:26 : Geo K's to end the inning. A few second inning highlights, though: Fukudome and DeRosa (a sharp liner caught by Hardy) both made solid contact, Fontenot drew a four pitch walk and Geo worked the count as well. If you're going to beat Sheets, it'll happen through (1) forcing him to utilize a ton of pitches in the early going, and/or (2) seeing the ball well, leading to walks and base hits. He doesn't allow many homers (13), so you've got to manufacture runs; walks are even tougher to come by (31) -- relatively speaking. Positive actions taking place this inning; I like 'em.
7:30 : I'm just gonna say it: Corey Hart looks like a monkey. Orangatangus Maximus is the genus, I believe. He also just ripped a single into center after Prince Fielder's walk. Two aboard, no outs.
7:33 : Just noticed the Cubs are wearing their alternate blues (I'm a little slow); those babies are somewhere between 50 and 100 times better than the usual road-grays. By the way, Z's rebounded from the Fielder walk and Hart single by striking out Russell Branyan on a slider in the dirt and Mike Cameron by tossing an two-strike eephus over the plate, pointing to his left, and yelling: "Look, steroids!" Sure distracted him enough. He's still feeling the urge, I'd say.
7:35 : A Jason Kendall inning-ending groundout? You don't say!
7:37 : I love Carlos Zambrano's hitting prowess as much as the next Cub fan, but I can't help but feel a burning desire to witness another ferocious strikeout-batsnap-over-the-knee combo; I hardly think I'm alone, either. Seriously, I'm almost confident there's not a manlier act in all of sports than the Carlos Zambrano batsnap. Yet he grounds out to Prince Fielder now. Maybe next time. (Editing note: Honest to God, I wrote this in real-time. Swear.)
7:38 : Alfonso rebounds nicely with a sharp single to left, and steals second only a pitch later. Yeah, it's Jason Kendall, and the throw bounced a good four feet in front of the bag, but any Alfonso Soriano steal (the catcher's incompetence notwithstanding) is a very good sign. He's still running in that unorthodox, upright and goofy-looking fashion, but I think we'll take it.
7:40 : Hardy robs Theriot of a base-hit, but replay reveals The Riot cost himself by watching the play unfold rather than simply running. WGN then catches him attempting to slam his batting helmet into the dugout's helmet-rack, yet he misses in his frustration and it ricochets back towards him. These are the sort of things I feel the need to share. Cubbie Occurences, Lou calls 'em.
7:44 : Shots of the otherwise-fantastic Miller Park reveal a large amount of empty seats. I've no doubt the seats will be occupied within the inning or so; if you've ever made the trip to Milwaukee for a Brewers game (as I did earlier this summer), you'll know its parking situation is absolutely, unequivocally horrendous. It's a good mile-plus of a trek between the lots and the park, leading to the good amount of empty seats until most late-arrivals appear in the third or fourth. You may disagree, but I'll take Wrigley's neighborhood parking system over Miller's Ironman-journey any and every day of the week.
7:48 : Len and Bob discuss Reed Johnson's game-changing take-out slide last night, which I called -- in my column yesterday -- the season's best play to date. Brenly compared Rickie Weeks' actions to those of a tenative wide reciever, conscious of a rapidly-approaching linebacker and an unavoidable, back-breaking hit. Couldn't have said it better myself, BB. In a related note, Reed Johnson's Take Out Slide is almost assuredly my 2008 fantasy football team name.
7:51 : As I mentioned earlier, I atteneded a Brewer game earlier this season (love Miller Park, by the way). While I was there, I couldn't help but notice the Miller Park scoring: it's abominable. During the game I attended, a Colorado Rockie looped a routine fly to center; Mike Cameron took a few steps in, gently slid and... the fly bounced into his mitt and, sure as he's a Gold Glover, out of it -- easy as that. It was ruled a single; I was flabbergasted. I'm rather aware of hometown scoring's egregious nature, but this was just outrageous. Just now, Aramis Ramirez scorched a liner into the gap; Cameron couldn't totally get in the way, yet made a feeble lunge and allowed the ball to bounce off his mitt. Definitely error-worthy. The scoring? A double. Unbelievable. Quick, somebody stop these scoring bandits up in Brewtown; they're like fielding-percentage steroid dealers, I swear!
7:53 : DeRosa skies a sac-fly into left, scoring Aramis Ramirez -- who had moved to third on a Kendall passed ball. 1-0, good guys. Considering Zambrano's stellar pitching so far, that might be enough. ...Wait, I just remembered Ryan Braun'a going to bat four times this game. Crap. We're gonna need a few more.
7:59 : Ryan Braun just hammered a single into center. God, can't believe we just dodged that bullet again; it must be our day. Honestly, I'm all for intentionally walking Ryan Braun every and any time he steps to the plate. I'm legitimately terrified of him -- his wild-eyed look decreases the terror little, if at all.
8:02 : Prince Fielder skies a pop-up to Aramis Ramirez at third and, according to Len, took all of four steps out of the batters' box. I know there's a runner on first, but it's an act of ommission a professional ought not to commit; had Aramis caught Fielder napping, a double play would've been easy work. I had doubts before, but after this display, I'm quite confident: Prince Fielder is a bonafide lazy fat ass -- nothing more, nothing less. Truly, I can find no more eloquence in attempting to describe him. WGN just showed him drowning his sorrows in a Veggie Burger in the first base dugout. Not even kidding. Oh, and Yost just tossed him a chunk of tofu to gnaw on. Aww, CC's joining in! Aren't they the darndest?
8:04 : In Russell Branyan's first at-bat, Bob Brenly mentioned he had a few holes in his swing. After having watched him whiff badly on two consecutive Carlos Zambrano breakers now, I'd say that was about the biggest understatement I've heard since "Prince Fielder really isn't that fat." And, if you've ever had the unfortunate mispleasure of catching a glimpse of the 5-10, 280 pound first baseman, you know that was quite the understatement. (Seriously, though: after having watched Branyan flail helplessly tonight, the meatball Bob Howry served him last night becomes all the more inconcievable. Cut the bum, and cut him NOW!)
8:07: Geo just leaned out and sent a single into center. Earlier, I mocked Lou for batting Geo in such an inappropriate position, but after having re-considered, I'd say the Geo-Zambrano-Soriano trio may be the most powerful in today's lineup. Sorry, Lou! Guess you're not totally incompetent.
8:08 : HE DID IT! THE BAT-SNAP! HOLY CRAP! ASK AND YOU SHALL RECIEVE! I'm not even mad about the pop-out bunt and the fact that Geo's still on first -- worse was Lou's decision to use a .356 hitter to sacrifice bunt, but still. I even predicted it up there! Unbelievable. Bob Brenly just quipped: "That just goes to show you how brittle those maple bats are. It used to take some work to break those things; Carlos just snapped it like it was a #2 pencil." I believe BB fails to realize just how herculean an athlete Zambrano truly is; a bat's a bat, and not many players are capable of inducing a Louisville Slugger-to-Ticonderoga comparison. I said it earlier and I stand by it proudly: there is no manlier act in prominent athletics. (It may be a tad immature, but a display of brute force it remains.) Actually, Carlos Zambrano's Snapped Bats may challenge Reed Johnson's Take-Out Slide before it's all said and done. We'll see if any other horses enter the race. I'm keeping my options open.
8:15 : Halfway home, we're Cubs 1, Brewers 0. A pitcher's duel; not exactly surprising, considering the NL's two best hurlers are on full display -- Tim Lincecum may have something to say about that, but as long as he's out of earshot, we'll let it slide.
8:16 : John Lackey of the Angels has no-hit the Red Socks through 8 at Fenway. Len will keep us posted.
8:18 : Uh-oh, Mike Cameron just led off the 5th with a walk. Wait, nevermind, Jason Kendall and Ben Sheets are due next. Question: if you're Jason Kendall, why even bring a bat to the ballpark? Seems like unnecessary baggage if you ask me.
8:20 : Ben Sheets attempts a slugbunt! And it's.... a feeble pop-up to short. He trudges back to the dug-out sans tantrum. Suck it, Milwaukee: our pitcher snaps his bat over his knee after fruitless at-bats. Owned. Yeah, that's what I thought. Take a lap.
8:26 : Derrek Lee sneaks a leadoff single past a diving Bill Hall. I've been criticizing DP-Lee a great deal this season, but he's been performing well lately -- for a moment, though, and for the sake of argument, I'll bring the critical comments back to the fore: anyone else wonder why the hell Lee, a 6-5 monster of a man, hits so many damn groundballs? Honestly, he's like human groundball practice for opposing infielders; 21 GIDP this season! Twenty-one times he's erased a teammate from the basepaths; it's likely a good number of those came in do-or-die situations. It's an incredibly disappointing stat; tack on the fact that Lou will bat him third 'til kingdom come and, well, y'know. Cubbie Occurence, we'll call it.
8:28 : Aramis Ramirez with a screaming double off the left field fence. Two in scoring position with no outs. Cubs are in business with Kos-K at the dish!
8:29 : Fukudome rips the first pitch of the AB to left past a diving Ryan Braun! Both runs score, Fuku heads to third! He's officially back, fans! At the break, I wrote a column in which I called Fukudome the third-place finisher in the team's first-half MVP race. I ended it with something along the line of: He better pick it up, I'd rather not write a column near the end of the season decrying our early love for Kos-K. It appears as though Kos-K's gone through a complete 180; his .316 average would indicate as much. I no longer anticipate a spinning strikeout more than a well-placed single! He's definitely back, and it's a good thing, too.
8:31 : DeRosa slips a base-knock through a drawn-in Hardy! Fukudome scores. Now, Fontenot with a blooper to left-center. Five consecutive hits, still no outs. 4-0 Cubs! Sheets is at 91 pitches and looks about as frazzled as Carrot Top out there.
8:34 : Geo ropes a single to left. Six consecutive hits. WGN shows Ned Yost, inexplicably grinning. I'm not sure why; Zambrano is a legitimate grand slam threat here.
8:34 : A well-placed bouncer to Hardy, throws home....off the back of DeRosa! 5-0! Bases loaded for Fonz! Still nobody out! This may be the single best inning of the entire season! (Note: Not a single Brewer or coach has made a trip to the mound to make an attempting at settling Sheets. Totally inexcusable.)
8:36 : Soriano puts it on the rightfield warning track for a sac-fly. 6-0, Cubs. Ned Yost finally visits Sheets to remove him -- to a chorus of boos. I'm really glad the Milwaukee fans realize this incredible gaffe; maybe not the handsomest of fans, but they're certainly baseball savvy -- not to mention friendly. (Don't take those at face value, Wisconsonians: I'm just in a complimentary mood. Five run innings tend to have that effect.)
8:40 : I'm still having a hard time believing the Cubs just (1) rocked the division rival's ace, and (2) gave Sabathia, whom many are already considering an NL Cy Young frontrunner, a rough go last night. Two for two! I think a moment to let it all sink in would be nice .... Mmmmmmm, boy, do I know myself well.
8:42 : Unbelievable: Mike Cameron (he of the brick-for-glove) snatches a Derrek Lee (he of the 21 GIDPs this season and countless other groundball outs) fly on the centerfield warning track, mere inches from a 400-foot dinger. I just can't bring myself to believe either aspect of that play. Perhaps that ridiculous end befits the craziest inning of the season; now it's up to Zambrano to avoid the implosion-bug that just found a victim in his counterpart. He's looked great tonight. I like his chances.
'8:46 : Braun down on strikes! I'm lovin the sight of the hot-as-hell's-7th-circle slugger listfully trudging back to the dugout; wish we could see it more often, though. (Note: Zambrano's only at 80-some-odd pitches. A quick few innings and he could go the distance -- another option is eight for Z, and hand Samardzija the ninth. Actually, yeah, I like the latter.)
8:51: And the hits keep on coming: Aramis Ramirez rockets his third double of the evening. Who could've guessed the perfect remedy for the Cubs' ailing bats was a trip away from Wrigley?
8:58 : Len just mentioned Ryan Braun has yet to commit an error all season. After having watched him stumble all over himself last inning and the majority of this series, I'm led to believe that's yet another byproduct of the unbelievably biased Miller Park scoring. Actually, forget "led to believe," I'm convinced. This place's scoring is just horsecrap. Zero errors? Bernie Brewer can play a better left than Ryan Braun. Unbelievable.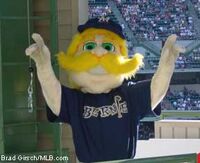 9:02 : A Rickie Weeks swinging strikeout. The world stops on its axis. (Note: I know it's a strong statement, but Weeks may be the only major-leaguer susceptible to the swinging strikeout on a high-changeup. Seriously.)
9:04 : Guillermo Mota and his 5.35 ERA enter the game; Cubs Universe cowers collectively in paralyzed fear. Me, I'm hiding behind the couch. I recommend you do the same.
9:11 : Shot of a good number of the Brewer faithful beginning the mile-long trek to their cars nice and early -- 8th inning, way to stick it out! Len remarks: "Looks like we're in LA." Zing! Gotcha, Dodger fan! Wait, nevermind, those don't exist.
9:15 : Zambrano fans an unhappy-looking JJ Hardy for his 9th K of the evening.
9:16 : Jeff Samardzija's up in the pen! Happy day!
9:20 : Corey Hart is the single laziest outfielder in Major League Baseball. A strong statement, sure, but a truthful one. Just now, Orangatangus Maximus jogged slowly after a screaming Theriot shot to right, and instead of reaching out or lunging for the ball, Hart simply allowed it to scamper past him. He reversed course and methodically headed towards the wall, but Mike Cameron raced over from center and beat him to it. Last night, Theriot lofted a blooper almost exactly at Hart, yet Hart half-assed it; literally walking towards the ball, playing it off a bounce. I mean, he wouldn't have even had to dive for that one. (Don't forget his six-hop, game-ending, twelve-year-old-girls-throw-better-than-that toss to the plate in the All-Star game, either.) What, does he really just not care? Is he wholly incapable of running -- nay, lightly jogging? If the Brewers' bullpen isn't their biggest concern right now, I don't see any way the corner outfielders' horrendous defense doesn't top the list. Braun and Hart are just awful.
9:24 : Aramis Ramirez is 4/4. Can't think of any reason why even the most pessimistic man would say he's not totally back to pre-All-Star break form.
9:27 : Kos-K just ripped a double into the right-center gap. If there's one postive aspect of this game capable of trumping all others (except perhaps Zambrano's dominance and the fact that the team roughed up Sheets), it's that Fukudome has looked really, really good. His resurgence and subsequent success is as important to this team as about anyone other member's -- as I wrote in an earlier column, his patient mindset and ability to reach base nearly 40% of the time are simply immeasurable. Really glad to see him looking like an actual ballplayer again.
9:35 : Smarj on the bump to finish it off in the ninth. While many Cub fans would mention the most interesting quirk concerning their new fireballer is the fact that he caught passes from Brady Quinn in South Bend for four seasons, but I would hazard it's the fact that Lou Piniella (he of the inconcievable anti-rookie bias) trusts him. I'm convinced GM Jim Hendry told Lou he's some sort of baby-faced journeyman from Australia -- "It's why he looks so young, Lou; the Australian sunshine." There's simply no other explanation. Anyway, he sure has fantastic stuff and a heap of potential. Just made Prince Fat-Ass look silly in a four pitch strikeout, too. As far as I'm concerned, sky's the limit for this kid. Starter, closer, whatever; right now, I'm just enjoying his pitching.
9:38 : Russell Branyan stands alone as the object between the Cubs and their most impressive win of the season. With Smarj dealing, he shan't be there for long.
9:39 : Dammit. Walked him. First big league walk for Smarj, if I'm not mistaken. I'm getting antsy. C'mon, finish 'em off!
9:41 : Cameron plates the Brewers' first run with a gapper to left, and Russell Branyan is greeted at the dugout's top-step by Ben Sheets -- the man responsible for the mess in which the Brewers find themselves. I'm required by sports-law to despise Ben Sheets as he's the rival's ace, but dadgummit, I do respect the man. He's an five star class act and a real competitor; have to at least appreciate it. Hey, when Mark Cuban buys the Cubs (please God, I don't ask for much!), is he a possibility this offseason?
9:42 : Ah-ha! There's that Notre Dame education! Smarj just wanted to leave it to Jason Kendall, and, in a shocker, he grounds out to end the game! I like his thinking! Cubs win!
9:43 : "Baseball season's underway......"
Three things we learned today:
1. The Cubs' bats are back. After having roughed up Sheets and dusted Sabathia yesterday, you couldn't have imagined a better opening two games of this series. Plus, the team as a whole is producing on the road. If the Cubs can begin to win anywhere other than the Confines, hey, look out 100 wins.
2. Kosuke Fukudome and Aramis Ramirez have shaken their slump-induced shackles, and it's no coincidence their resurgences coincided with this 6-run win.
3. This wasn't easy. I think I'd much rather focus on cheering throughout and leave my running diary type comments to my friends. Although, I feel as though I typed a bit too much for every entry. Perhaps if I had shortened them? I doubt we'll ever know. Maybe I should leave these to Bill Simmons. Anyway, hope it was enjoyable!
Until that time, Eustice. Eamus Catuli!
==

Ad blocker interference detected!
Wikia is a free-to-use site that makes money from advertising. We have a modified experience for viewers using ad blockers

Wikia is not accessible if you've made further modifications. Remove the custom ad blocker rule(s) and the page will load as expected.