Super Bowl Sunday is just three days away. Can you believe that? Now that we have had almost two whole weeks to soak in the fact that the Arizona Cardinals are, in fact, in Super Bowl XLIII in Tampa Bay, Florida, I believe it's time to get down to business.  That's where Romi Ezzo and I (Ben Heck) come in. We are going to tell--yes, tell you, not predict--who will win this unlikely matchup.
NOTE: This is a new thing we are trying out. Romi and I would like to bring you a duo article at least once a week. We will choose one topic to discuss and pretty much give our own response. We believe this will give us a chance to voice our own opinions and spark debate all on one page.  Enjoy!
Tampa Bay, FL @ 6:28 PM ET
Romi:
The Pittsburgh Steelers versus the Arizona Cardinals: who would've came up with that matchup as their pre-postseason Super Bowl prediction? Two quarterbacks who are good under pressure in Ben Roethlisberger and Kurt Warner are going to fight it out in a true "Offense versus Defense" contest (there is also a hair battle, but let's not get into that. This is the Super Bowl (also known as the "championship game" of the NFL). I am going to refer to Michael Jordan's famous quote for my prediction about this game: "Offense wins games; defense wins championships". In other words, my guess is the Steelers are going to win their 6th championship (a new record). Ben Roethlisberger will throw for one touchdown and possibly one interception, but he has played his heart out this year... both in the season and in the playoffs. Right now, I see a match that will consist of a team with a good quarterback (one of the toughest in football today), along with THE best defenses in the NFL (1st in yards allowed/game: 237.2; 1st in points/game: 13.9; 1st in passing yards/game 156.9; 2nd in rushing yards/game: 80.3).
Another main reason why I think the Steelers could win the big one this weeks is because of the fact that Big Ben can distribute the ball a lot better a lot more efficiently than Kurt Warner. What I mean by that is that Pittsburgh is going to expect that Larry Fitzgerald and possibly Anquan Boldin are going to have a good game if they do not guard him closely. With that being said, remember that Pittsburgh has the best defensive numbers in the NFL when it comes to passing yards allowed. So in order for the Cardinals to win this game, Kurt Warner must not underestimate the Steelers' defense and he should bring his A game. He should also get Edgerrin James and/or Tim Hightower to get a couple more rushing yards and get a few more chances to run with the ball than they're used to getting. They have to make big plays by getting first downs quickly without turning the ball over, which is going to be pretty difficult. On defense, we should expect them to stop the Willie Parker and the Steelers' running game and force Big Ben to beat them with the passing game.
The only way I could see the Cardinals winning the Vince Lombardi trophy is if everything goes their way. If the Redbirds do not turn over the ball once (which would probably mean that Larry Fitzgerald will have an amazing game) and Hines Ward doesn't have a good game due to his injury, as well as doing well at stopping Willie Parker, and score 30 points like they have in every, single one of their playoff games (30 against the Atlanta Falcons, 33 against the Carolina Panthers, and 32 against the Philadelphia Eagles). However, the Cardinals have never relied on their defense to win their football games this season as well as in the postseason. Can they defy the odds and win the big one this year? I don't know. They have yet to face what I think is their biggest challenge in the playoffs this year. Hopefully, they'll prove me wrong. (Yes, I'm rooting for them to win it; if you know me, you know I'll root for the underdog as long as a Boston team isn't the giant.)
Just a little tip for the Cards: Ben Roethlisberger was the most sacked quarterback on third downs (once for every 5.8 pass attempts) as well as against the blitz (every 6.2 blitz attempts).
Score: 20-13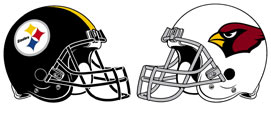 Ben:
For the Cardinals to win this game, Ken Whisenhunt's offensive line will need to give Kurt Warner ample time in the pocket, meaning they will need to pick up Pittsburgh blitz schemes before the snap and get good jumps on the ball. Maybe use the hard count efficiently. There's no way you can try and say Pittsburgh will not bring the pressure, because they surely will. Dick LeBeau most likely hasn't been doing a whole lot of celebrating since the Steelers' 23-14 conference championship victory. The day after the win, LeBeau went back to the drawing board to come up with brand new disguises for his defense. The number one guy Warner will be looking out for is #43 and his long, black hair: Troy Polamalu. Get the ball out quick--which is usually what Warner does--and away from #43, and Kurt's offense has a chance to really put up some points, there's no question.
On defense, Arizona will need to stop the run. If Mike Tomlin decides to stick with classic Pittsburgh football (which is likely to happen), he will run the ball early and often. If Arizona's D doesn't come in ready to stop Fast Willie, they will get run over right off the bat. But, look out for the play-fake, Ben Roethlisberger tends to run that often and efficiently. Arizona will need to get to Big Ben and force turnovers. Obviously, he has gotten sacked a whole lot more than he planned (has been sacked the most times out of any QB in the last three years), but he hasn't turned the ball over so far in his two postseason games this season.
On the other sidelines, Pittsburgh's coaching staff plans on playing classic Steeler football (like I said earlier). LeBeau will bring the pressure, and bring it often. There's no doubt in my mind that they will force a couple turnovers and manage to get to Warner enough to rattle him early on. And that's exactly what they will need to do on defense in order to win this game. Force Warner out of the pocket, and double (maybe even triple) cover Larry Fitzgerald... but don't forget about the other receivers, too. That should be Pitt's game plan while their defense is on the field. Watching Kurt play, it seems defenses do best when he is out of the pocket. He's just not the same QB as Ben Roethlisberger.
On offense, obviously they will run the ball like I said before. The tandem of Willie Parker and Mewelde Moore will eventually wear down this defense. But, the most important thing for Pittsburgh's offense come Sunday? The offensive line. Will they give Big Ben enough time to distribute the ball to his teammates. For Arizona, you want to keep him in the pocket--the exact opposite of Warner. Big Ben seems to come up with big plays once he leaves the pocket. His size works to his advantage, because he can flat-out beat a majority of defenders at their own game with his large frame. Almost every NFL follower has discovered that he holds on to the ball too long, but he is able to move around back there and allow his receivers to get open. No matter how good a defenses pass coverage is, there will eventually be a gap somewhere if Ben is able to hang on to the ball back there. This is Santonio Holmes big chance to shine, especially since Hines Ward likely won't be 100% come game-time.
So, now that I've told you what each team has to accomplish to win the big game, it's time for my actual prediction. With homerism aside, Pittsburgh will win this well-matched up game. Pittsburgh really just has one great task ahead of them; stop Fitzgerald from running all over them. It's obvious Warner will be throwing the ball since he has the best WR in the game (Fitzgerald) on his side, and they are going up against a tough team to run the ball against, this all seems to lead to Arizona throwing the ball 35+ times. Pittsburgh's defense pressures opposing QB's like crazy, and Warner isn't exactly what you would call a mobile QB. This leads me to believe that Pittsburgh will stop Fitzgerald to just 6 catches for 120 yards and a single TD. Considering how Arizona's pass-heavy offense runs, that will not be enough to defeat this team. Sorry all you fans of Cinderella teams--and all 13 of you true Cardinal fans.
Pittsburgh 24, Arizona 14
Any feedback on our first duo article would be nice (positive or negative).  Thanks!
Ad blocker interference detected!
Wikia is a free-to-use site that makes money from advertising. We have a modified experience for viewers using ad blockers

Wikia is not accessible if you've made further modifications. Remove the custom ad blocker rule(s) and the page will load as expected.