The Swiss tennis player starting at the age of eight, taking lessons to become a greater player. In 1998 he started to play professionally, winning his first Grand slam in the year of 2003 in
Wimbledon
. He has now won 14 career grand slams: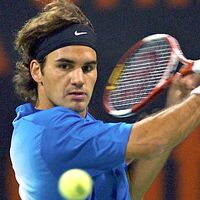 1. Wimbledon: 5 times
2. Australian Open: 3 times
3. U.S Open: 5 times
4. French Open: 1 time

With a total of 15 titles, for the most career grand slams. Recently he won his first French Open and Wimbledon , beating
Robin Soderling
on clay in 2009. This made him become the youngest tennis player in the world to win all five grand slams.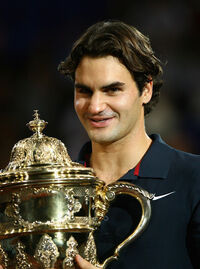 Federer is the only player in tennis history to win at least five consecutive titles at two different Grand Slam tournaments (2003-07 Wimbledon, 2004-08 US Open). He is also the only player in tennis history to win the same two Grand Slam tournaments back to back for four consecutive years (2004-07). He is also the only one to win at least two Grand Slam titles for four consecutive years (2004-2007). Sampras is the only other man to win two Grand Slams in a calendar year four different times (1993-95, 1997), but unlike Federer, they were not won in consecutive years. He has won at least one Grand Slam title for the past seven years (2003-09), and he is the first tennis player to be ranked No. 1 for more than 200 consecutive weeks.
With all of this being said, he is said to be the best tennis player of the history of tennis, and I agree with that statement. I think he's the smartest player in tennis and he plays with tremendous effort and with unique techniques. This proves that power isn't really needed in tennis and all you need is to use your brains. This, to me, shows that he is the best player in the history of tennis.
Ad blocker interference detected!
Wikia is a free-to-use site that makes money from advertising. We have a modified experience for viewers using ad blockers

Wikia is not accessible if you've made further modifications. Remove the custom ad blocker rule(s) and the page will load as expected.