After a prolonged summer of transfers, one of the most talked transfer sagas of the season saw former Real Madrid player Robinho sign two minutes before the transfer deadline for Manchester City, which was believed to be the wrong thing at the time. Robinho looked happy enough to play there, but apparently, things changed. According to Spainish Daily Marca, Robinho has sacked his agent Wagner Ribeiro. This might come to a shock, as Wagner Ribeiro was the one who orchestrated Robinho's move to the Eastlands, but now it seems to be that that wasn't really what Robinho had intended.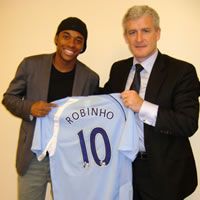 According to the Marca, Robinho made the announcement that he has decided to part company with his former agent after a six year working relationship.
An official statement that was issued read:
"I am grateful for everything Wágner Ribeiro has done for my career up until now, but our working cycle has come to an end. It is time for us to go our own separate ways and I have new goals to achieve with my new club, Manchester City."
The pair began working together in 2002 when the player was still a teenager at Santos. Ribeiro negotiated his stormy move to Real Madrid in 2005 but it was nothing compared to the pandemonium that was just a month ago when the 23 year old adamantly demanded to leave the Santiago Bernabéu for Chelsea, but landed at cashed-up Manchester City instead.
Many have accused Ribeiro of ill-advising his client throughout the entire ordeal but it is unknown whether or not that was the main reason he was given the axe.But it's highly believed that was the reason.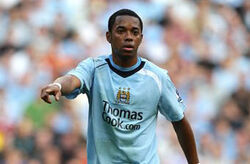 Robinho's father will now take charge of the player's off the pitch, business affairs.
It seems that Robinho was never happy with what had happened this summer and in the end has to pay for his severe lack of judgement and Professionalism.
Ad blocker interference detected!
Wikia is a free-to-use site that makes money from advertising. We have a modified experience for viewers using ad blockers

Wikia is not accessible if you've made further modifications. Remove the custom ad blocker rule(s) and the page will load as expected.