Young San Diego Chargers QB, Phillip Rivers, led the Bolts to an upset win in the AFC Divisional round game against Pro Bowl QB Peyton Manning, and the number two seeded Indianapolis Colts.  Rivers finished 14/19, for 264 yards passing, 3 TD's, and an interception, while being without Pro Bowl RB, Ladainian Tomlinson, for a majority of the game, who left with a bruised knee.  Vincent Jackson proved to be his go-to guy, instead of Antonio Gates the TE, who nearly missed the game due to a dislocated toe in last week's win over Tennessee.  Gates caught just 2 passes for 28 yards, while LT ran the ball just 7 times for 28 yards, and missed the entire second half.
I give a majority of the credit to Phillip Rivers, despite him missing the fourth QTR due to an injury to his right knee.  Rivers did an unbelievable job at avoiding the rush all day, and he converted countless third and long plays (6-10 on 3rd down).  After the injury to Rivers, Billy Volek had to step in for him, who, by the way, was making his first career postseason appearance, and took just 10 regular season snaps.  Volek, and the SD offense went 3 & out on Volek's first possession, but, after an Indianapolis punt after Manning, and Indy getting just one first down, Volek got another shot at it, trailing 24-21.  Volek led SD on a 5:17 scoring drive, on 8 plays, the drive covered 78 yards.  Volek took the ball in himself from 1-yard out to cap the scoring drive, giving SD a 28-24 lead with 4:50 to go in the game.  Manning had plenty of time to take the lead, though, but their drive stalled after San Diego gave them 15 extra yards on a Shaun Phillips facemask, and after 11 plays, Manning threw an incomplete pass on 4th & 7, intended for Joseph Addai, and SD got the ball back with 2:01 remaining.That extra second before the 2 minute warning was like Indy getting a 4th timeout, and after a second consecutive 3 & out, Indy got the ball back with 1:30 remaining, and 1 timeout.  The usual Peyton Manning did not take the field, and the Colts could not drive down the field to take the lead, and facing another fourth down (4th & 5), Manning threw an incomplete pass intended for TE, Dallas Clark.  San Diego took two kneels, and left Indianapolis with a win.  San Diego now has to travel to snowy New England, to take on the 17-0 New England Patriots to find out who the AFC Champion is.  The game is at 3 PM ET next Sunday on CBS.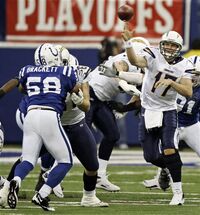 Game Stats:
San Diego - 20 FD, 6-10 3D, 0-0 4D, 411 Total Yards (312 passing, 99 rushing), 13.6 Yards/Pass ATT, 3.3 YPC, 10 penalties (79 yards), 1 turnover (INT), 29:30 Possession
Indianapolis - 29 FD, 3-11 3D, 2-4 4D, 446 Total Yards (402 passing, 44 rushing), 8.4 Yards/Pass ATT, 2.4 YPC, 5 penalties (54 yards), 3 turnovers (2 INT's, 1 fumble lost), 30:21 Possession
Why SD Won- Peyton, like the last time these two teams played, wasn't able to get the ball to his receivers downfield, Marvin Harrison, again did not make a big impact on the game catching just 2 passes for 27 yards, and sitting out for most of the second half, and that hurt the Colts.  Manning's 2 interceptions, and Harrison's fumble hurt them, and SD took advantage of their turnovers.
Rivers won his first career postseason game last week after beating the Tennessee Titans 17-6 in his second career playoff game, and won his second career after today.  Rivers, like Eli Manning, is in his 4th year in the NFL, and has improved, especially in the playoffs.  Rivers started all 16 games this year, setting a career high in completions, but also setting a career high in INT's, with 15 in '07.  If Rivers can eliminate his mistake, like young Ben Roethlisberger has done, I think he could eventually become a Pro Bowl QB.  I am very surprised at how well Rivers did today without Antonio Gates making a very big impact.  Not only did Rivers play an outstanding game today, but backup RB Michael Turner did as well, rushing for 71 yards on 17 attempts (4.2 YPC).
I don't know about you guys, but I think Rivers will be a Pro Bowler in the near future, and Michael Turner as well (with another team).  But, not ALL the QB credit goes to Phillip.  Volek stepped in and led a long scoring drive, which put the Bolts ahead for good.  Volek finished 3 for 4 for 48 yards, and with a rushing TD, and like I said earlier, that was Volek's first playoff appearance, and he had just 10 snaps in '07.
AGM Playoff game ratings (based on Live Blog comments):
I am basing the ratings on how many comment each Live Blog. I know that isn't very accurate, but it could give us a better a look at how many more people participated in the Live Blog.
Bolts/Colts- 323 comments
Giants/Boys- 314 comments
Cats/Pats- 278 comments
Hawks/Pack- 251 comments
It seems that we have alot of Giants fans on here (...or Cowboys fans).
That actually seems pretty close to me, I don't know about you guys, but today's early game (SD/Indy) was a much better game than last night's, but that's just my opinion.
Ad blocker interference detected!
Wikia is a free-to-use site that makes money from advertising. We have a modified experience for viewers using ad blockers

Wikia is not accessible if you've made further modifications. Remove the custom ad blocker rule(s) and the page will load as expected.