Another Resident Interview from the Resident User from Kuwait Ithaca College, right here in the United States...
It is no secret that Carlos Delgado has been carrying the Mets the past few weeks. What do you think is the key to his turn-around?
That is definitely a great question to ask. Not many people have noticed this, but Carlos Delgado has been tearing it up since this article was posted. It's not natural for Delgado to have a comeback (for lack of a better word) this late in his career and at 36 years old. However, he seems to be doing really well. Someone once said, "Once a good hitter, always a good hitter." I would have to agree with that person. The guy is just a natural, knows how to hit, knows where to put the ball when needed, and finally, when he's hot, nobody can stop him.
He did have elbow surgery in 2006, which (if you believe is something that led to his 2007 season) you could use as a reason as to why Delgado did poorly. However, surely enough, we all saw the old Carlos Delgado return to life in the middle of the season, and you can tell by looking at his 30 homers and 100 RBIs (two stats you'd normally see him easily reach every season). He has definitely come back in a big way, and he and the rest of the New York Mets organization is benefiting from it.
The key to his turn around, as well as many of the other key players on the roster, all started when Jerry Manuel became the Mets' new manager. Remember the little incident where Jose Reyes tossed his helmet and Manuel said, "The next time he does that I'm going to get my blade out and cut him." That sent out a message loud and clear that this was going to be a new Mets team, and Manuel was going to take some drastic measures and try his very best to turn this team around. During the second practice, according to New York Daily News, when David Wright was in that pre-All-Star Break slump, Jerry Manuel made sure that David Wright would become the old David Wright as he "rapidly fired balls to the plate during a session that lasted three times longer than a typical early workout by Wright's estimate." That very same night, David Wright tied the game with a single off of the MLB's "best closer" Francisco Rodriguez (I wonder why David Wright is doing so well now). How about the nine game winning streak before the All-Star break (plus one extra win after that)? Fernando Tatis (Speaking of comebacks, this is second season in five years, and check out the numbers he's putting up.)? In the last 75 games, since Jerry Manuel has been manager, the Mets have been 47-28 (.627), and they're 2.5 games ahead of the Philadelphia Phillies, a team that almost all of us thought was going to win the division again.
So, if I had to guess, Carlos Delgado's comeback would be because of a Jerry Manuel tutorial session... or two. I could almost guarantee you that the Mets will win the division this year.
Milton Bradley and Dustin Pedroia are very close at the top of the American League in batting average. Who wins the batting title this season?
This is a pretty tough question. It is extremely difficult to predict the future, but I am going to attempt to. Let's take into consideration that Milton Bradley has 212 less at-bats than Dustin Pedroia, so if he gets into a hot streak, he'll probably win it easily. Pedroia is probably going to stay in the .325-.330 range, which is still pretty impressive for a little "you know what". Both of them, as of September 9, 2008, are hitting .327 (Milton Bradley has a slight lead of about .00002) and both of them look to be in pretty good shape to win the title.
Looking at where both of them bat in their respective lineups, Pedroia is now hitting second (with the occasional leadoff spot). What Boston Red Sox manager Terry Francona is going to expect from him are to simply get on base. On the other hand, Bradley is hitting clean up. Not only is he going to try to keep his average up, but he's going to use more of his power to get runners around. So from a batting lineup's point of view, Milton Bradley would probably get easier pitches to hit than #3 hitter Josh Hamilton, so that would probably raise his average up more than people would expect.
Looking at it statistically, Pedroia would probably win it. Why? Well, for one, he was ranked 10th in the American League in batting average, despite his slow start in April. Secondly, Milton Bradley has a career average of .280 right now, which is a lot lower than what he is aiming for in order to win the title.
If you had to ask me right now, "Who would win the batting title this season?" I'd have to go with my boy: Pedroia. He seems to be looking very healthy (unlike Bradley, who has had problems in the past), and at least doesn't need to worry about the number of at-bats to qualify for the title. If Bradley goes 0-for-10 (for example), his average is going to drop by eight points, which is not good. I honestly think that Joe Mauer will finish in front of Bradley and is Pedroia's biggest competition for that title. Mauer is only three points behind Bradley and Pedroia right now, and has been in the discussion of the batting title before; in fact, he won it in 2006. I still say Pedroia will win it though; he has been on a tear lately. If he can just get one or two well hit series in the books against the Toronto Blue Jays, New York Yankees, Cleveland Indians, or Tampa Bay Rays, that should probably do it.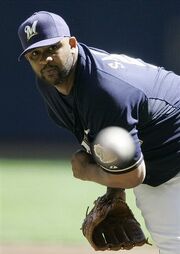 C.C. Sabathia has torn up the National League since his move over to the Brewers. Is it fair if he becomes the NL Cy Young after pitching less than half the season with Milwaukee? What are the odds of him winning the award?
Is it fair? It is in my book. Although most of the teams he has faced since arriving in the NL were (or currently are) under .500 teams, he definitely deserves to be noted for going 9-0 in 13 games, 102 innings pitched, along with his 102 strikeouts (7.85 per appearance; a strikeout every inning), a 1.59 ERA, a 4.7 strikeout/walk ratio, 6 complete games, and 3 shutouts. If that doesn't impress you, I don't know what will.
With all that being said, I don't think he will win the NL Cy Young Award this year no matter what he does. First of all, he had such a rough start with the Cleveland Indians that I don't think he will match up his stats with someone like Brandon Webb or Tim Lincecum no matter what he does. Secondly, I think the voters focus only on the pitchers who have been in the league where they are receiving votes longer than their previous league. A few weeks ago, I would've told you that he has absolutely no chance in winning it because of the way Brandon Webb was pitching. On August 21, Webb was 19-4 with a 2.74 ERA, running away with the Cy Young, in my opinion. The Arizona Diamondbacks were in a pretty safe spot for the playoffs before, but now, they have been scuffling. The Diamondbacks have lost their lead in the NL West and Brandon Webb has lost a lot of easily made votes for the Cy Young. In his last three starts, Webb has given up 19 earned runs (6, 6, 7) and has not made it past the 6th inning in any of those appearances. His ERA has jumped up to 0.45 in less than three weeks. Eventually, I think he'll turn it around though, but I'm not sure about whether he'll get the Cy Young or not.
C.C. also has some competition for San Francisco. Even though they are not really shining in the light in the battle for the NL West right now, Tim Lincecum has been (flat out) nasty. Right now, he would get my vote with the reasons being that he leads the NL in strikeouts (225, 39 more than anyone else in the league), W/L percentage (.842), ERA (2.54), and hits allowed per 9 innings (7.29). Those stats are simply phenomenal. His 16-3 record is really impressive, especially since he is pitching for the San Francisco Giants.
Getting back to the subject, it is definitely going to be difficult for C.C. to get back-to-back Cy Youngs. Another reason for this is because of what happened in 1998 with Randy Johnson. This was a pitcher who struggled in the beginning of the season, just like C.C., and got traded to a National League team in the middle of the season. This is a man who tore it up just as well, if not better than C.C., with a 10-1 record, 116 strikeouts in 11 appearances (10.55 per game), and a 1.28 ERA. Impressive stats, huh? Well, he received only two points out of the 160 in the voting, with Tom Glavine taking home the prestigious prize (20-6 record, 2.47 ERA, 157 strikeouts); Trevor Hoffman was 2nd (with 53 saves).
With that being said, that doesn't mean that C.C. Sabathia will automatically not get the Cy Young. He's been lights out, just like Rick Sutcliffe was back in 1984. The Red Baron was traded from the Cleveland Indians over to the Chicago Cubs, and in 20 starts, Sutcliffe went 16-1 with a 2.69 ERA. However, there was not as much competition in the NL in 1984, as Sutcliffe received all 24 first place votes; Dwight Gooden was the only pitcher who probably would've gotten a first place vote in my book.
So, you've seen some pitchers in the past who have been in C.C. Sabathia's shoes. It looks like quite the obstacle to overcome, especially since you have two pitchers who have been pretty dominating all season. There are a lot of similar names that will be on the ballot, but Sabathia will probably not win it if I had to predict. But think of it this way: Sabathia wouldn't have had a chance of winning it in the AL with the numbers he racked over there his first couple of starts.
Ryan Howard leads the league in RBI and home runs. Can he be the MVP with such a bad batting average? Not to mention, his team may miss the playoffs.
Ryan Howard surely has the numbers as far as homers and RBIs to become MVP, but in my opinion, there is much more to a Most Valuable Player then just those two categories. An MVP is the one player in the league who has the most value on their team, hence the word valuable as part of the acronym. With Chase Utley slowing down in the middle of the season, Ryan Howard stepped in and got red hot (and when I mean red hot, I mean he started to hit home runs and driving people in instead of striking out every time). No offense to Ryan Howard, but I don't think he should win the MVP award if Andruw Jones didn't win it 3 years ago when he had 51 homers (5 more than anyone in the National League), 128 RBIs (11 more than anyone in the National League), and a .263 batting average, which is 22 points higher than what Ryan Howard currently has. His defense isn't good, which a definitely minus when looking at how good Ryan Howard is, as a whole.
Plus, like you said, his team may (and I probably think will) miss the playoffs. Back when Chase Utley was tearing up the league before the All-Star break, the Phillies had a secure lead for first place, and the team just kept rolling with wins. Since Ryan Howard jumped into the picture, he's been doing what Ryan Howard does best: hitting long bombs and driving in runs. However, the Phillies are still second place. Carlos Delgado and David Wright have a better chance of winning it by the looks of it. But you never know, they could cancel each other's votes and Ryan Howard might take home the gold. However, let's not forget that Chase Utley and Pat Burrell (a big surprise to many folks this year) may take some of his votes as well.
If you asked me who was the most valuable player in the National League today, I wouldn't know how to guess. Surprisingly, I would go with the Houston Astros' Lance Berkman; that's who I'd vote for, not who I think would win. Why? He has been tearing it up since the beginning of the season. He's currently in the top 5 in batting average, RBIs, runs scored, hits, total bases, runs created, extra base hits, on-base percentage, slugging percentage, and OPS... just about every, single offensive category excluding stolen bases (and he has 16 of those too). He has carried a team who many thought would end up in 5th or 6th place to 3rd place; yes, they% are ahead of the Cardinals now. It has been said that the 'Stros pitching staff is mediocre, if not worse. So who do you think got Houston where they are today? It surely wasn't Your MLB Team Needs Scrubs, Castoffs, and Scrappy Players to Win It All Darin Erstad. Hunter Pence? He's come up with some pretty clutch hits that have helped the Astros win games throughout the season, but he hasn't really been that consistent. Miguel Tejada? He was pretty darn good in the middle of the season, coming up with hits game in and game out. However, aside from that, he wasn't very productive, as he has only hit 13 home runs and driven in 62 RBIs this season so far. That's not going to cut it as far as the MVP award goes. The bottom line is that, although they are in 3rd place, 8 1/2 games out of first place in the NL Central, and most probably going to miss the playoffs, without Lance Berkman, the Astros probably wouldn't be over .500 right now, and they would%u2019ve stayed in the bottom part of the standings. BERKMAN FOR MVP!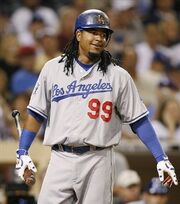 Manny Ramirez has really changed the outlook of the National League West. Was moving Manny still the best deal for Boston?
Absolutely. Sure, when looking at it statistically, the Los Angeles Dodgers got the best out of the trade. They got Manny Ramirez, one of the greatest active hitters in baseball, and ever since arriving in L.A., Man-Ram has hit .396 with 14 home runs and 40 RBIs; two of those homers and four of those RBIs came in last night's game when the Dodgers faced the San Diego Padres. He has been the one reason why this Dodgers team has turned around and has taken over first place in the NL West; well that, and the Diamondbacks have been struggling as of late. Manny Ramirez is well known for boosting his team's morale, but he just wasn't there for Boston during the season.
I remember reading that Manny Ramirez was showing up early for practice before Spring Training and that really got me excited because I thought, "since this was his contract year, he was going to put up really good numbers for the Sox and he would be the Manny that all Red Sox fans would want him to be: boosting the team's confidence, hitting well with men in scoring position, and all that good stuff." Boy, was I wrong. Unlike the usual "new millennium Red Sox team", Boston could not rely on Manny. He was really slacking off and causing trouble in the Red Sox locker room; well, it's not fair to say cause... maybe it would be better to say he was involved in many negative effects behind the scenes. It seemed like he didn't care whether he was on the Red Sox or not anymore, which is something I despised because I knew Manny had the desire to play for Boston for at one point in time.
The trade was something that Theo Epstein was obligated to do in order for the Red Sox to move on and win more games. So, he dealt Manny in a three-way trade involving the Dodgers and the Pirates. In return, he and the Red Sox got Jason Bay, while the Pirates got Brandon Moss, Craig Hansen, and Andy LaRoche. In my opinion, that was the best trade of the year because every team highly benefited from it. The Pirates got three young players with potential, which is something they need in order to build their team and (somehow) compete for next season. The Dodgers, got Manny, and he changed BIG TIME. He was able to start on a brand new page with a new team, a new league, and a new environment. The pressure was off when he was dealt with the Dodgers, and I think a trade is just what he needed in order to become the Manny that we all know before all his "lazy" moments. Some Red Sox fans had their panties in a bunch when they heard that not only Manny was sent off, but Brandon Moss and Craig Hansen were gone as well. However, the Red Sox got Jason Bay, and just like Manny, he made a statement pretty early. While with the Pirates, he was playing a pitcher's stadium. Now that he's playing in Fenway, his numbers were going to say a lot more.
I think Sportsbrief said it best: the Red Sox did not replace Manny with Jason Bay. They merely acquired the most valuable available at the time. He has come up with some pretty big hits in his short stay in Boston so far. A .314 batting average, along with 7 homers, 33 RBIs, and 30 runs scored in 34 games is not bad at all. So, all in all, yes, moving Manny was the best deal for Boston because they got a guy in the lineup who can hit, and there are less problems in the locker room now.
I'd like to thank Romiezzo for taking time away from his school work to answer some baseball questions. Keep an eye out for more ArmchairGM Resident Interviews down the line. Until next time...
Ad blocker interference detected!
Wikia is a free-to-use site that makes money from advertising. We have a modified experience for viewers using ad blockers

Wikia is not accessible if you've made further modifications. Remove the custom ad blocker rule(s) and the page will load as expected.