The Falcon may be retired, but asking some questions is something he can always do.  So the Resident Interviews continue.  Lets go around the horn with Philadelphia sports with big time fan JuTMSY4...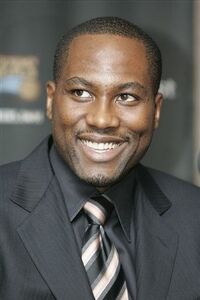 Let's start with the 76ers acquisition of Elton Brand, are you actually excited for the NBA season?
I've never been a basketball fan and I've even admitted I'm a bit of a bandwagon jumper when it comes to Philadelphia basketball. That being said, I'm defining my own bandwagonness as either liking the 76ers (because they're good) or not caring (because they're bad). This is mostly a product of what I like to call "Shawn Bradley-Sharone Wright-Screw it, Let's Acquire Derrick Coleman" Years. I mean, I'm not going to hope on the Cs bandwagon because "I love Kevin Garnett so much." but I pretty much don't care about the Sixers unless they're good.
What I can say is, this team's always had moxie. Since the firing of Billy King and the hiring of risk-taker Ed Stefanski, the team has been moving in the right direction. King certainly set up some success (they've been drafting fairly well), Stefanski's taken the risk to bring this team the the forefront of Philly's mind again.
And its sort of an odd Renaissance. The Phillies have become this high octane offensive powerhouse with a young core, the Flyers are no longer the daunting group of veterans but rather a new rough and tough bunch that'll knock your teeth out (rewind 30 years) and the Eagles are... well they're one of the best run franchises in the NFL (right back at you Norman Brayman).
All in all, I might actually watch a few Sixers games (outside of the Cs and playoffs) on TV... mostly because they'll actually be on TV, but who's really checking.
Off the hardwood and onto the ice. The departure of R.J. Umberger leaves an open spot on the Flyers front line. Claude Giroux is going to be given the opportunity to earn the open spot on the opening day roster. How exciting is this young stud?
The Umberger trade was born out of necessity. The Flyers high level front line talent (while paling in comparison) is facing the same situation as the Pittsburgh Penguins; they simply cannot hang onto all these good players and expect to compete as a team in the salary cap era of the NHL.
Personally, I think Paul Holmgren is a bit of a cap mismanager (I believe this will be evidenced in a few years), but as of right now, he's attempting to put together a Cup contending squad year after year. In the salary cap era, those teams are the exceptions, not the rule.
That being said, perhaps Holmgren's saving grace is his strong ability to scout and draft (something that's also been evidenced in the Flyers roughly 15 years of quality teams) and that may save him from years of watching strong talent either leave or pass on the Flyers meager contract offerings because of their strong core in the soon to be departed Spectrum.
As for Giroux, the kid's quick. Real quick. I'm thinking he's got the ability of a Marian Gaborik over in Minnesota and he could become the heir apparent to Danny Briere (with a little more thickness). Given the Flyer's talent up front and and Briere's ability to disappear from the spotlight for a few weeks at any given time, I think Giroux earns a spot based on necessity, but proves his worth by January.
Onto sports that are actually happening now. The Phillies are struggling to get back in front of the streaking Mets. The wild card is just as far out of reach. What are the chances the Phillies miss the playoffs all together?
I'd peg it at about 80% (that they miss). The wild card in all of this is bullpens. I really like the Mets bullpen (that's a bad thing) and while I'm even less familiar with the Brewers, all I can ever really think of, when I think of their pen, is the possibility that they may call up Derrick Turnbow.
With the Phils, its always a "one thing or another" scenario. Look at last night, the Phillies starting pitching, which had just received gems from Jamie Moyer and Brett Myers watches its Ace, Cole Hamels, collapse on Sunday and its "prize" (and I used that term loosely) acquisition wobble through a win Monday to only have its vaunted sophomore pitcher (who's really just a glorified... and run supported Adam Eaton) absolutely get handled. And while Blanton managed to have the bats firing on Monday, no one could stop the flood gates last night when Kendrick got blown up.
But, I'll hold to the 20%. I really don't believe the Mets have any guts (maybe Jerry Manuel does?) but the Brew Crew is going for broke, so unless the Phils can catch fire, they're probably just going to fade into... as Iron Mike would say, Bolivian.
A quick note. I don't know who's read the most recent Rick Reilly shit stain...err...article, but the fact that he actually claimed the Phillies are now the most important team in Philly and not the Eagles proves just how out of touch he is really. You know why people aren't crying about the Phillies? Because people are so excited about Eagles season AND its Dallas week, which is typically amongst the biggest weeks int he Philadelphia sports year. You'd have to be flat out stupid to think that the lowly Phillies are somehow Philadelphia's most important team; this team has done more to piss of fans than the three other franchise's combined (and that's including Eric Lindros's parents!).
Great segway into the next question. During last week's win versus St. Louis, the Eagles looked just as good as the Rams looked bad. Did the Eagles win the game or did the Rams lose it?
I assume by the question, you're asking me if the Rams really are that bad. Well, They have a top five running back, a top fifteen quarterback and a future hall of fame receiver. Add to that, the fact that they're facing a middling defensive line with a key injury as well as an offense with an oft-injured quarterback and is currently missing its top two receivers.
No really, the Rams looked plain terrible. Like embarrassment to the city of St. Louis terrible. When Kevin Kolb can lead a six minute drive on you, you should probably be considered near the bottom of the power rankings.
But the Eagles definitely proved many of the pundits right; at least for this week. Here's the way I rationalize it. Good teams are supposed to beat bad teams. Maybe not dominate, but certainly not keep it close. Look at last year, when the Eagles would frequently play down to their opponents (a Andy Reid Era Theme) and beating up on a bad team is how you inflate your record (worked for the Patriots last year, didn't it?)
The Eagles definitely won that game, as they should have. The test begins next week at Dallas.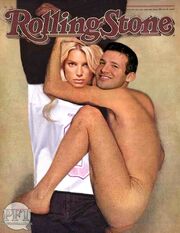 I can't let you leave without some less than kind smack for Jessica Simpson. How bad are the Cowbabies going to eat her words?
You'd think after the whole "The Newlyweds" Experiment on MTV, that Simpson would have just learned to sit there, smile and look hot, but clearly she hasn't learned (are we surprised).
Between Simpson and Pacman Jones jawing, I'm stunned how a team that is 5-13 versus Andy Reid and hasn't defended their own place since 2005 (The T.O. divorce/McNabb hernia year) talks so much trash.
I say, talk all you want, we'll find out on Monday.
I'd like to thank JuT for taking time out of his day to talk Philly sports.  Keep your eyes out for more upcoming ArmchairGM Resident Interviews...
Ad blocker interference detected!
Wikia is a free-to-use site that makes money from advertising. We have a modified experience for viewers using ad blockers

Wikia is not accessible if you've made further modifications. Remove the custom ad blocker rule(s) and the page will load as expected.