Haha, you thought it was over, but yesterday's Resident Interview has a second part. So here we go again, with a little Q&A from The Legend from Kuwait...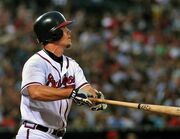 Will Chipper Jones be over or under a .400 batting average at the end of the 2008 season?
I remember answering this question in another interview, but I'll refresh everyone's memory. When the season is in the books, Chipper Jones will find himself hitting under .400. Why? Well, for one, Chipper has never proved himself to be a .400 hitter or anything close to it as a matter of fact. The highest batting average he has ever had in a career is .337, which he was able to do last year in only 134 games. He has still proved he is a good hitter, but there is now way that Jones is going to hit .400 by the end of the season.
A reason why he will not keep up this prestigious mark by the end of the season is because he is famous for his ability to drive in runs, not his ability to put the ball wherever he wants. What does this have to do with hitting for .400? It's got everything to do with it. His job is to bring runners in, not to get on base. It's only natural that he doesn't get the ball where he wants it 40 percent of the time. Also, although his career average is .310, Jones has never proved to be that good with strikeouts. He strikes out once every seven times he is up to bat. Therefore, I can conclude by saying that even if Chipper wanted to hit .400, the at-bats would catch up to him.
The ability to not strike out, putting the ball in play, and choosing the right pitches to hit have a huge impact on whether or not you can hit .400. Ted Williams probably had the best eligibility to keep his eye on the ball more than anyone, and he only hit for .400 once. He's the only number three hitter in a lineup who I know who has hit .400. Chipper Jones is a good hitter, but not good enough to hit .400.
So your mind has not been changed about Chipper's chances at .400, but will he win the National League MVP Award?
I'm going to have to stay with my offseason pick; Chase Utley. He is having quite the year that everyone expected him to have before Opening Day. With a little bit of help from Pat Burrell, Utley almost single handedly took the Phillies where they needed to be when Jimmy Rollins was injured. Ryan Howard is still not producing like he needs to. However, Chase Utley has been tearing it up from the get-go: 21 homers (1st in the MLB; 12.3 at-bats per home run), 58 RBIs, a .313 batting average, and a .641 slugging percentage. Un-freakin-believable. That's all that needs to be said.
Let's look at the other candidates that people I have in mind:
Chipper Jones: I don't think he's worthy of the MVP award if he's got a decent offence in Brian McCann, Yunel Escobar, Mark Teixeira, Kelly Johnson, and Jeff Francoeur, and still not be able to lead his team where they need to be. He's got the numbers, but I predict that he and the Braves will not make it very far in the end, as they pretty much hand victories left and right when they play away from Turner Field. So that cancels him out.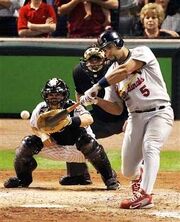 Albert Pujols
: This man is (or should I say was) definitely the sleeper out of the entire bunch. Everyone is talking about how Chase Utley should win the MVP award because of his leadership, stats, and the fact that he's carrying his team to the playoffs. If not, then it's all about Jones winning it because of his possible .400 mark, or maybe Uggla because he's giving the Marlins some hope this season and has come up big without the aid of
Miguel Cabrera
, or Lance Berkman with his amazing offensive numbers. I'm sure we all forgot about Phat Albert and how valuable he really is to the
St. Louis Cardinals
. Since he's out of the lineup for a few weeks, we'll see how they do without him. I'm telling you, with a guy like Pujols, who leads the Cardinals in so many offensive categories, is now out of the lineup, and the Cardinals are now going to have to depend on their pitching to win. I am going to say that Pujols would have definitely been well deserving for the MVP award had he not gotten injured.
Dan Uggla: This one is pretty interesting. We're comparing two very similar players right now. Both players, Uggla and Utley, are both on teams who have what it takes to make the playoffs, they're both second basemen, and they both have superb offensive numbers. However, I find Utley to be more of a leader than Uggla for one thing (Hanley Ramirez is the Marlins leader), and I also hear about how great Utley's glove is compared to Uggla. It also seems like Utley can say, "Anything you can do, I can do better," to Uggla. Take a look and compare their stats. Utley has got the whole package, and is going to get his team where they want to be, unlike Uggla (remember, all of this is an opinion).
Lance Berkman: Here is a guy who can do a lot for a team. Without Berkman, the Houston Astros would probably be nowhere near .500. He has been getting on base, scoring runs, driving in runs, even stealing bases (already has 10 this season) to get the 'Stros where they are right now. The only difference between Berkman and Utley is that Utley's team will be heading for the playoffs.
However, I'm sticking with Chase Utley, for MVP, because he's just that damn good.
Utley is a good pick, no doubt. Just remember that Rollins won last season when he was in a "stacked" lineup. Matt Holliday, who was the only cog for the Rockies for most of the season, finished second in voting. Anyway, movin' on; Webb or Volquez
Not many people will say this now, but T-Mizzle has convinced me to think of Brandon Webb as the better pitcher. He goes deeper into games, and has a lower WHIP than Volquez. Although Volquez is very close to leading in all of the [pitching] Triple Crown categories, his ERA can jump at anytime. Take the game he pitched in a couple of days ago. In one day, we saw Volquez's ERA jump from 1.32 to 1.56. He has only gone through seven innings even though he pitches extremely well. The reason for this is due to the fact that he walks so many batters and throws [on average] 103 pitches per start, not even going past the seventh inning once so far this season. If Volquez cannot get the ball over the plate and is too wild, then I would prefer to have someone else on my team who can. The fireballer throws walks about 3.3 batters every start. I'd say that is pretty bad. If only he could get that number down; he could be the perfect pitcher.
Brandon Webb may not be a strikeout pitcher, but he can sure as heck get outs pretty easily, and get those outs when he needs them most. He surrenders a lot less walks than Volquez does, and has pitched almost 15 innings more than Volquez. Once batters from opposing teams get used to Volquez's pitching and find out how to hit off him, his ERA will sky rocket big time. A pitcher who should get more recognition for his accomplishments so far is Tim Lincecum. He has been doing just as good, if not better than Edison Volquez as of now.
Two potential All-Stars went down with big injuries this past week. Who is the more devastating loss, Pujols or Soriano?
It would definitely have to say Pujols. The Cubs been without Soriano before, and I'm pretty sure they know how to adapt. Having that being said, the Cubs will still suffer with Soriano on the DL for at least a month and a half. However, the Cubs still have guys like Derrek Lee, Geovany Soto, Aramis Ramirez, and Kosuke Fukudome, not to mention the pitching they have. Take a look at who the Cardinals really rely on for offence: Troy Glaus? Skip Schumaker? Yadier Molina? Rick Ankiel? I think it is safe to say that the only to reliable hitters on the Cardinals are Pujols and Ryan Ludwick. A guy who leads his team in batting average (.347), on-base percentage (.475), home runs (16), hits (77), and is second in slugging percentage (.631), and runs scored (41) is definitely going to be missed more than a Soriano, a player who is decent for the Cubs, but still has a great offence, and probably a better defense, without him.
So are the Cardinals playoff bound?
With Pujols injured (we all knew before the season started that he had problems) and Chris Carpenter not even being able to make it to Opening Day, baseball fans knew that it was going to be a lot tougher than they originally thought it would be for the Cards. It seems to me that even though there have been several injuries, the Cards have still managed to do well. They are only one of five teams to reach 40 wins, and that was all with their ace. Now, Pujols is injured, which is a major loss. Like I said above, I don't think the Cardinals offense is going to be something that they can rely on. However, their offense was not their strong point in the first place; their pitching staff was. They have allowed only 282 runs, which is the fourth best in the National League. People have been shocked to see what Kyle Lohse, Braden Looper, Todd Wellemeyer, and Adam Wainwright can actually do. They have ERAs of 3.92, 4.34, 2.93, and 3.14 (respectively), which is pretty darn good for all of them if you look at what they did last season. If their pitching stays the way it is and their offense can keep scoring runs like they have (without Pujols), then I have no doubt that they will make the playoffs.
This question was given to Tmil42, but here it is again. Who is the best baseball team from Chicago?
I would like to say the Cubs but I believe the White Sox are the better team. With a well improved starting rotation, and the offence just starting to do better, I don't only see them doing well, but I look at them as strong contenders for the American League Central Division (at least for a while). They're going to be hard to stop.
As for the Chicago Cubs, sure, they've done well. However, a lot of things are going to impede them from doing as well as they are right now. First off, the Cubs have had a very easy schedule, facing teams like the worsened San Diego Padres, an injured Colorado Rockies, the Cincinnati Reds, and the Atlanta Braves [at home], and we all know how bad the Braves are away from home. Sooner or later, I think we are going to see a downfall for the Cubs because they now have to play the tougher teams in the league.




From the best team in Chicago to the worst team from New York, who would you say?
The Knicks...
(Oh, you mean BASEBALL!) The worse baseball team from New York right now, I'd have to say the Mets. This is mainly because the Yankees have shown signs of improvement. With Alex Rodriguez back, and Ian Kennedy and Philip Hughes out of the picture (for now), things will get better. Robinson Cano cannot get any worse, Jason Giambi has proved that his golden thong actually works, Mike Mussina and Chien-Ming Wang are doing a good job setting the bullpen up for wins, Darrell Rasner has a lot of potential, Johnny Damon is doing amazingly well (.320 average, 79-for-247, 6 HR, 31 RBI), and Hideki Matsui has been a nice fill-in for the DH spot while Giambi has taken over first base once again. Things will be coming along nicely for the Yanks sooner or later.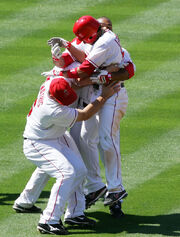 Who is the best team in baseball?
Although most people would say the Boston Red Sox and Chicago Cubs are the best teams in baseball right now, I would have to say that the Los Angeles Angels are quietly becoming the best team overall, as of right now. Is it just me or has no one talked about John Lackey since his injury? He has an ERA of 1.83 in six starts. Scott Kazmir has gotten some recognition since his comeback, what about Lackey? Lackey lacks recognition; now that's just something perfect to say. I haven't even mentioned the other starters in the rotation: Ervin Santana, Joe Saunders, Jon Garland, and Jered Weaver, need I say more? On top of that, the Angels have Scot Shields as their set-up man and Francisco Rodriguez as their closer, who currently has twenty-seven saves (leading the MLB). Not bad for a pitching staff.
As for the offense; Vladimir Guerrero and Torii Hunter, the two biggest names on the team, are really not doing as well as people thought. Vlad has a .269 average with 10 homers and 35 RBI, while Torii Hunter has a .267 batting average along with 8 home runs, and 31 RBI. Although these two former all-stars aren't doing as well as they should be, the Angels are still managing to get things done. Take a look at guys like Chone Figgins, Casey Kotchman, and Howie Kendrick. It seems to me that the younger, less known players, have been carrying the team to the .600 winning percentage. Imagine what the Angels would do if Vlad and Torii actually got back to their original selves; they'd be unstoppable.

Well that is all for this episode of ArmchairGM's Resident Interviews. Seriously this time, this one is over. Hopefully you've enjoyed this one-on-one with Mr. Ezzo...
Ad blocker interference detected!
Wikia is a free-to-use site that makes money from advertising. We have a modified experience for viewers using ad blockers

Wikia is not accessible if you've made further modifications. Remove the custom ad blocker rule(s) and the page will load as expected.