Let's welcome in Romiezzo, the ArmchairGM Legend from Kuwait and today's featured baseball expert... First off, congratulations on your graduation from high school. It must be a wonderful time for you right now. It is understood that you are attending college next school semester?
Of course.
Where will you be going?
Ithaca College in New York, but I am going to work hard during my first year so that I can (hopefully) transfer to Cornell, which is where I really want to go.
I bet you are excited to return to the United States.
Yes, I am really excited to return to the United States. After 12 years in Kuwait, I finally get to be able to wake up like normal people do, watch games, and live independently.
Nervous?
I know I'm going to be kind of nervous at first (everyone is), but I know that I'm absolutely ready to live life as an adult.
Thanks for the personal update. Now, let's begin this episode of ArmchairGM's Resident Interviews...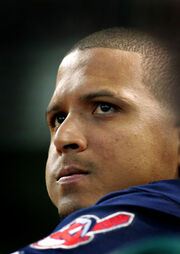 Over the previous four seasons Victor Martinez has driven out twenty or more home runs three times. This year, in nearly two hundred at bats, he has zero home runs. What gives?
First off, let me say that this is quite an interesting stat that you have found. Good looking out. I'm glad you pointed this out.
Martinez has not done very well offensively compared to the past three to four years (at least in the past month). However, since Martinez is (or should I say was) considered a good contact hitter (as he has hit for a .300 average for the past three seasons), but was better known as a decent producer for RBI's, Indians manager Eric Wedge started him off in the #4 spot this season. Although he has proved himself for the past couple of years, Martinez has had some knee problems early on this season, which could be a reason why his numbers have dropped, as his batting average is a career low so far (.278) and with only 21 RBI's in 54 games. With him having yet another injury (elbow), and with him having the second highest batting average out of all Indians players with over 100 at-bats, I don't see it doing any good for Martinez or the Indians right now. However, this could be a good sign and give time for his knee to heal.
You must give him some leniency though, since being a catcher takes its toll on you compared to other players, and should be recognized when Martinez is up to bat. Their injuries are slower to adapt to, and usually, they have these major slumps. However, they always seem to come back from them. Just take a look at Yogi Berra's stats in the early 50's.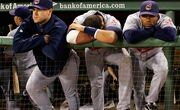 Does Martinez's struggles directly relate to the Cleveland Indians struggles?
I personally believe the Indians' struggles relate to Martinez's struggles more than the vice versa. Think about this; although Martinez has only driven in 21 RBI, it's not his fault that there is no one on base, which is exactly when he is usually hot with the bat. With runners on, Martinez is batting .352. On the other hand, with no one on base, he is completely useless to get something started, as he is currently hitting only .218. Eric Wedge knows that V-Mart is more of a person who drives in runs rather than someone who gets on base (even though, on paper, he is both). I said that there is nobody on base for the Indians this season, so look at these numbers; out of 198 at-bats, Martinez has had most of his at-bats with no one on (110), which is a .022 increase compared to last season's total amount of at-bats; like this season, Martinez did a lot better hitting with runners on than with no one on base. The Indians have been a huge disappointment when it comes to their offence. They are currently last in the American League in batting average (.242), and 11th in on-base percentage (.321). They're very lucky that Aaron Laffey, Fausto Carmona, and Cliff Lee are having good seasons. Otherwise, they'd be just like the Detroit Tigers; maybe even worse.
However, you can't exclude the fact that Martinez doesn't get on base as much as he had in the past. He's only batting .278 with an on-base percentage of .332 and a slugging percentage of .333; compare those numbers to a .301 batting average, .374 on-base percentage, and a .505 slugging percentage. You can't blame the team's lack of getting on base for those kinds of numbers. Martinez's numbers have dropped BIG TIME, and he is key factor as to why the Indians are struggling offensively. Maybe it has something to do with the improvement of pitching in the American League. Take a look at teams like the Chicago White Sox (Jose Contreras, John Danks, Gavin Floyd, Javier Vazquez), Oakland Athletics (Justin Duchscherer, Greg Smith, Dana Eveland, Rich Harden)), Toronto Blue Jays (Roy Halladay, Shaun Marcum, Jesse Litsch), and Minnesota Twins (Nick Blackburn, Scott Baker). Victor Martinez, as well as the other members of the Cleveland Indians, can't adapt well to the great changes by the pitching. Check out the schedule and see for yourself.
Well, this isn't going to help; Martinez hit the DL yesterday. Elbow surgery will keep him out for at least six weeks. Maybe his knees can get some rest now.
Movin' on. Dan Uggla and Chase Utley are both having amazing seasons. In your opinion, who deserves to start at second base for the National League All-Star Team?
OK, let's pretend that this is indeed a rational question. Let me think about this one long and hard. Let's look at this statistically:
Chase Utley is 79-for-255 (.310), while Dan Uggla is 71-for-238 (.298).
Chase Utley has 21 home runs (leads the Majors), while Dan Uggla has 19.
Chase Utley has 58 RBI (leads the NL), while Dan Uggla has 48.
They're identical in runs scored and slugging percentage, and Uggla leads in the doubles category and maybe a few minor ones that I didn't catch, but look at every other offensive category: on-base percentage, strikeouts, stolen bases, all worse numbers than Chase. Utley is the MAN, simply put. He is probably every one's dream second baseman.
Don't get me wrong. Dan Uggla is doing great for the Marlins. It's just that Chase Utley is, well, Chase Utley. When it comes to the All-Star game, I have no doubt that he will get some playing time after Utley gets a few at-bats under his belt. Uggla is a very good second baseman to have, and is almost as good as Utley. I actually believe he is one of the few reasons why the Marlins have been doing so well and staying in the division race. In fact, if it wasn't for his slow start, I might have second thoughts. It's just that Chase Utley has been hot all season long, and has been on red hot streaks here and there.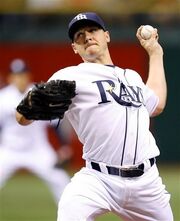 Scott Kazmir lost his last start for the first time in what seems like forever. Even after missing part of the season due to injury, is Kazmir still deserving of a place on the All-Star team?
Of course Kaz is still deserving of a place on the All-Star team. He did miss six starts in the beginning of the season, but take a look at what he has done for the team. In eight starts, he is 6-2 with a 1.74 ERA! He also has a 0.968 WHIP, over one strikeout per inning (54 K's in 51 1/3 IP), as well as a 3.375 strikeout/walk ratio. What else would you like him to do in 8 starts? It would be like saying, "Did Erik Bedard deserve some recognition when he got some votes for the AL Cy Young Award last year?"
I believe that in a starting pitcher, one should search for someone who dominates the whole league. So far, it looks like that is exactly what Kazmir is doing. He has pitched seven consecutive quality starts (six innings pitched with no more than three runs allowed), and his ERA is almost 2 1/2 runs less than the average pitcher. If he keeps doing what he's doing until mid-July, he's a definite all-star in my opinion, and should be recognized for his accomplishments.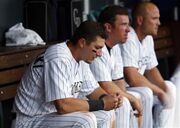 Troy Tulowitzki has begun his rehab assignment. Meanwhile, the division leading Arizona Diamondbacks have stalled of late leaving the Colorado Rockies less than ten games out of first. Could the return of Tulowitzki help spark the Rockies and give them a shot at the division title?
Call me crazy, but I think the Rockies still have a shot at the division. It has just been really rough for them this entire season. First, they lose Tulowitzki. Then they lose Matt Holliday and Clint Barmes, two very big contributors last season as well as this season. The Rockies were eight games behind first place last season as well. Tulowitzki hasn't played a game since April 29th, and as a leader and big part as to why the Rockies did so well last season. I think the they just need to get their players healthy and back on the roster. Give it time, and they will do well. Aaron Cook has proved himself this season, going 9-3 so far, with an ERA in the low threes. Ubaldo Jimenez and Jeff Francis have shown minor signs of improvement. On the offensive, the Rockies are still finding ways to score runs without Holliday and Clint Barmes, which is what I find unbelievable.
Troy Tulowitzki is the player that they need to boost their confidence. Once all three of them are healthy and ready to play, I have a hunch that Rockies are going to be hard to stop. Sure, Tulowitzki had a pretty bad April, but he's coming back with a purpose: to prove everyone that last year was no fluke (for both him and the Rockies). They will be a lot closer than most people think they will be come September.
Those Arizona Diamondbacks better find out how to score runs again (without Eric Byrnes) like they did in the first two months of the season. Otherwise, they're going to find themselves in second place soon, whether the division is taken over by the Rockies, or another team in the National League West.
Thank you Romiezzo for taking time away from your celebrations. Go enjoy your graduation because you are finally free... for now.
Ad blocker interference detected!
Wikia is a free-to-use site that makes money from advertising. We have a modified experience for viewers using ad blockers

Wikia is not accessible if you've made further modifications. Remove the custom ad blocker rule(s) and the page will load as expected.