As promised, the ArmchairGM Resident Interview Series continues with the famous commenter Tom Miller. Tmizzle describes himself as being "about as useful in high-stress medical situations as a trained labradoodle," but we describe him as one of the Chair's top baseball minds. So give the man a loaded gun because he is about to shoot down some questions...
The New York Mets are currently floundering. They are seven and a half games behind the Philadelphia Phillies, who lead the division. At the beginning of the season, it was presumed that the Mets would be a top contender for a World Series appearance. Given that there is still time to turn their season around, where do you see the Mets sitting come October?
I still think the Mets will be there at the end of the season. Call me delusional, but I think they are going to turn it around. I'm not saying they will make the playoffs, but they will be in the race at the end of the season. They are just too talented of a team to play like this. However, since you asked, let me say just about everything that's been bothering me about the Mets this season.
Here's what's wrong with the Mets, shooting down topics with some bullets:
Oliver Perez - He's gone from the fun, happy-go-lucky 2007 Oliver Perez (15-10, 3.56 ERA, with 174 Ks in 177 IP and 79 BB) to this current version, more reminiscent of the 2005 Perez (3-13, 6.55 ERA, 68 BB in 112.2 IP). His 2008 totals (4-4, 5.37, 55 Ks in 65.1 IP, 45 BB) are not good at all, and he has just been so awful as of late. His first two starts were great (no runs in 11.2 IP, 10 Ks and 4 BB), but since then he's been awful (3-4, 6.54 ERA, 41 BB in 53.2 IP); with the high walk ratio being of particular concern. Without doing the proper analysis, I'm guessing it has something to do with his arm angle (his inability to retain a consistent 3/4 arm slot has been a constant worry to Rick Peterson (Mets pitching coach), but I haven't heard anything for sure.
What do they need to do to turn their season around?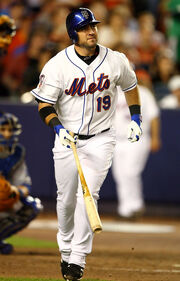 It's really anybody's guess at this point, as I have no idea whether Perez will be outstanding or terrible, and that's really more maddening than if he were simply a bad pitcher.
I said at the beginning of the season that the Phillies and the Mets would go down to the wire. However, if the Mets don't take a deep breath and pull their heads out of each other's asses very soon, it'll be too late. And one more thing: If they lose to the Diamondbacks on Tuesday, while I'm in attendance (I'm actually leaving as soon as this is finished), I will be very displeased. That is all I'll say about that.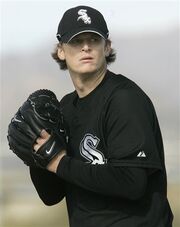 Moving on now to the Windy City. The Chicago Cubs and Chicago White Sox both sit atop their respective divisional standings. The Cubs have relied more on their potent offense to win games; they are ranked second in the majors with 352 runs scored. While the White Sox are based more around their pitching staff; Major League leader with a 3.29 team ERA. Who is the best baseball team out of Chicago?
The short answer, obviously, is Chicago (yes, a stupid joke, but sometimes I just can't help myself. Stupid jokes get me through my college presentations, such as the one in which I made a Rembrandt toothpaste/artist joke. You shoulda been there.). However, expanding upon that a little bit, the Cubs are clearly the better team. First of all, as you've already quite succinctly stated, the White Sox's success is predicated on pitching. The pitchers on their staff are:
So, out of the five starters, I expect two of them to continue at that level, and the other three should fall off at some point. Which leaves their offense in the untenable situation of picking up the slack. And if they don't, Lord knows that Ozzie Guillen will pop off at the mouth again. It's tough to play championship-caliber baseball when the manager is making veiled threats at everyone, including his own boss.
I realize I didn't say much about the
Cubs
, but with an offense that features
Kosuke Fukodome
(.823),
Derrek Lee
(.841),
Alfonso Soriano
(.868),
Mark DeRosa
(.878),
Geovany Soto
(.898), and
Aramis Ramirez
(.915) all with OPSs (is that right? OPS's? Just OPS? I don't know, you figure it out) over .800, and with
Ryan Dempster
apparently setting himself atop the Chicago Cubs rotation, along with
Carlos Zambrano
, the Cubs are in really good shape heading down the stretch. If I was to bet on one team in the National League making the playoffs at this point, it would absolutely be the Cubs.
The Florida Marlins are surpassing every-one's beginning of the season expectations so far. They are 3.5 games out of first place in the National League East, but their team ERA is ranked twenty-third in the Majors with a 4.57. Can the Marlins continue to compete despite their lofty earned runs against average?
The Fish are definitely outperforming their preseason expectations. Their offense has been the most powerful in the National League, as they're leading the league in both home runs and slugging percentage. They should be even better when Josh Willingham gets back. However, their poor pitching will come back to haunt them. The only member of the starting rotation to have an ERA UNDER FIVE is Scott Olsen (3.44), and while he's a good bet to have a great season, I can't see them staying in the race, and I'd bet they're out of it by the All-Star break.
Out West, things look a little different than expected. The Seattle Mariners were expected to challenge for the American League Western crown now find themselves with the worst record in the bigs and an impeccable sixteen and a half games out of first. On the National League side, the defending League Champion Colorado Rockies find themselves on the outside looking in, tied for the second worst record in the majors. Are you surprised these two teams have fallen so quickly? Why/Why not?
I'd have to answer with a yes/no for both. I'm not surprised that either team hasn't been great this season. However, I have been surprised at how bad both are this year. Let's look at the Colorado Rockies first:
The Rockies have been ravaged by injuries early this season. Micah Bowie, Matt Holliday, Clint Barmes, Kip Wells, Troy Tulowitzki, Luis Vizcaino, Brad Hawpe, and Jason Hirsh are all hurt. That is just a ridiculous number of players to be injured. However, I didn't expect them to be more than a .500 ball club in 2008 anyway. If you remember, prior to their amazing 14-1 record to end the season in 2007, they were merely 76-72. When healthy they are an average team, but these injuries have absolutely decimated their roster. Their struggles are too bad considering they play in what is rapidly turning into a mediocre National League West division.
Well, what about the Mariners?
Some users did pick the Mariners to win the American League West in 2008, which is understandable following their surprising 2007 campaign. However, their run differential was negative, never a good sign heading into an offseason. They did sign Carlos Silva, who has been simply awful (5.96 ERA), and traded for Erik Bedard (who has spent some time on the DL already and is currently sporting a 4.26 ERA, which is always nice to have from your ace). They sent away Adam Jones and George Sherrill, both of whom are helping the Orioles already. The GM is repeatedly trying to make an "impact signing" (Adrian Beltre, Richie Sexson, Erik Bedard, etc.) instead of doing the smart thing and building from within. With-in the division, the Angels (who, interestingly, have had a great farm system for years) constantly outclass the Mariners, and these quick-fixes are having the opposite effect of their intention. I didn't think it would be this bad for either team, but I'm not completely surprised by their failures.
Once again, I'd like to thank Falcon for the chance to be interviewed, and for the shouldering of the AGM Fantasy Update for a week. I really appreciate the opportunity to share my views on baseball, and I hope you enjoy it.
A special thank you to Tmil42 for taking his time to answer some questions about current story-lines out of Major League Baseball. He cannot be present at the moment due to a visit into the heart of New York City. So leave your criticism/comments/promise/anything else below...
Ad blocker interference detected!
Wikia is a free-to-use site that makes money from advertising. We have a modified experience for viewers using ad blockers

Wikia is not accessible if you've made further modifications. Remove the custom ad blocker rule(s) and the page will load as expected.