ArmchairGM's critically acclaimed series of continues as we bring a basketball expert out of a brief hiatus to talk about the ongoing NBA Playoffs. This interview occurred yesterday, hence the date of the title being off. Alas, here we go...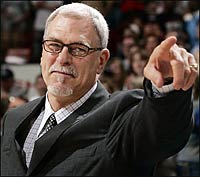 1. After the Lakers went up two games to zero on the Utah Jazz many people believed this series was over. The Jazz never lost hope and went home to tie this series at two games a piece. Who wins this series and why?
Well, we all know that the Utah Jazz are a pretty good team with weapons on all parts of the floor. But when it comes to the players' standpoint, they seem like they are evenly matched up. You have great match ups involving Pau Gasol and Mehmet Okur against Lamar Odom and Carlos Boozer, and even Derek Fisher and Deron Williams. With the series tied at two a piece and the Lakers with the home court advantage this will be one of those "grind-it-out" series for the Lakers. The Lakers have looked real strong at home in these playoffs and they even looked good in Utah's territory.
I think that Phil Jackson's coaching style makes the Lakers too disciplined to blow this series after taking an early 2-0 lead. It may be tied up right now, but the Lakers look a little too strong for Jerry Sloan's team. One thing that the Lakers will have to improve on though is to get back to dominating the paint; something that the Jazz have been doing in these past two games. They can't allow Utah to get easy baskets inside anymore. All the Jazz have to do is continue to play tough basketball and continue to find easy ways to score. The Jazz do have the momentum going into Los Angeles but Phil has the experience when it comes to situations like these, which is why the Lakers will still win this series. If they can get their heads together after their bad stint in Utah and come out energetic, they WILL be able to win Game 5 and possibly even steal away Game 6 in Utah. If they don't win in six, it'll definitely be seven.
2. Detroit is the only team in the Conference Semifinals to win a game on the road. They are currently up three games to one over an Orlando team that has eclipsed the one hundred point mark only once this series. Does Dwight Howard and his team in blue have a prayer against this high powered, veteran team?
As much as I don't want to be a homer with this question it's hard to turn down the Pistons after their effort in Game 4. They were able to take the game away from Orlando without their starting point guard Chauncey Billups; that spot was run by the rookie Rodney Stuckey and the veteran Lindsey Hunter. They may not have put up the numbers that Billups would have been able to put up, but they did play their role and that is what got them the win. We've seen the team just barely survive without Billups in Orlando and now he has the possibility of returning to the floor when the series shifts back to Detroit. There is still a slight risk in bringing Billups back too early, especially with a 3-1 series lead but whether he's in there or not, the momentum will definitely help the Pistons in Game 5.
When it comes to the Magic, I feel that the questionable coaching from Stan Van Gundy at the end of Game 4 really put the Magic in a tough situation. They have to go back to Auburn Hills, MI where they were ran over. Dwight Howard hasn't been helping that much because he's been showing me that he is inconsistent in big games and Orlando needs him to step up in order to make this a series. The next 3 games are win or go home for Orlando, and with the vets on the other side of the floor I guarantee that they won't blow that. Orlando is still too young, and the Pistons know how to put away a team when they have them backed into their own corner.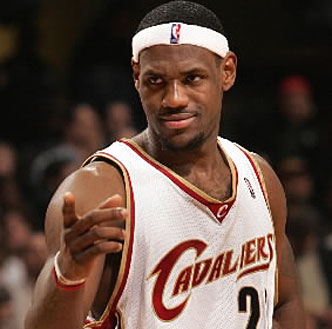 3. LeBron James seems to be the deciding factor in whether his team wins or loses. When he shows up to perform he is capable of taking his team to another level. Is LeBron the best overall player in the league? How good would he be if paired with another perennial superstar?
As of now, I do believe that LeBron James is the best OVERALL player in the league. He really has everything that a superstar is supposed to have; the ability to drive to the basket, a decent jumper, the ability to come through in the clutch, rebounder, playmaker, etc. He's just an all around terror. He can do just about anything you ask him because he just possesses that sort of talent. Any team that faces him has to stop him in order to stop his team. We've seen that Cleveland would most likely lose if James is not on his game. Now that may not be good for his team, but it just shows how much of an impact he has on the floor. They look like a completely different team without him.
If you were to pair him up with another perennial superstar I'm sure he will still be the same as well as the other superstar you team him up with. But, I think it all depends on which superstar you plan on teaming him up with. The key to success is how the team will play with both superstars on the team and we've seen examples of success and examples of failure. If you look at the Denver Nuggets, they have two of the best players in the game paired up with each other. Allen Iverson and Carmelo Anthony are both Top 10 in the NBA in scoring, but that really hasn't made their team any better. They barely squeezed their way into the playoffs in both years that they've been together, and they haven't shown any type of strength when they get there.
On the positive side of having two superstars look at Magic Johnson and Kareem Abdul Jabbar. There is a superstar point guard who will score and make plays paired up with a superstar center that can dominantly score inside and grab rebounds. Those two players had roles on their teams and they both played them very well; that is what made them so great. Those are two totally different positions and roles. Anthony and Iverson both hold positions that are looked upon as scoring roles. That is where the "too much star power" excuse comes into play. Then it is a wonder what happens if they were coached right because I feel that they could both make their team unstoppable if they had the right coach.
With LeBron, I believe that the talent that he possesses could make any team better. If you pair him up with some other superstar in the league, it's up to them to make the team better instead of making themselves better. Any team that has LeBron on it is automatically a better team.
4. The match-up between the New Orleans Hornets and San Antonio Spurs is one that many fans of basketball love to watch. Two teams playing team basketball and defense at a high level is something that very rarely happens in today's game. Who wins this series?
Now that this series is tied up at two a piece, this is when San Antonio come in for the kill. I think that it would've required a road win in the first four games for the New Orleans to create an upset, but this is where the Spurs can hit them in their weak spot; with New Orleans' lack of experience. The first round match up between New Orleans and Dallas gave us a look at how skillful the Hornets are. They seemed to have easily dominated that series and then they were able to dominate the Spurs in Game's 1 and 2. San Antonio's lackadaisical play forced them to come out and frustrate the Hornets in Game's 3 and 4 and put New Orleans in an awkward situation.
I feel that New Orleans had a chance to win Game 3 because they were coming off of back to back, twenty point victories over the defending champs. So the momentum was really on their side, but San Antonio wouldn't allow some youngsters to come into their town and embarrass them. So now instead of New Orleans having the series lead it is tied up and the Spurs now have the momentum to combine with their experience. If the Spurs are able to take Game 5 from New Orleans (which I believe they will), the series is done in six. It's hard to tell what will happen if the New Orleans ends up taking the series lead again with a Game 5 win because it'll show that the Hornets are strong on their home court, and they have the home court advantage. But this is when the experience factor really kicks in for the Spurs and I think they will be able to dispose of the Hornets in six.
I'd like to thank One Fly Dude for taking the time for this interview. Especially considering that because the playoffs are on-going, the answers need to come quickly because each series changes daily. Thanks again for being so fly...
Ad blocker interference detected!
Wikia is a free-to-use site that makes money from advertising. We have a modified experience for viewers using ad blockers

Wikia is not accessible if you've made further modifications. Remove the custom ad blocker rule(s) and the page will load as expected.