After a brief hiatus the continue... The falcon has a few questions for Philadelphia Eagles Superfan, Justin Yost...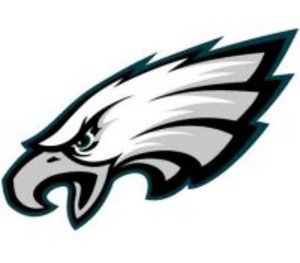 1. The Eagles traded away their 19th overall pick in the recently passed 2008. The big piece in the trade is that they acquire Carolina's 2009 first round pick. What are your thoughts on this trade?
John Fox is the Godfather and he made the Eagles an offer Andy Reid could not refuse. I think a lot of people see the Eagles moving out of the first round as a sign that they are building for the future and letting this era die. I don't. First lets consider what the Eagles gave up, which was Jeff Otah. The Eagles were going to use that pick to select Otah and that is what the pick was worth, a top offensive line prospect. How does that offensive line prospect help you win this season? He doesn't, and on top of that his style of play matches that of Winston Justice, not exactly the guy you what to mimic in Philadelphia.
Secondly, the Eagles traded Otah at an approximate value of the 19th pick, which is 875 points, whereas the Panthers provided a 2nd rounder and a 4th rounder worth approximately 500 points and, as you mention, the centerpiece, which is a 2009 first round pick. I theorize the Panthers around 7-9, though some suggest a very poor performance. Given their opponents, which include the AFC West, NFC North, and the defending champion New York Giants, I'm cautiously optimistic at 7-9, which positions them according to this year between 9 and 15th overall, or perhaps approximated at the 12th pick overall, or 1,200 points. So the Panthers traded roughly 1,700 points for 875. On top of that the Eagles got a guy who they were at one point projected to take in the first, DeSean Jackson.
Would I have liked to add Limas Sweed or Malcolm Kelly or Devin Thomas, sure, but the Eagles covered two issues with the Jackson pick and built for the future. Unless you're Donovan McNabb how can you complain? But even if you are McNabb, you shouldn't complain and here's why: The Eagles now have two first round picks in 2009 and the 2008 draft is over. On top of that they have a third corner who is close to if not in elite status (when healthy), but they would have little issue trading him and his approximate value if a late first round or early second round pick. Once again, being cautiously optimistic the Eagles will have the 12th pick (1,200 points) the 24th pick, assuming they go something like 10-6 (740 points) and Lito Sheppard whom I'm valuing at the 32nd pick (590 points). That's a total of 2,530 points or somewhere between the 2nd or 3rd pick overall. And while that pick would be nice, someone of the caliber of say 7th pick overall, Wide Receiver Roy Williams or 36th pick overall Chad Johnson or 54th pick overall Anquan Boldin would be much nicer. I think the Eagles knew exactly what they were doing when that deal hit the table. Not only did it blow them away, but it put them in a perfect position come the latter months of June and August, where trades like this happen.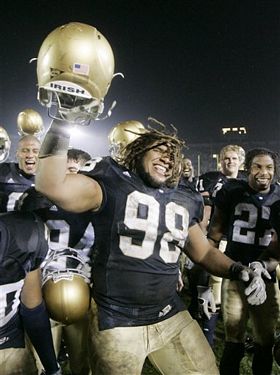 2. Trevor Laws, pick 47 overall, was the first overall pick of the Eagles in the draft. Many people would not have predicted the Eagles would go after a defensive tackle as their number one guy. Why did they select another defensive lineman?
Historically, under Andy Reid, the Eagles have taken a Defensive Tackle with their first pick 40% of the time (Corey Simon, Mike Patterson, Broderick Bunkley, and Trevor Laws) as compared to the 10% of the time they draft a wide receiver (Freddie Mitchell).
As an aside, I think for all the mocking Eagles fans do of Mitchell they forget a few things: Freddie Mitchell had a great NFC Championship game when Terrell Owens was hurt and helped the Eagles to a Super Bowl (His hands were great). He caught the ball from one of the greatest plays in football history; McNabb's now infamous scramble against every single Cowboys defender on a Monday Night Game. And, of course, he caught 4th and 26, a play that literally saved the Eagles season. Those were all great Freddie Mitchell times where we saw flashes and its hard to believe that a player like that could be out of football already.
Anyway, most mock drafters only doing a little scouting of mostly of college players. There's nothing wrong with this. Mel Kiper Jr. probably knows more about some 7th round subdivision selectee than anyone this side of his coach, but sadly his analysis of NFL teams has much to be desired. Kiper's predicted the Eagles to take a wide receiver practically every year since 2001 and he's only been right once, in 2001. Andy Reid has a draft philosophy of taking lineman on both sides of the ball and I believe that the bulk of his draft picks have been lineman above all else. Seems like the philosophy has worked to some extent. Moreover, you also have to understand rookies in Philadelphia under Reid, which have typically rarely played, so really the Eagles will see more of Victor Abiamiri than Trevor Laws, though their rotation will be much improved and Jim Johnson, the defensive coordinator, will be happy about that.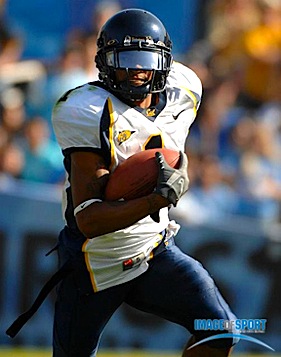 3. DeSean Jackson, the 49th overall pick, is not the type of wide receiver the Eagles seem to need. Jackson is a small, speed receiver. Then again, he also solves the situation at punt/kick returner, an area the Eagles struggled with last season. What do you expect Jackson's immediate impact to be?
Some circles of Eagles fandom project Jackson to be the next Devin Hester. I think you can hold the phone on that one, but you can definitely say that the special teams last year were poor, though they had a new coach (Jim Harbaugh moved to defensive backs coach in 2007 and is now the head coach of the Baltimore Ravens). Jackson improves that. Reno Mahe, last year's return man did an admirable job, but his lack of speed, movement and effectiveness made him not much better than [Philadelphia's own] Pat Burrell, a guy who can catch the ball and stand there like a statue.
Jackson improves the game a lot and any gains he makes on the ball and shortens field position is great. He doesn't need to score six return touchdowns or anything, but moving the ball beyond the 20 during kickoffs and gaining a solid 15 yards or more on punts would be nice. That's what I see Jackson capable of doing.
But more than that, I think the Eagles are finally going to do a rookie receiver right in his first year. Typically they've tried to position guys as number ones or twos and the playbook is just too deep for anyone, especially a receiver to grasp that quickly. Jackson won't be asked to be more than a number three or slot receiver at most and so with his limited time, I could see them ramping him up slowly this season, versus tossing in a rookie like they have in the past. His speed may be nice, but his on the field presence might be the most valuable, allowing guys like Kevin Curtis (who had a very underrated 2007) and Reggie Brown to open it up. Jackson forcing guys to watch him may be his most valuable contribution, perhaps more valuable than catching the 70 balls Dwayne Bowe caught last year as a great rookie receiver.
A special thanks to ArmchairGM's Self-Proclaimed Most Attractive User and Philadelphia Eagles Expert Fan for taking the time to answer these questions...
Ad blocker interference detected!
Wikia is a free-to-use site that makes money from advertising. We have a modified experience for viewers using ad blockers

Wikia is not accessible if you've made further modifications. Remove the custom ad blocker rule(s) and the page will load as expected.