The Falcon takes on ArmchairGM's resident baseball fan from Kuwait.  Lets get some opinions about this early 2008 MLB season from The Legend Romiezzo...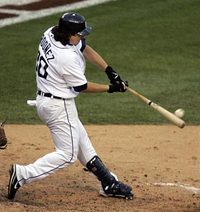 As a baseball fan, it is almost certain that you are somewhat shocked at the Detroit Tigers' lack luster performance this early in the season. How surprised are you at the Tigers' poor performance? It is still early in the season, but what should they do to turn their season around?
The thing about the Tigers (and the thing I took in consideration before the season started when I made my predictions) is that the Tigers are going to do a lot more things differently. I quote Babe Ruth when he said, "The way a team plays as a whole determines its success. You may have the greatest bunch of individual stars in the world, but if they don't play together, the club won't be worth a dime." That is one of my favorite quotes by Babe Ruth because many people tend do overlook the fact that a team like the Tigers need to win ballgames not just on how many runs they score or how many runs they surrender, but based on how well they communicate, and the consequences they face when they have a "Yankee lineup" and a sucky starting rotation. If a couple of guys on the Tigers stink, unless the starting pitcher has an outing that keeps the game close, you can kiss your next couple of games goodbye. I'm saying is that if Renteria, Polanco, Magglio, Guillen, Cabrera, and Granderson (when he comes back from injury) don't all produce, the Tigers won't find themselves in the playoffs. You're talking about a team that was five outs away from being no-hit by Gavin Floyd. You're talking about a team that is last (yes, LAST) in runs scored. The GIANTS have scored more runs than the Tigers; now that is really, really sad.
Why are they not scoring many runs like they're supposed to, you might ask? Well, the only excuse I have for them is that the Tigers are making all of these changes that they need to adapt to. For instance, can a team really rely on Kenny Rogers right now, who just happens to be the oldest player in the game at 43? Can you really rely on Dontrelle Willis? I mean, he's only getting worse and worse, not to mention that he's now pitching in another league, and against 15 teams that he's not used to pitching to at all. You can't expect him to be Cy Young Award winning material. Look at what Josh Beckett did for the Red Sox his first year. I actually picked them to be second (not first, like many people believe) because of the fact that they're going to be like the 2007 New York Yankees this year: a really slow start, coming back, but not able to win the division.
Evan Longoria was called up by the Tampa Bay Rays on Friday. What do you see his immediate impact as being to the club? Will he be the American League Rookie of the Year?
From what we have seen from Longoria already in the past 2 or 3 games, I believe that we are going to see a rising star on the Tampa Bay Rays' roster. If this kid is as good as everyone says he is, then only good things can happen for the Rays. He has already hit his first homer, and has an average of above .300. I know we can't say much about him now, but I believe that he will be the AL Rookie of the Year if he just keeps doing what he's doing. He will have a much better chance of winning it than Delmon Young (at least I think so) mainly because of the fact that he's a prospect whose name is well known to everyone before he even started playing in the majors. Secondly, the Rays are probably going to do better this season. Why is that important? Because Longoria will seem more valuable to the Rays. I don't know much about prospects, so I'm just going to say that Longoria has a pretty good chance of winning it IF he lives up to his hype and the Rays do pretty well.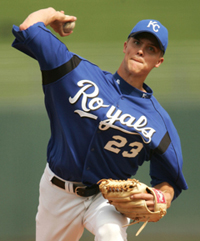 Brian Bannister and Zack Greinke have each won three games so far this season on a Kansas City team that is over a .500 record. Do you see the Royals franchise fortunes turning around? It seems that they are building a solid team, would you agree with this statement?
Can I see the Royals' franchise fortunes turning around so early in the season by just two pitchers with such great potential? With 13 games into the season, the Royals have surrendered 33 runs, which is 16 runs less than any other other American League's team, and 13 runs less than any other team in the Major Leagues. It is unbelievable how well they have pitched within the last 13 games. Can I believe that people won't degrade the Royals now? Absolutely, due to the fact that many players have shown that they have such great potential. Guys like Zack Greinke, Brian Bannister, Alex Gordon, Billy Butler, Mark Teahen, Joakim Soria, and even Joey Gathright have proven to be decent, talented players. I'll give them two to three more years, and they'll have the team that could beat who are now called the "Big Boys" (Cleveland and Detroit). They will definitely be solid by the end of this decade.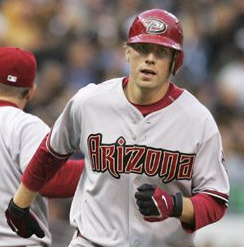 Three youngsters from the Diamondbacks have started off the season very hot. Do you see Mark Reynolds, Justin Upton, and Chris Young as the catalysts for the Diamondbacks not just now, but in the future as well? Or does it lay more in the hands of how Haren and Webb fair? What could Arizona expect come October this year?
The Diamondbacks are definitely showing that last season was no fluke. They currently have the best record in baseball, and there's no way anyone can argue that this young team is going to be the team to beat this year. They are working very coherently for each game, which is why they are in first place, and is why they have 37 more runs scored than runs allowed, which is more than any other team in the Major Leagues. You know what else? They lead the Majors in runs scored with 89, which is 10 more than any other MLB team, and 18 more than any other team in the National League. They're also 4th in the MLB in runs allowed, which signifies how well they're doing as a whole. The only negative statement I can say about them is that the bullpen is not as reliable as it should be, as they are currently responsible for half of the team's losses. Tony Pena has currently has a 7.11 ERA in 6 1/3 IP, and Brandon Lyon, who has gotten off to a rocky start this year, has a 7.20 ERA and a loss in 5 IP already. Everyone else seems to be doing extremely well. Brandon Webb, Danny Haren, and Micah Owings have impressed me with the games they have pitched.
I was extremely surprised to see that no one here talked about Mark Reynolds that much. Ryan Braun got all the rookie third base recognition while Mark Reynolds was able to hit 17 homers and drive in 62 in 111 games. I've got nothing but good things to say about Justin Upton. Like brother B.J. did back in his rookie season, he had a pretty slow rookie season. However, just like B.J., he's doing remarkably well, hititng .370 (7th in NL) with 5 home runs (1st in NL) and 12 RBI's (7th in NL). I see Justin Upton, who is only 20 years old, is doing very well this year, as well as the man who was 3 stolen bases shy of a 30-30 season: Chris Young. Although he may not be clutch (besides hitting a couple walk-offs last season) or very handy with runners in scoring position, he is still able to hit a home run or steal a base here and there. All three of them, as well as many others, have the potential of becoming great ballplayers, which is exactly why I believe that they will be on top of the division (once again) when it's all said and done for 2008.
A special thanks to Romiezzo for the interview. He is swamped with school work, but always has the time to talk baseball...
Ad blocker interference detected!
Wikia is a free-to-use site that makes money from advertising. We have a modified experience for viewers using ad blockers

Wikia is not accessible if you've made further modifications. Remove the custom ad blocker rule(s) and the page will load as expected.