Article:Repressing History
Talk

0
Ad blocker interference detected!
Wikia is a free-to-use site that makes money from advertising. We have a modified experience for viewers using ad blockers

Wikia is not accessible if you've made further modifications. Remove the custom ad blocker rule(s) and the page will load as expected.
This story is a continuation from another posting on Armchair GM.  It can be found here.

Baseball's Dilatory is the heart-breaking story of how injuries and unfortunate events can delay records being broken.  The word "delay" is used properly here because all records are made to be broken; so it is not a case of "if" but "when" a record is broken.
The story headlines Ken Griffey Jr.  He was on pace to be the greatest home run king of all-time, until age and injuries derailed his train at the age of thirty-one.  Yet, because he was so dominant at such a young age, he still has an outside shot at breaking Barry Bonds' career home runs record.  Alex Rodriguez is also mentioned as the candidate that will most likely be atop on the career home run chart.  So even if everything pans out for Junior and he crosses the home run mark, he will soon enough be passed by the greatest player of modern era baseball.
Unfortunately there is more that can restrain a player who has the potential to be the all-time leader, but one thing or another has kept or will keep a player from reaching the milestone which is the greatest in all of professional sports numbers.  This has happened to the best of sluggers, and keep in mind that not all can reach the mark of holding the top spot.  So there are stories of "if this" and "what if that"; what if Willie Mays didn't play in the windy Candlestick Park or if Tony Conigliaro didn't meet his untimely career ending injury or if the Iron Horse could have played until he was 42 years old and played in today's ball parks with those short fences?  These were factors that hindered players from accumulating as many home runs as they could in a perfect situation.  But players can not play in a dome the whole time; sometimes it may rain, sometimes it may be cold, but know that if everyone played in their perfect little bubble that this record would mean nothing because everyone would be perfect and nobody is perfect.  Yet, the fact remains that only two players in the history of baseball have ever passed Babe Ruth on the all-time list; Hank Aaron and (just recently) Barry Bonds.
To demonstrate another point about hindrances from the number 755 762, let's take a look at two modern day players.  These guys were hurt by the fact that either their talent was not recognized at a young age as being ready for the major league level or they were being blocked by a greater talent or that they were [unable to reach their potential until later in their careers.  Their home run pace per year is impressive, but it is nowhere near a pace that would qualify these two for a bus ticket to the 755 762 number.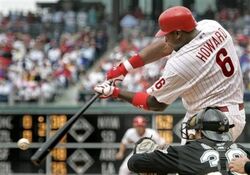 Ryan Howard
won the
2005 Rookie of the Year Award
, and then followed his impressive ROY campaign with an
MVP season in 2006
, and again in 2007, he put up numbers that are staggering.  His rookie season was about half a major league season, so in two and a half seasons in the majors, Howard has an astonishing 129 home runs (
fewest games ever to the 100 HR plateau
).  The problem here is that where Alex Rodriguez, Ken Griffey Jr., and Hank Aaron made their debuts before their 21st birthdays, Howard was not called up to the big leagues permanently until he was twenty five years old.  Five or six years will make the difference in perennial all-star and all-time great.  Howard
gets to find out the hard way
.
To show how far off pace Ryan Howard is of the record, if he is capable of playing until the end of the 2022 season (making him 42 years old) while avoiding any injuries he would need to average just of 42 home runs per year.  Not likely possible.  Now if he had come into the league when he was twenty-one years old, he would only need to average 33 home runs per game if he played through the 2022 season.  That would have been very possible.  For the likes of Ryan ever approaching Aaron Bonds on the list, it just will not happen.
Even if Howard was in the majors at 21, there is no proof that he would have had the same start he is having now.  Maybe he would have struggled in those first seasons.  Maybe he needed that extra time in the minor leagues to develop into the player that he is today.  And possibly... he may have done what this next player had to go through...
BIG PAPI!!! That is right, the man himself.  David Ortiz is known for his big bat and "love life" personality, but the goings weren't always clean for this guy.  He made his major league debut at twenty-one years old with Minnesota.  Over the next five years he would accumulate 1065 major league at bats with only 38 career home runs.  That is one home run per 26 at bats (Barry Bonds' career home run per at bat ratio is 1:13).  Ortiz didn't even hit more than 20 home runs in a single season until 2002; he was 26 years old.  How's that for a great start?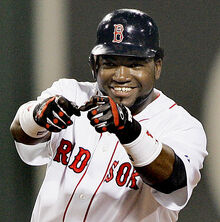 Obviously things are different for Boston's biggest sports personality.  He now has 266 career dingers.  But to break the record he would have to average 49 home runs per year for the next 10 seasons (making him 41 years old).  Not happening
unless steroids become legal in baseball
.  But what if he started hitting at his current mark when he came into the league?  Statistically, it can be figured out:
Take his five seasons in Boston; he averages 41 home runs per year.  Over shadow this number with the numbers he should have hit when most players are discovering their potential (age 22-26).  Add in his one home run from 1997 and the total is 416 career home runs.  Impressive considering he is thirty-one years old.  If it happened this way he would need 35 home runs per year for the next ten years to make him number one all-time.  One problem... It didn't happen this way, and he has no chance at 755 762.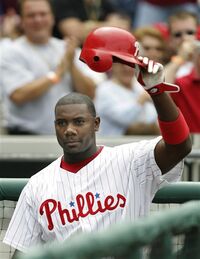 Ryan Howard and David Ortiz are
very similar players
both in build and ability.  They both wait on the ball and use the whole field, are not to reliable on defense, but can maintain a good batting average while crushing balls over 500 feet.  The difference is that while Ortiz his shot to get started at an early age, Howard was stuck in the minors developing himself.  Given that most likely these two players would have had similar out-comes if they were in each other's shoes, we will never know... "what if"?
Baseball's credibility is on the low end.  Good players, good people, get snuffed for one reason or another while alleged cheaters walk around and vast in the glory they are showered with by fans who are/were unaware of the truth at times.  What type of example does this set?  Where is karma when we need it?  How has this cheating been aloud to continue while players fight through the hard times to play this sport the right way.  Ortiz and Howard have presumably created themselves the right way.  For that they should be proud.  They were simply never meant to pass the highest mark, and in the grand scheme of things there is nothing wrong with that, not at all...
...
References
[http://www.baseball-reference.com/o/ortizda01.shtml%3Cbr%3Ehttp://www.baseball-reference.com/o/ortizda01.shtml%3Cbr%3C/A%3E%3E%3CBR%3E%3CA%20href= http://minors.baseball-reference.com/players.cgi?pid=10790
[http://www.baseball-reference.com/h/howarry01.shtml%3Cbr%3Ehttp://www.baseball-reference.com/h/howarry01.shtml%3Cbr%3C/A%3E%3E%3CBR%3E%3CA%20href= http://www.baseball-reference.com/b/bondsba01.shtml
[http://www.baseball-reference.com/leaders/HR_career.shtml%3Cbr%3Ehttp://www.baseball-reference.com/leaders/HR_career.shtml%3Cbr%3C/A%3E%3E%3CBR%3E%3CA%20href= http://www.baseballlibrary.com/baseballlibrary/submit/Mileur_Ray2.stm
[http://www.kgjonline.com/info.html%3Cbr%3Ehttp://www.kgjonline.com/info.html%3Cbr%3C/A%3E%3E%3CBR%3E%3CA%20href= http://www.baseball-reference.com/g/griffke02.shtml
[http://sports.yahoo.com/mlb/news?slug=ti-bondsbig080407&prov=yhoo&type=lgns
http://sports.yahoo.com/mlb/news?slug=ti-bondsbig080407&prov=yhoo&type=lgns<br</A>>
<A href= http://journals.aol.com/deskblog/LineupCard/entries/2007/05/08/willie-mays-is-not-completely-and-utterly-insane/1532
[http://www.philly-sports.net/philadelphia/295/exit-jim-thome-enter-ryan-howard%3Cbr%3Ehttp://www.philly-sports.net/philadelphia/295/exit-jim-thome-enter-ryan-howard%3Cbr%3C/A%3E%3E%3CBR%3E%3CA%20href= http://mlb.mlb.com/mlb/awards/mlb_awards_content.jsp?content=roy_history
[http://mlb.mlb.com/mlb/awards/mlb_awards_content.jsp?content=mvp_history
http://mlb.mlb.com/mlb/awards/mlb_awards_content.jsp?content=mvp_history<br</A>>
<A href= http://www.helium.com/tm/153438/howard-tremendous-scored-while
[http://baseballanalysts.com/archives/2007/08/a_home_run_week.php%3Cbr%3Ehttp://baseballanalysts.com/archives/2007/08/a_home_run_week.php%3Cbr%3C/A%3E%3E%3CBR%3E%3CA%20href= http://www.mndaily.com/articles/2005/04/12/64106
[http://sports.espn.go.com/mlb/preview07/columns/story?columnist=olney_buster&id=2814837
http://sports.espn.go.com/mlb/preview07/columns/story?columnist=olney_buster&id=2814837<br</A>>
<A href= http://www.bloomberg.com/apps/news?pid=20601079&sid=aUAxijsmzG0k&refer=home