http://dcprosportsreport.com/?p=1964
Sunday's the big day in DC. A huge, huge, playoff implicated game against division rival and red hot New York Giants. But it will also be a celebrating yet sombering day at FEDEX Field as former Redskin Sean Taylor is inducted into the Ring of Fame. Redskins fans honor Sean Taylor, not just for the football player, the Redskin, but the person Sean had become, the Father that is missed by one little girl.
Tomorrow, it will be one year since the tragic death of Sean Taylor. I don't think any of us Redskins fans will ever forget where we were when we got the news and how it affected many of us. Maybe it was how great of a football player he was becoming. Maybe it was because he was the best football player on the Redskins at the time. I don't think it was any of that. I think for many of us, it was the person Sean Taylor was, the person he was becoming, and we as his fans, were watching a wonderful transformation in front of us, Sean Taylor was becoming a great football player, a big role model, a Father to a small child, a mature leader,. Sean Taylor was quiet, that there was no doubt, but Sean Taylor was a leader by example, and he was showing us all, he was becoming a leader not just on the field, but a leader in directing his own life to better avenues, all sparked by the birth of his daughter. And we were watching this wonderful transformation.
Such a sad story and end to a promising, budding life, a guy that managed to get his head on straight, turn his life around, and had the world waiting at his finger tips. A guy that just became a new dad and was so looking forward to Fatherhood. A guy that was, as great of a football player as he was, getting even better by the game. All cut short by a senseless, tragic, outrageous act of immaturity by perpetrators. Tomorrow is one year since the tragic death of Sean Taylor. On Sunday, Redskins fans celebrate the life of Sean Taylor and forever honor him into the Ring of Honor. Redskins fans won't forget #21, and he will forever be etched in the stadium of the Washington Redskins. Deservedly so.
Realizing that the Washington Redskins franchise does not retire uniform numbers, this is a different case. Sean Taylor was not only producing great football memories, in for tragically shortened career, but his tragic death affected nearly every redskin fan emotionally. We all know the Redskins franchise will never give out #21 again. We know that. We know that the Redskins have ever retired only one jersey number. We know the Redskins franchise has an aversion to retiring jersey numbers. But, this is a special case, this is different, this is appropriate. There is not one single Redskin fan out there that ever wants to see any other player where #21. Nor do I believe the Redskins franchise wants any player to ever wear #21 again. It is time to make it permanent. Sean Taylor is forever #21.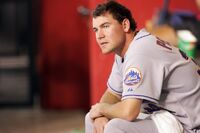 DC Pro Sports Report call on the Redskins franchise and Daniel Snyder to RETIRE the great #21!
Vote whether the Redskins should retire #21.
Should the Washington Redskins retire #21?
Ad blocker interference detected!
Wikia is a free-to-use site that makes money from advertising. We have a modified experience for viewers using ad blockers

Wikia is not accessible if you've made further modifications. Remove the custom ad blocker rule(s) and the page will load as expected.