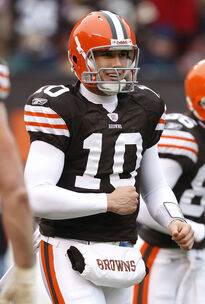 Cleveland Browns 20, San Francisco 49ers 7 - It's Brady Quinn time in Cleveland. With about five minutes to go in the first half, current starting quarterback Derek Anderson left the game with a right hand injury. While making his way toward the locker room for X-rays, Brady Quinn checked into the game followed by loud cheers! His first pass was tipped at the line of scrimmage, his second pass was dropped in the flat, but his third attempt was a completion to tight end Steve Heiden for a first down. Quinn then led the Browns down for a field goal to increase their lead to 17-7. While Quinn looked okay, the Browns still decided to start Anderson for the second half in a meaningless game.
The victory win was meaningless for the Browns because their playoff chances ride on the back of the Indianapolis Colts. If the Colts beat the Tennessee Titans than the Browns are in. However, if the Colts lose than the Titans are in. Even if they miss out on the playoffs, this was one heck of a year for Browns fans.
Atlanta Falcons 44, Seattle Seahawks 41 - Everytime the Seahawks venture to the East Coast, they always seem to lose to subpar NFC teams. While the starters didn't play much, a three touchdown loss to Atlanta doesn't help anybody get ready for the playoffs. Even NFL journeyman Chris Redman threw for 4 touchdowns in this one.
Chicago Bears 33, New Orleans Saints 25 - Why would anybody in their right mind even kick to Devin Hester (a.k.a. the Windy City Flyer). The Bears return specialist took another punt to the house in addition to a 55-yard bomb he caught from the bearded Kyle Orton. With his 64 yard return, Hester broke his own record for kicks/punts returned for touchdowns in a season. Orton got the win over Drew Brees in the battle of Boilermaker QBs, while throwing for two touchdowns and 190 yards. Better than Rex Grossman and Brian Griese.
Cincinnati Bengals 38, Miami Dolphins 25 - Sitting in a press box suite, Bill Parcells got to witness first hand his massive rebuilding project, the Miami Dolphins. I least he could take solace to the fact that not all of his players have been arrested like his team's opponent.
Carolina Panthers 31, Tampa Bay Buccaneers 23 - This is one of many reasons why I hate Week 17. Here we had Matt Moore and Luke McCown battling in a meaningless game. My one-time fantasy sleeper, DeAngelo Williams, had his first bug game, rushing for two touchdowns and 121 yards on 20 carries.
Philadelphia Eagles 17, Buffalo Bills 9 - Donovan McNabb threw for 345 yards and a touchdown in what might be his last game in Philly. Too bad for Philly fans that their team started playing well when the games didn't matter anymore.
Green Bay Packers 34, Detroit Lions 13 - Can we all agree that the Mike Martz experiment did not work according to plans? Thirteen points against the Packers third string. C'mon!
Houston Texans 42, Jacksonville Jaguars 24 - Congratulations, Houston, you now have a .500 football team. Maybe they aren't hopeless after all!
Ad blocker interference detected!
Wikia is a free-to-use site that makes money from advertising. We have a modified experience for viewers using ad blockers

Wikia is not accessible if you've made further modifications. Remove the custom ad blocker rule(s) and the page will load as expected.