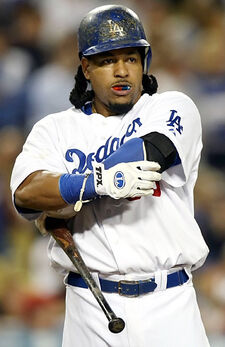 I don't like fan voting for professional all-stars games, and to put it bluntly, neither should you.
It makes no sense whatsoever. Why should an all-star game designed to feature the best players in a particular sport be subject to the fans' overtly biased opinions? Not that former managers and players have the most knowledgeable baseball minds in the history of the universe, but they do have a little more insight when trying to select the game's top players. Players like David Ortiz, who play for popular teams like the Red Sox, have a far better chance at earning a trip to the mid-summer classic than players such as Adrian Gonzalez, who play for far less popular teams like the Padres, even if they have inferior numbers.
In the meanwhile, the latest news out of Los Angeles has done nothing to ease my complaints over fan voting. According to Dylan Hernandez of the Los Angeles Times, suspended outfielder Manny Ramirez is fourth among N.L. outfielders, with 442,763 votes in the first round of National League balloting.
Is this at all fair? Why should a player, who will miss 50 games because of a drug suspension and therefore post inferior numbers to the other candidates, be possibly selected for the all-star game? It makes no sense. The only reason Manny is still receiving votes is because of his popularity, not his performance this season.
Ad blocker interference detected!
Wikia is a free-to-use site that makes money from advertising. We have a modified experience for viewers using ad blockers

Wikia is not accessible if you've made further modifications. Remove the custom ad blocker rule(s) and the page will load as expected.