The Tampa Bay Rays came into St. Louis last night in 1st place of the AL East. It was the first time the Rays have ever been to St. Louis.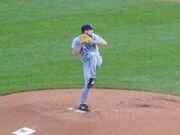 Andy Sonnanstine baffled the Cardinals with a solid 8 innings of pitching yielding 1 run on 8 hits with 4 strikeouts and 0 walks. Sonnanstine who helped his on cause with 2 hits ended Albert Pujols' 14 game and Rick Ankiel's 9 game hitting streaks. His only hiccups coming the form of Chris Duncan's 8th inning solo homerun and a rare triple from Troy Glaus.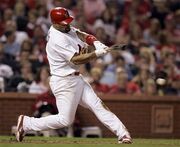 Cardinal starter Braden Looper was thrown for a loop by Rays hitters, Akinori Iwamura had 3 hits and an RBI, Evan Longoria had a single, and double while playing stellar defense.
Rookie reliever Chris Perez called up before the game to replace injured closer Jason Isringhausen made his MLB debut pitching a scoreless 7th inning and wowing the crowd with a fastball that registered 100mph on the Busch radar gun.
Former Redbird Troy Percival pitched a perfect 9th for his 11th save of the season to close out the Rays win. Final score Tampa Bay Rays 3 – St. Louis Cardinals 1 the game was not as close as the score would indicate.
On a personal note the crowd was medium in numbers; I saw a handful of Ray fans throughout the stadium. Fans really did not know what to think about the Rays, seemingly caught off guard just as much as the Cardinals themselves were on how good they are. I found myself repeating many times throughout the game, "This team is in 1st in the AL East." My friends who came to the game were impressed with Evan Longoria, whom they kept referring to as "Eva" much to my dismay. I was surprised with how almost indifferent the crowd was acting with the exception of Glaus' triple and Duncan's homerun.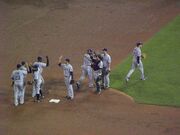 Ad blocker interference detected!
Wikia is a free-to-use site that makes money from advertising. We have a modified experience for viewers using ad blockers

Wikia is not accessible if you've made further modifications. Remove the custom ad blocker rule(s) and the page will load as expected.