Just three days ago, Monday June 9th, Cincinnati Reds right fielder Ken Griffey Jr. became the newest member of the 600 home run club. It's said that Junior has the sweetest swing in baseball, and is easily a first-ballot Hall of Famer. Griffey hit a 3-1 count curveball off Florida Marlins pitcher Mark Hendrickson over the wall for number 600. The milestone occurred in front of just 16,000 fans in Florida. That just shows you how great a person he is. He wanted to stay in the lineup to help his team, instead of sitting out on the road, and saving number 600 for the home crowd (unlike every other major league ballplayer).
After looking over all six of the club members, I thought I would attempt to rank the members from six, down to number 1. Of course, this is going to bring about a bit of a debate, but that's kind of the whole point of the article. Personally, I think there is no right or wrong order to this elite group of ballplayers. They were all very good at their jobs. Only problem is...one could argue that two of them shouldn't be considered. But, I'm going to do my best to disregard any steroid (or corked bat in Sammy's case) questions, and rank them accordingly.
6. Sammy Sosa, RF, Texas Rangers, Chicago White Sox, Chicago Cubs, Baltimore Orioles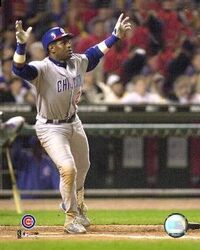 18 Seasons (2354 career games), 2408 hits, 609 HR's, 1667 RBI's, 234 SB, .273 BA, .344 OBP, .534 SLG
7-time All-Star Selection, 6-time Silver Slugger, 1998 NL MVP, 1998 Roberto Clemente Award, 1999 Hank Aaron Award
Out of all the members of this club, Slammin' Sammy has played the least amount of seasons, by far. Sosa's steroid allegations, and corked bat incident really have nothing to do with him placing sixth on this list. He just isn't quite as talented as they rest of the five. Sosa's signature "hop" that he does after he hits a long shot, helped him get some limelight. Sosa has had three 60+ HR seasons ('98, '99, '01), and they all came when he was playing in Chicago. All Sosa was really good for is power hitting. He had just over 2,400 hits in his career, and had a .273 batting average when he was finished. Sosa wasn't exceptionally fast (in the later part of his career), either, and he never won a Gold Glove in RF. So, that is the reason he is not higher on this list. I am looking for the best all-around player to be number one, and that is not Sosa.
5. Willie Mays, CF, New York Giants/San Francisco Giants, New York Mets
22 Seasons (2992 career games), 3283 hits, 660 HR's, 1903 RBI's, 338 SB, .302 BA, .384 OBP, .557 SLG
21-time All-Star Selection, 2-time All-Star Game MVP, 12-time Gold Glove winner, 2-time NL MVP, 1951 NL ROY, 1971 Roberto Clemente Award
Mays was an All-Star in all but ONE of his 22 seasons in the Majors. If that's not amazing, then I don't know what is. He has some pretty outlandish awards...12 Gold Gloves, 2 MVP's (plus 2 AS MVP awards), and he was the rookie of the year in 1951 with the New York Giants. Mays didn't just stand in the outfield picking flowers, he earned all 12 of those Gold Gloves he has on his mantle. One of his many amazing catches included his over-the-shoulder catch in the 1954 World Series against the Cleveland Indians at the Polo Grounds during game one on September 29th, 1954. Mays can do it all (except pitch). He wasn't exactly the fastest guy in the world, but one of his greatest upsides in the OF, was his speed, and he stole 338 bases in his 22 seasons with the Giants (and a little with the Mets).
4. Barry Bonds, LF, Pittsburgh Pirates, San Francisco Giants
22 Seasons (2986 career games), 2935 hits, 762 HR's, 1996 RBI's, 514 SB, .298 BA, .444 OBP, .607 SLG
14-time All-Star Selection, 8-time Gold Glove winner, 12-time Silver Slugger, 7-time NL MVP, 3-time Hank Aaron Award winner
Ok, so maybe I lied when I said steroid allegations won't affect my rankings. I believe Bonds, and Griffey Junior are pretty even right about now. Bonds has some pretty outrageous accomplishments in his 22 Major League seasons. Seven MVP awards!? That's crazy...Sometimes the voting wasn't even close. Have I forgotten to mention that he is the HR King with 762 homeruns, and just under a .300 BA in his career. Bonds wasn't just a fat lazy leftfielder his whole career, either. In his early days in Pittsburgh, Bonds was a speedster, stealing 52 bases in one season at one point (1990). As time went by, Bonds gained some weight, slowing him down. But, Bonds is still the only player on this short list who has 500 career stolen bases in his career.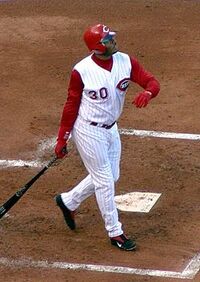 3. Ken Griffey Jr., RF/CF, Seattle Mariners, Cincinnati Reds
20 Seasons (2440 career games), 2615 hits, 600 HR's, 1730 RBI's, 184 SB, .289 BA, .374 OBP, .550 SLG
13-time All-Star Selection, 1992 All-Star Game MVP, 10-time Gold Glove winner, 7-time Silver Slugger, 1997 AL MVP
"Junior", "The Natural", "The Kid". Those are all nicknames given to the guy with the "sweetest swing in Baseball". That would be Ken Griffey Junior, the 38-year old Reds outfielder, who is the newest member of this elite club, and has already jumped up to the 3rd best. Griffey just makes it look so easy, and he has one of the best gloves I've seen in a while. Junior has 10 Gold Gloves at Center and Rightfield to back up my statement. He's no stranger to All-Star games either, and may be headed to his 14th ASG this year (he is currently leading all NL RFers in votes). It shouldn't take Griffey long to pass Sosa on the all-time HR list, needing just nine to tie, and ten to pass him. Yeah, there's no doubt that Griffey is ahead of Bonds, since we are nearly certain that Griffey has never been on the 'juice'.
2. Hank Aaron, OF, Milwaukee Braves, Atlanta Braves, Milwaukee Brewers
23 Seasons (3298 career games), 3771 hits, 755 HR's, 2297 RBI's, 240 SB, .305 BA, .374 OBP, .555 SLG
21-time All-Star Selection, 3-time Gold Glove winner, 1957 World Series champion, 1957 NL MVP, 1970 Lou Gehrig Memorial Award
Aaron, the former HR King, is still said to be the true HR king. Aaron was a very well-respected person, as both a player, and a person. Aaron is well over 3,000 career hits (3,771 to be exact), and is actually third on the all-time hit list, behind only Pete Rose, and Ty Cobb. Aaron has played more seasons than all these other guys, but has a .305 lifetime average. In 14 of his 23 seasons Aaron hit for an average of .300 or more, that's sixty percent of his career he's hit above .300...Not bad. Like Mays, Aaron was a 21-time All-Star, and his glove wasn't as bad as some thought, he won 3 Gold Gloves in Milwaukee. Aaron holds four major MLB records; 6,856 total bases, 2,297 RBI's, 1,477 extra-base hits, and 17 consecutive seasons with 150+ hits. Hammerin' Hank was one heck of a ballplayer, and he didn't play in the steroid era, which is the reason people still believe he's the HR King.
1. Babe Ruth, OF/P, Boston Red Sox, New York Yankees, Boston Braves
22 Seasons (2503 career games), 2873 hits, 714 HR's, 2217 RBI's, 123 SB, .342 BA, .474 OBP, .431 SLG
2-time All-Star Selection, 7-time World Series Champion, 1923 AL MVP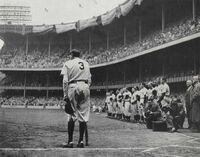 The Babe did it on hot dogs, and beer. George Herman Ruth Jr. was without a doubt the best all-around player in Baseball history. The 6 foot 2, 215 pound Ruth came into the league as a dominant pitcher with the Red Sox, and left the league the all-time HR leader (before Aaron, and Bonds surpasssed him). Of the six, Ruth has the highest career batting average, by far, with an average of .342. Ruth has (sorry, I mean't had) the hardware. Seven rings to be exact!! With the Sox (and a little with the Yanks), Ruth had a pitching record of 94-46, including two seasons with 20+ wins. He had a career 2.28 ERA, and 107 complete games. Many believe he could've been a Hall of Famer as a pitcher had he not switched to OF. And personally, I believe it...He was fantastic. I think Babe Ruth could be the most-known name in MLB history. If you ask 50 randomly selected Americans who Babe Ruth is, I'm positive at least 49 of them will know just who you're talking about.
Cool Facts:
Three of the six members played exactly 22 seasons in the Majors.
Five of the six members played 20+ seasons in the Majors. Sammy Sosa was the only one not to, playing just 18 seasons, but hitting 609 home runs.
All six members played outfield for their teams.
Who's Next???
Alex Rodriguez (528 HR's)- "A-Rod" is next in line, and is only 32 years old. If he can stay healthy and play another 5 or so years in the Majors, he'll easily become the 7th member.
Manny Ramirez (505 HR's)- Manny recently hit his 500th, and at age 36 has a shot at reaching 600, though it's slim. But, either way, I think he's a lock for the HOF.
Long Shots: Jim Thome, Frank Thomas, Gary Sheffield
Thome may have more HR's than Manny (520), but he is currently going on a much slower pace, and is one year older than ManRam. The "Big Hurt" has 520, like Thome, but is currently 40 years-old, and is on a slow pace (just 7 HR's this year). Sheffield is a long shot because he is still 17 HR's short of 500 career, and he is an unhealthy 39-year old outfielder. Not a very good combination.
Ad blocker interference detected!
Wikia is a free-to-use site that makes money from advertising. We have a modified experience for viewers using ad blockers

Wikia is not accessible if you've made further modifications. Remove the custom ad blocker rule(s) and the page will load as expected.