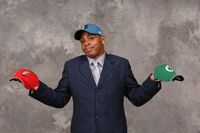 Paul Allen, the extremely respectable Minnesota Vikings Announcer, and KFAN Radio Host, spent about 24 seconds telling Timberwolves' fans that Randy Foye is NOT a PG and that we need to spend the #1 pick, if we get it, on Derrick Rose of Memphis, not Michael Beasley of K-State and draft a center in a future year.
PA is wrong. Randy Foye was traded for so that he could be the PG of the future. If he can't play it now, he better learn how, because it will only hurt him if he forced to play off-guard. It will increase comparisons to 6'6" Brandon Roy, who thus far has been (to understate) much better than Foye. Also, it will take minutes away from scorer/slasher Rashad McCants, who I think gets better every game.
Also PA…have you ever heard of Tim Duncan and David Robinson? I know that Al Jefferson isn't as dominant as David Robinson was and that it may take Beasley a little longer to develop in the NBA than Duncan, but can you imagine in 4 years having Big Al and Beasley? If they develop like they should, and if Foye progresses (or even if he doesn't, there will be some PG who will want to come here to play with those two) this team will be Utah like. Remember…Utah went through a funk after Malone and Stockton left.
This year, the Wolves, if they get the pick, need to draft the best player. That player is Beasley. The pessimism that is in this town (and the NBA's BS lottery) tells me that either Miami (so Beasley can play with Wade) or New York (enough said) will be the first team selecting and the Wolves will pick 3rd. Next year's draft looks thin right now, with Blake Griffin of Oklahoma projecting as the #1 pick (nbadraft.net), so pick the big guy now.
What if we don't get the #1 or #2 pick? Then all bets are off. There are many candidates that could fill some needs. If they really feel that they need a PG then they could go with Jerryd Bayless of Arizona, or a C like Brook Lopez of Stanford. The other prospects that are looked at include Eric Gordon, who is another tweener. If they choose him or OJ Mayo (who will stay another year at USC), it will be ANOTHER mistake. I also would not be against trading both 2nd round picks for a late first rounder and getting Roy Hibbert to play down low. That could be done even if we get Beasley. Hibbert, Big Al and Beasley down low? Beef!
2nd Round Potential Names: Taj Gibson USC, Bryce Taylor Oregon, DJ White Indiana.
Don't Blog That: When Comcast and Big Ten Network finally get the network on Cable, it will presumably be Channel 64 (formerly held by ESPN Classic).
Tournament Busts? Did you know that the only Big East team to win a second round game with a bye was Georgetown? UCONN, Louisville and Notre Dame all lost. Also, the only favorite in the Big Ten Opening Round to win was Minnesota.
Ad blocker interference detected!
Wikia is a free-to-use site that makes money from advertising. We have a modified experience for viewers using ad blockers

Wikia is not accessible if you've made further modifications. Remove the custom ad blocker rule(s) and the page will load as expected.